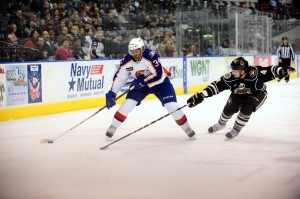 After securing three points last weekend against the Portland Pirates, the Norfolk Admirals continued their five game home stand against the Charlotte Checkers, the top affiliate of the Carolina Hurricanes.  Norfolk currently ranks third in the East Division while Charlotte sits fifth in the West Division.
Prior to the matchup Admirals Assistant Coach Jarrod Skalde commented on what will propel his team to victory, "It's going to be our start. We have to we come out hard with our high tempo and fast pace. We've had some struggles in finishing out games. We have to play a full sixty. Our start tonight is going to be key."
This afternoon Norfolk's Parent Club, the Anaheim Ducks, shipped Emerson Etem and Devante Smith-Pelly to AHL Norfolk. Etem has 10 points in 24 games this season with the Ducks. Smith-Pelly has spilt time between Norfolk and Anaheim. While on recall the 21-year-old collected 8 points in 16 games. The Scarborough, Ontario native has 2 points in 6 AHL games with Norfolk.
Norfolk elected to start 20-year-old John Gibson in net while Charlotte gave the green light to 25-year-old John Muse.
Charlotte's Matt Marquardt netted the game's first goal at 6:16 as he fired a shot past Gibson while he was stationary in the slot. Norfolk answered the game's first goal a minute later as Devante Smith-Pelly found the loose puck during a goal mouth scrum and successfully propelled his shot past Muse erasing the one goal deficit.
Norfolk's Emerson Etem broke the stalemate midway through the second as he buried a Devante Smith-Pelly rebound on the power play. The Checkers knotted the game midway through the middle stanza via Matthew Corrente who tipped in a Brett Sutter slap shot.
Norfolk's Rickard Rakell broke the 2-2 tie early in the third as he batted home Emerson Etem's initial shot on the power play just four minutes into the third period. Max Friberg doubled the home teams lead as he broke in alone on Muse and danced his way around the away team's goaltender. Friberg netted his goal while his team was down a skater. John Kurtz added insult to injury as he cashed in on an empty net goal bringing the score to a final of 5-2 in favor of Norfolk.
Devante Smith-Pelly commented on the performance of John Gibson who turned aside 33 shots for the win, "He was unbelievable as always. I know at one point in the first period we had about six shots and they had close to twenty."
Trent Yawney Norfolk's head bench boss talked about his team's performance, "The way this league is now, it's a race to three whoever gets to three first usually wins. With the one goal lead we started to play in the offensive zone and not play back on our heels and that was good to see. It shows that they're learning and that's what this league is all about."
Norfolk was successful on two out of five power play chances while their opponent was scoreless with the man advantage.
The Admirals continue their home stand Friday and Saturday as the Boston Bruins top affiliate, the Providence Bruins, invade Scope.
 Follow Ted on Twitter @Bauerhockeydude
Ted grew up in Virginia. Warren has a passion for the AHL and dishes out articles about the Norfolk Admirals and the AHL. Follow him on Twitter @bauerhockeydude