Despite how poorly a veteran player plays, it still comes as a surprise if they get put on waivers. In the case of Rene Bourque whose 2013-14 regular season was poor only to find redemption with an excellent playoff, he started the year full of promise as fans hoped Playoff Bourque would spill over into the regular season. But it didn't happen. With only two assists in 13 games to go with a minus nine, along  with the emergence of Jiri Sekac, there was just no room to wait for Bourque to figure his game out. In putting him on waivers and sending him to the AHL, it signals the winds of change in Montreal.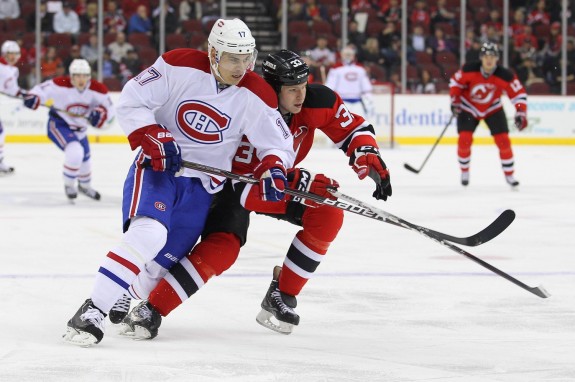 Youth Movement
For too long, the reliance on veterans has been frustrating to watch. Young players would either be in the press box, benched or played in a minimal role in favour of struggling veterans given longer leashes than necessary. This year was no different as Sekac and Michael Bournival sat for games at a time while Bourque and Travis Moen were clearly favoured. But obviously GM Marc Bergevin had seen enough. As the GM, Bergevin is in charge of bringing in players but Therrien controls who plays and who doesn't. I can't envision a scenario where Bergevin was happy seeing Sekac, who chose Montreal over several other NHL teams, sitting for games at a time as the team showed signs of spiralling out of control. Removing Bourque gives Therrien one less struggling veteran to lean on and help usher in the youth movement.
There is always a chance
Montreal isn't closing the door on Bourque and rightfully so. Perhaps they bring him up for the playoffs again and he goes on a tear. Or maybe injuries happen and his services are needed. Bourque needs to rediscover his game and doing that under the bright lights of Montreal isn't what he needs. Going down to Hamilton removes him from the pressures of the NHL and maybe he will feel rejuvenated competing alongside fresh faced Habs prospects who are hungry for an NHL roster spot of their own.
https://www.youtube.com/watch?v=g3SlQSpZu5A
This is the Rene Bourque everyone wants to see. Using his size and shot to be a power forward.
Time to step it up
The Habs are working their way into contention status and to do that, there can be no passengers. Montreal can't afford to wait 82 games for Bourque to figure things out when the development of Sekac and Bournival is more important as both players are younger, cheaper, faster, have more hustle and factor more into the Habs' long term plans. Going from being a playoff star to being AHL bound in a span of a few months no doubt has to sting for Bourque. Maybe this will give him the wakeup call he needs.