The AHL regular season will come to a close this week, and as of this writing, 11 teams have clinched their spot in the Calder Cup Playoffs. In addition, the top seeds in the conference are pretty much determined, and four division titles have been wrapped up.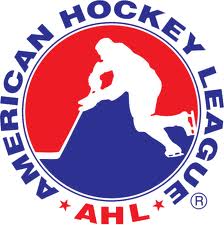 One race in the Eastern Conference remains deadlocked, while out West, two teams currently out of the playoff picture can still squeeze their way in.
Who's in, or could get in? Who's clearly on their way to the golf course?
Find out in this week's rankings.
1. Milwaukee Admirals (38-23-6-7)
The Admirals won all four of their games this week to clinch their 12th straight playoff berth on Friday. Taylor Beck led the surge with four points in three games. Milwaukee currently sits in fifth in the West and could either stay there or take the sixth seed.
Upcoming Schedule: Friday, April 18 vs. Charlotte, Saturday, April 19 at Chicago
2. Manchester Monarchs (48-19-2-6)
Manchester has taken the top seed in the Eastern Conference and also clinched the Atlantic Division on Saturday. The Monarchs got there by shutting out the Portland Pirates in back-to-back games, an impressive accomplishment even though the Pirates have been poor all season.
Upcoming Schedule: Friday at Providence
3. Texas Stars (47-17-3-7)
The Stars are the top seed in the West and hold a slim lead over the Monarchs for the AHL's best winning percentage at .703. Travis Morin will take home the AHL scoring title with 86 points headed into the final week of play, while Curtis McKenzie was voted the league's rookie of the year with 64 points in 73 games.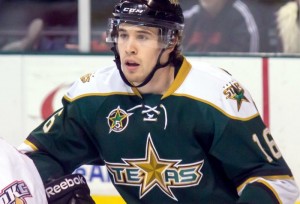 Upcoming Schedule: Wednesday at Oklahoma City, Saturday vs. Abbotsford
4. St. John's IceCaps (44-23-2-5)
St. John's will likely finish top five in the East after finding their stride in the second half of the season. It finishes its season on the road against Eastern cupcakes Worcester and Portland. The IceCaps are in good position to finish second in the Atlantic Division.
Upcoming Schedule: Friday at Worcester, Saturday at Portland
5. Chicago Wolves (42-21-5-5)
The Wolves are back in the playoffs after missing the 2013 edition and are currently fourth in the West. They are four points behind the Griffins for the Midwest Division title with one less game played. Alexandre Bolduc had four goals in two games this weekend.
Upcoming Schedule: Wednesday at Iowa, Friday at Rockford, Saturday vs. Milwaukee
6. Springfield Falcons (47-21-1-5)
After going 8-2 in its last 10 games, Springfield won the Northeast Division and will finish second in the East. The Falcons score 3.3 goals per game, and Carter Camper, who joined the team from Providence, has 18 points in 18 games. Michael Chaput has been consistent all season with 19 goals and 45 points.
FINAL: @TheFalconsAHL defeat @TheSoundTigers 2-1. The Falcons become the 2nd team in the 71 yrs of Springfield AHL hockey to reach 100 pts!

— Mike Kelly (@MikeKellyHockey) April 13, 2014
Upcoming Schedule: Friday at Hartford, Saturday at Albany
7. Wilkes-Barre/Scranton Penguins (42-24-3-5)
The Penguins currently hold the East Division lead by one point over the Binghamton Senators. They should still finish top five in the conference and are a threat these playoffs despite a last-minute collapse against Toronto on Sunday.
Upcoming Schedule: Friday at Binghamton, Saturday at Utica
8. Albany Devils (38-23-5-8)
Albany won all three of its games this week but have yet to clinch a playoff spot. The Devils are currently sixth in the East and are tied with the Bruins for 89 points. They risk stumbling into the postseason, as they are 4-6 in their last 10 games.
#ADevils can clinch Wednesday with (A) a win at Portland or (B) a OTL/SOL plus a Norfolk regulation loss #leadthecharge

— Albany Devils (@AlbanyDevils) April 14, 2014
Upcoming Schedule: Wednesday at Portland, Saturday at Albany
9. Grand Rapids Griffins (46-22-2-4)
The Griffins split their two games this weekend and will take the second seed in the West. They could also win the Midwest. However, the defending Calder Cup champions have not scored more than two goals in any of their last four games, which came against teams who are borderline playoff contenders or out of the picture.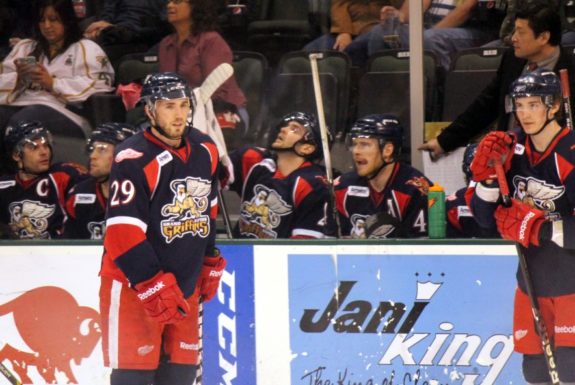 Upcoming Schedule: Friday vs. Lake Erie, Saturday at Lake Erie
10. Toronto Marlies (43-24-2-4)
Like the Griffins, the Marlies have faltered near the end of the season. They won just once in three games this week and are 2-3 in their last five. However, they've claimed the North Division title and will look to recapture the magic of their 2012 Calder Cup Finals run.
Upcoming Schedule: Wednesday at Binghamton, Friday at Utica, Saturday vs. Rochester
11. Binghamton Senators (42-24-2-5)
The Senators wrapped up a playoff spot on Sunday night but have not looked as threatening down the stretch, which has caused them to fall back to fifth in the Eastern Conference. However, they could still win the East Division title and face Wilkes-Barre/Scranton on Friday in a crucial end-of-season matchup.
Upcoming Schedule: Wednesday vs. Toronto, Friday vs. Wilkes-Barre/Scranton, Saturday vs. Norfolk
12. Norfolk Admirals (38-25-3-7)
Norfolk is tied with Hershey with 86 points, but holds two more shootout losses (seven to Hershey's five). Andre Petersson has given the Admirals a boost since joining from the Senators, as he has 12 points in 18 games. Two home matchups with the Bears will go a long way toward determining who gets the final playoff spot out East.
Upcoming Schedule: Wednesday and Friday vs. Hershey, Saturday at Binghamton
13. Rochester Americans (35-27-6-5)
The Americans have gotten back into the playoff picture after going 2-0-1 this week and 5-5 in their last 10. Should they make the postseason, they will likely finish seventh or eighth in the West. However, they still have to get past a Comets team that has come on in the final few weeks and division rivals Toronto.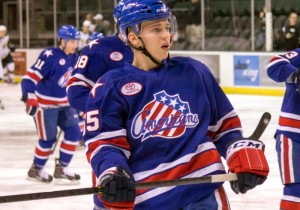 Upcoming Schedule: Wednesday at Utica, Friday vs. Syracuse, Saturday at Toronto
14. Abbotsford Heat (40-25-5-3)
The Heat have wrapped up a playoff spot and are currently sitting sixth in the West, and their best bet is to stay there or jump Chicago for fifth place. Ben Street, who has powered Abbotsford for much of the year, has four points in four games during the final month of the season.
Upcoming Schedule: Thursday and Friday at San Antonio, Saturday at Texas
15. Hershey Bears (38-25-5-5)
Hershey is clinging to the eighth playoff spot and has a nearly identical record to Norfolk's. The Bears have been hot as of late, with points in all three of their games this weekend, but cannot afford to go back to their early season ways if they want to make the playoffs for the ninth straight year.
Was being generous on the Bears' magic number. It's down to five. http://t.co/hUGmqf2QXA #HBH

— Scott Stuccio (@ScottStuccio) April 14, 2014
Upcoming Schedule: Wednesday and Friday at Norfolk, Saturday vs. Adirondack
16. Charlotte Checkers (37-34-1-2)
The Checkers are playing .500 hockey overall and are currently ninth in the West at 77 points, two points out of the eighth seed. They are also contending with Rockford, also with 77, and the Comets, who have 75 points. Goalie John Muse has stood tall, though, as he made 30 saves against Grand Rapids on Thursday for his fifth shutout of the year.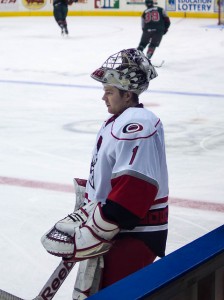 Upcoming Schedule: Friday at Milwaukee, Saturday at Rockford
17. Hartford Wolf Pack (35-32-1-6)
Hartford won four games in a row before losing to the IceCaps on Sunday. The Wolf Pack showed what made them an early contender in October and November, but they will finish no higher than 10th in the East and will spend the summer figuring out what went wrong.
Upcoming Schedule: Friday vs. Springfield, Saturday vs. Bridgeport
18. Rockford IceHogs (34-31-5-4)
The IceHogs have fallen out of the West's top eight after going 1-3 this week and 4-6 in their last 10 games. While they are not out of the race by any means, they now face a tough Wolves team and the Checkers, who will also be fighting and scratching their way to No. 8.
Upcoming Schedule: Friday vs. Chicago, Saturday vs. Charlotte
19. Providence Bruins (39-24-2-9)
Providence is hoping to take one of the final three spots in the East. It currently sits in seventh place but could go as high as fifth if it turns on the jets to conclude the regular season. However, the Bruins are 2-3 in their last five games and must face the top-seeded Monarchs this week.
Upcoming Schedule: Friday vs. Manchester, Saturday at Worcester
20. Oklahoma City Barons (34-28-2-9)
The Barons have 79 points and are clinging to the eighth seed in the West. Should they win at least two of their three remaining games, they could even pass the Americans for the seventh seed. However, they give up just as many goals as they allow (3.4 to 3.2).
Upcoming Schedule: Wednesday vs. Texas, Friday and Saturday vs. Iowa
21. Utica Comets (33-31-5-4)
Both of the Comets' wins this week came in overtime and the shootout. They have made an impressive late-season run, but sit 11th in the West with 75 points and are unlikely to make the playoffs unless they win and out and the teams above them collapse. AHL veteran Pascal Pelletier has been strong this year with 20 goals and 60 points.
https://twitter.com/CometsInGame/status/455476278553243648
Upcoming Schedule: Wednesday vs. Rochester, Friday vs. Toronto, Saturday vs. Wilkes-Barre/Scranton
22. Syracuse Crunch (30-31-4-8)
Last year's Eastern Conference finalists will find themselves sitting at home these playoffs, as losing several strong prospects to Tampa Bay hurt. Despite what could be a 10th-place finish, Jonathan Marchessault has provided 12 points in 18 games since coming over from a contending Falcons team.
Upcoming Schedule: Wednesday vs. Adirondack, Friday at Rochester, Saturday at Hamilton
23. Worcester Sharks (35-33-4-2)
Much like the Comets, the Sharks' late-season rally will fall short. Although they broke a four-game losing streak to Adirondack on Friday, they will spend the offseason making a plan to try and get back to the playoffs for the first time since 2010.
Upcoming Schedule: Friday vs. St John's, Saturday vs. Providence
24. Lake Erie Monsters (30-32-1-10)
The Monsters had lost five games in a row before Sunday's shootout win against a desperate Americans team. However, they will miss out on the postseason for the third year in a row, as they have averaged a dismal 2.6 goals per game while allowing three.
Upcoming Schedule: Tuesday vs. Hamilton, Friday at Grand Rapids, Saturday vs. Grand Rapids
25. Adirondack Phantoms (28-37-1-6)
The Phantoms have been eliminated from postseason contention for two weeks and will hope the change to Allentown next year brings them better success. They were scheduled to play the Bridgeport Sound Tigers on Monday after Saturday's game got postponed due to bad ice conditions.
Adirondack Phantoms with a 5-game home-ice point streak in last ever games at the GFCC. Going out strong! See you Friday for the finale!

— lv (@phantomshockey) April 13, 2014
Upcoming Schedule: Monday at Bridgeport (4-2 win), Wednesday at Syracuse, Friday vs. Bridgeport, Saturday vs. Hershey
26. Hamilton Bulldogs (32-34-1-7)
The Bulldogs will miss the playoffs for the third straight year as a result of being inconsistent for much of the season. Despite the disappointment, Gabriel Dumont registered three assists in Wednesday's shootout win against the IceCaps.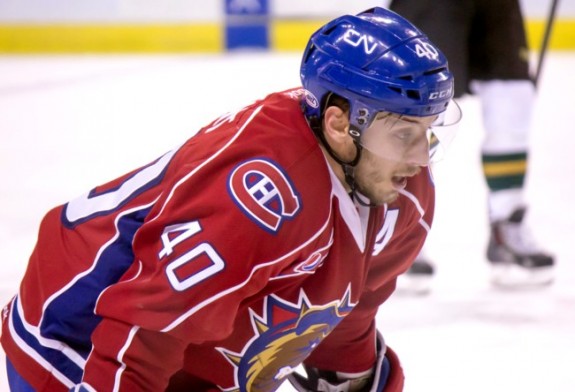 Upcoming Schedule: Tuesday at Lake Erie, Saturday vs. Syracuse
27. San Antonio Rampage (30-35-3-6)
Despite wins in three of their last five games, the Rampage will likely finish in the Western Conference basement and no higher than 12th place. Their February hot streak did not hold up enough in the competitive West, and San Antonio's challenges will likely continue as long as it is affiliated with the Panthers.
Upcoming Schedule: Thursday and Friday vs. Abbotsford
28. Iowa Wild (27-36-6-4)

In its first season in the AHL, Iowa has one of the league's worst winning percentages at .438. The Wild, though a promising squad with young talent and vets alike, have fallen to last in the West after going 2-8 in their last 10 and losing all three of their games this past week.
Upcoming Schedule: Wednesday vs. Chicago, Friday and Saturday vs. Oklahoma City
29. Bridgeport Sound Tigers (27-38-2-6)
Bridgeport is in abysmal shape, as it has not won a game since March 16 for an 11-game losing streak heading into Monday's make-up game with Adirondack. Their two games this week were close contests with playoff contenders Albany and Springfield, but the Sound Tigers could never manage to keep it all together to be a true threat in the East.
Strome is the sixth Sound Tiger to be named to the All-Rookie Team (Dubielewicz, Campoli, Lawson, Rakhshani, Donovan)

— Bridgeport Sound Tigers (@thesoundtigers) April 9, 2014
Upcoming Schedule: Monday vs. Adirondack (4-2 loss), Friday at Adirondack, Saturday at Hartford
30. Portland Pirates (24-38-3-9)
The Pirates have the AHL's worst winning percentage at .405 and were not a force to begin with. They come into the final week of the season on an eight-game losing streak, and they probably can't wait to get back to the Cumberland County Civic Center for 2014-15 to start fresh in their true home building.
Upcoming Schedule: Wednesday vs. Albany, Saturday vs. St. John's