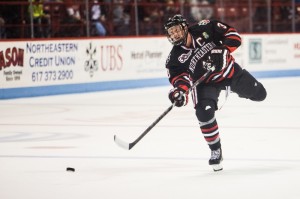 Josh Manson knew what he wanted to do from the time he could walk and that was to play hockey. The 22-year-old defenseman could have had no better teacher than his Dad, Dave Manson, who was a mainstay in the NHL from 1986 until 2002 totaling 390 points in 1,103 games played.
Josh was brought up in Prince Albert, Saskatchewan a place where hockey is taken seriously as he found out when he turned 12, "That whole city is all about hockey. It instills it in you when you're young and I think that's what gave me the passion that I have for the game today."
Following a two-season 111 game stint with the Salmon Arm Sliverbacks in the BCHL, Manson was draft- ready when the Anaheim Ducks came calling in 2011. Josh was all smiles as he looked back on his draft year, "It was surreal. I remember where I was when my agent called me when it happened. I couldn't have been more excited. The Ducks are a great organization and I couldn't be more proud to be a part of it."
After the draft and his time in the BCHL, Manson committed to Northeastern University, a hockey powerhouse in Boston. A place where Manson transitioned from  forward to defense, "I switched to Northeastern after I became a defenseman. It was a great choice for me. I came into a new coaching staff and they helped me the three years I was there. I couldn't have enjoyed it more. The city of Boston and the location of Northeastern. It was a great fit for me. "
It's not uncommon for young athletes to transition to the pros before they graduate. Manson is no different. Following his junior year, he elected to forgo his senior year signing a two-year entry-level deal with Anaheim on March 25th.  Manson shared why he went pro, "I just thought I was ready physically and mentally to make the jump to pro, hopefully it'll pay off. I'm going to finish my degree. It was a tough decision to leave Northeastern and I think it was the right decision for me."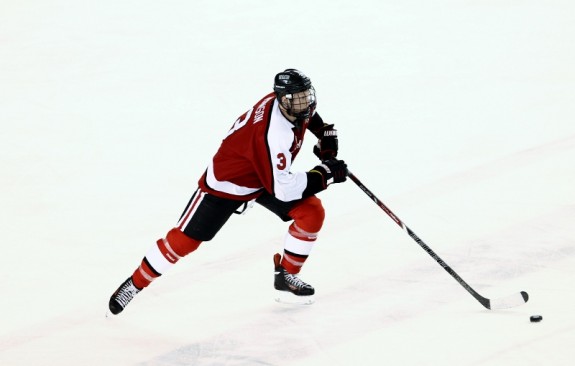 Shortly after inking his entry-level deal, Anaheim assigned him to their AHL Club, the Norfolk Admirals, for a taste of pro-life. Jumping into pro-life head first can be a hurdle, but when your new coach is an ex-defenseman it can ease your transition as Manson explains, "Yawney and Marty can help me become the player I need to be, a simple first pass D-Man that plays tough in front of the net and in the corners and that's what I need to be successful."
Manson's new coach Trent Yawney likes what he sees from the criminal justice major, "It's a lot of excitement. He's definitely a young man that we're really high on. It's good for him and all the young players that have just come in to see what the league is all about and how the game is played at this level versus where they were before."
With the season winding down, Norfolk is in a dogfight for the playoffs with the Hershey Bears who claim the last seed in the Eastern Conference. Manson sensed the urgency of the postseason when he met his new team in late March relaying, "The guys explained it could go either way. The coaching staff told me that if you win a few games you can be close to first and if you lose you can be in last. They're in a fight right now."
As the post season looms there is not a better place for a young defenseman to learn the ropes and aide his team in any way possible as the season comes down to the wire.
Manson's First Pro Fight
Follow Ted on Twitter @Bauerhockeydude
Ted grew up in Virginia. Warren has a passion for the AHL and dishes out articles about the Norfolk Admirals and the AHL. Follow him on Twitter @bauerhockeydude