The coaches and players of the Rochester Americans were simply giddy with excitement and expectation on the eve of their season start this week. They were chomping at the bit to start playing games after an 11-month pause in what has been the most unusual year of their careers.
After weeks of practice and preparations, along with some recent additions leading up to opening night, head coach Seth Appert — who is taking the reins of a pro hockey team for the first time — will finally have a chance to see what this roster is made of. 
"This morning you walk in and you're thinking about what you want to do at practice," the new coach said after a skate with the team Feb. 4. "You're putting a practice together looking back over my notes of all my practice plans in years past. Then you're starting to think 'man we play tomorrow.' It's been 11 months."
If you've been following, the last few months for American Hockey League have not been great. But with an agreement reached last week between the Professional Hockey Players Association and the AHL, the Amerks' season is finally underway.
Appert a First Time Pro
Before joining the Amerks as the 33rd head coach in franchise history, Appert, a clean-cut former goalie at Ferris State who has never had a brush with professional hockey until this moment, was a head coach with Rensselaer Polytechnic Institute (RPI) Engineers hockey club from 2006-2017. He was fired, then quickly hired to take on a position with the US National Team Development Program (USNTDP). On Thursday, he was visibly excited and didn't even try to hide the smile on his face. 
"It hit me this morning, we were all pretty excited in the coaching room," he said Feb. 4. "It's like Christmas Eve when you're a kid. This is what we love to do as coaches but more importantly it's the guys. It's their dreams, it's what they've been passionate about their whole lives and it's been taken away like so many other things over the last 11 months. So, to have that on the doorstep right now is obviously very exciting."
One of those players, Patrick Polino, has a history with the coach that dates back to when the now 25-year-old forward was just 16 years old.
Polino, who is from north Buffalo, attended Canisius High School for his freshman and sophomore year before shipping to Illinois to play in the United States Hockey League (USHL) for the Chicago Steel. His family still lives in the Buffalo area, as well as many of his friends. 
Related: Sabres Prospects: 5 Amerks Players to Watch When the AHL Resumes
Polino and Appert Have a History
It was during his stint in the USHL that Polino first met Appert, who was working on recruiting him to the program at RPI. He was successful. Polino played four seasons with the club, notching 52 points in 131 NCAA games, and signed a tryout contract with the Americans on Feb. 3. He will try to show this season that he is good enough to play pro hockey. In 208 career USHL games, Polino put up 100 points.
"Anytime there's history with someone, there's more trust," Appert said. "Trust is earned, you just don't give trust to people. It's earned through your actions. Obviously Patty, you know, I recruited him. We gave him a scholarship to come to RPI. There's history there and I think through those are things that can help with the comfort level. Also, the more you can trust someone, the better relationship you have with someone, the more honest conversations you can have with people which usually leads to more productivity."
Jumping into a new team just days before the season begins is hard for a player, but having a familiar face in the man behind the bench can only help ease the nerves and lead to a smooth transition for Polino.
"Just knowing him for so long makes things a little easier," he said. "Coming here seeing a familiar face. I know a couple of the other guys as well coming in, so that's been great just knowing some people right away."
Appert is a Great Teacher
Polino says he looks forward to reuniting with Appert's intensity and enjoyed playing for him in college. "He's a great teacher, great communicator," he said. Polino and his coach's similar experience this season — sharing their first kick at the can in pro hockey — is the kind of thing that builds long-term relationships. "Being back on the ice [with him], it's been great."
Even though their time together at RPI only overlapped for his freshman year, there has been steady communication between the two ever since. 
"We've known each other for a long time," Polino said. "He started recruiting me for RPI when I was 16, then we kind of kept that relationship and communication open as I went to juniors, then ultimately playing for him my freshman year. We've kept in touch over the years while he was at USNTDP, anytime something good happened for us at RPI he would send us a text which was nice. Just kind of kept that line of communication open. That's helped. Just talking to him over the years."
Polino's Uncertain Off-Season 
What role Polino will play on this Amerks team is yet to be determined. That kind of uncertainty is nothing new for him, though. After finishing his college career, he signed with the ECHL's Greenville Swamp Rabbits. He would eventually be cut by the team in December, leading to two months of precarity-fueled workouts and skating routines. He was unsure of what would come next before he signed with Rochester.
"It's been a little crazy," he said of the last couple of months. "You don't know what's going to happen you just try to stick with it. Stay in shape, stay ready because you never know when that phone call is going to come. I'm extremely excited to be here."
Doubt crept in at times. Whether or not he was going to be able to make it, or if he'd have to give up the dream and go find a regular job. "There's always doubts at some point," he noted. "It's been a crazy year. There's guys singing all the time. I just tried to keep my focus up because you never know what's going to happen. I wasn't expecting the phone call but I'm honored and happy to be here. Staying ready has paid off."
New Captains
Coach Appert put letters on the jerseys of his new leadership group just before the season began. Steven Fogarty will wear the captain's 'C' for the upcoming season. He's joined by centre Andrew Oglevie and tough-guy winger Dalton Smith, who will wear the assistant's 'A.'
Related: Sabres News & Rumors: Final Cuts, Practice Lines & Helmet Sponsors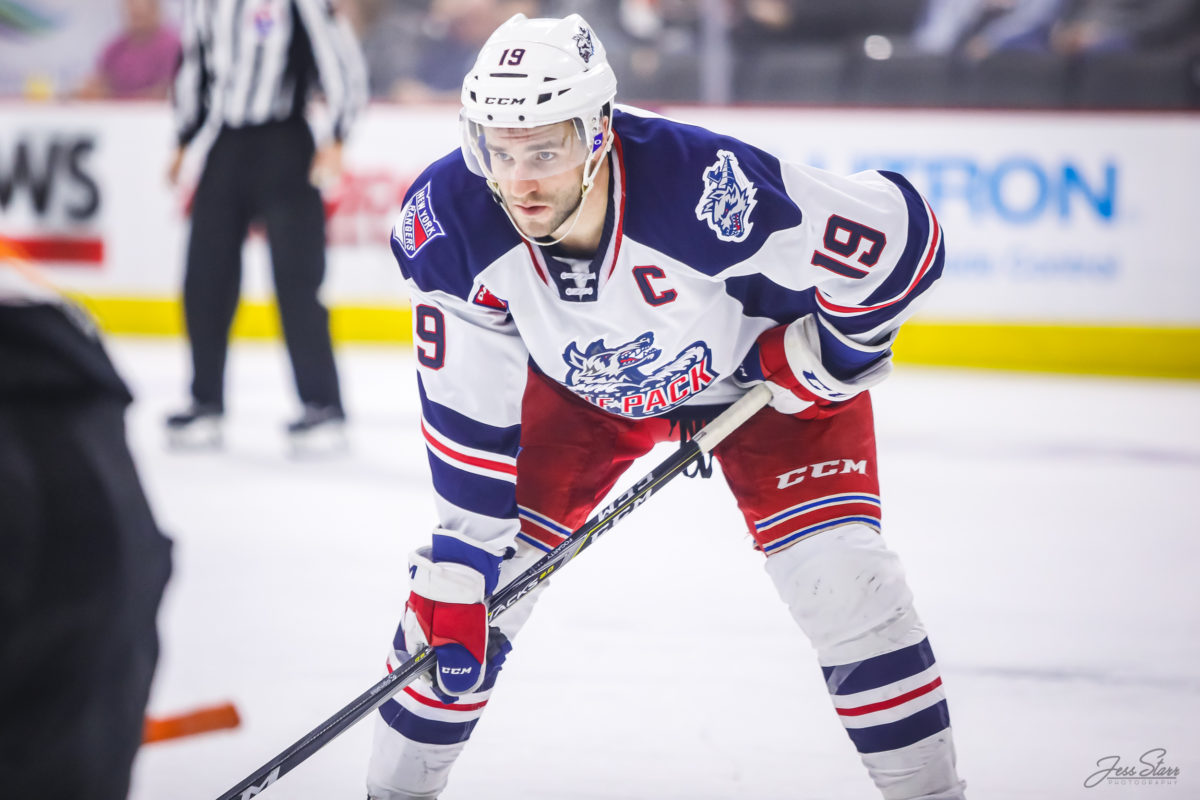 Fogarty is a 252-game American Hockey League veteran with 18 National Hockey League games under his belt. Oglevie and Smith have been through some battles with the Amerks the past few seasons. 
"Our leadership group is real strong," Appert said. "Steven as the captain just emerged naturally. He has this real strong presence about him. Very good command of the room. He's an extremely hard worker and a great guy for the young players to look up to." Fogarty was the captain at Edina High, was captain for the Fighting Irish at Notre Dame from 2012-16 and was a captain last year with the Hartford Wolf Pack.
"Then with guys like Oglevie and Smith, these are [players] that have been through the battles here in Rochester and earned a lot of respect in the locker room through their work ethic, their commitment and how they go about their business everyday."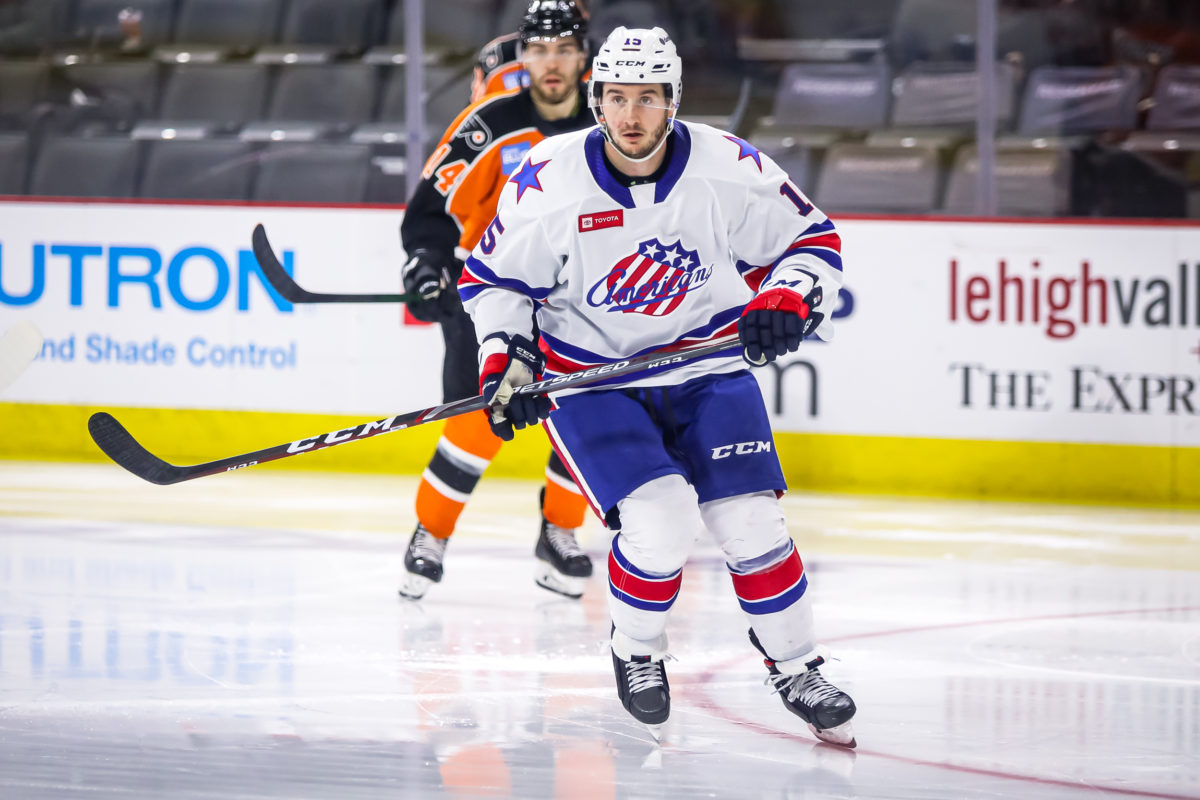 Other Notes
The team also unveiled a new third jersey that they'll wear this season to celebrate their 65th anniversary. 39 of those years have come as the primary affiliate of the Buffalo Sabres. Rochester returns four of its top six point-getters from last season, including forwards Jean-Sebastien Dea, who's currently with the Buffalo Sabres taxi squad, and Oglevie, both of whom tied for the lead with 15 goals in 2019-20. Dea also led the team with 24 assists, while Oglevie tied for fifth in the AHL with a team-best six game-winning goals.
---
---
Mike Carter is a freelance writer and contributor for the Buffalo Sabres with The Hockey Writers and NHLTradeRumors.Me He is @mikecarterlives on Twitter. Mike has been writing professionally since 2012, with stints as a reporter in northern British Columbia and Edmonton, Alberta. He now calls Salmon Arm, B.C. home.