Before the season began, it seemed like a 50/50 proposition. Following an off-season of mass migration and western expansion around the American Hockey League, there was some speculation the New Jersey Devils may have taken a page from the San Jose Sharks and Winnipeg Jets with regard to their AHL club. Well, speculate no more, the Albany Devils will remain at the Times Union Center through the 2018-19 season.
The agreement ensures at least 22-seasons of AHL Devils hockey in downtown Albany. It's fantastic news for Albany fans, after the club made a one-year lease extension in the summer.
We had some big news to announce today, watch the complete press conference here → https://t.co/xiDA64iyOE pic.twitter.com/KAx3KMUhcv

— Albany Devils (@AlbanyDevils) April 4, 2016
Albany and New Jersey have a long-standing relationship, dating back to 1993 when the Devils partnered with the Albany River Rats until 2006. During that run, the Rats won a Calder Cup title in 1994-95, two regular season titles (1994-95, 1995-96), four division titles (1994-95, 1995-96, 1996-97, 1997-98) and made seven postseason appearances. When the River Rats changed their affiliation to the Carolina Hurricanes (2006-10), the Devils moved to Lowell and became the Lowell Devils. After the Hurricanes uprooted their AHL club and became the Charlotte Checkers, the Devils returned to Albany in 2010, signing a five-year lease with the TU Center as the Albany Devils.
It's clear both sides see the agreement as mutually beneficial. Albany gets 38 home dates (plus playoffs) and an economic impact which generates $17.1 million per season. Meanwhile, New Jersey maintains a close approximation with its AHL affiliate, keeps a first class facility (including an NHL style locker room and weight room) for developing its top prospects.
Tom Fitzgerald says winning is a culture and that's what we are trying to build in Albany pic.twitter.com/M9rqUVlzcB

— Albany Devils (@AlbanyDevils) April 4, 2016
The A-Devils rank 29th in attendance, averaging 3,283 per contest. Part of that struggle stems from early weekend start times and the stigma of losing campaigns dating back to their River Rats days. Under the new regime, the club is committed and hoping to get back to the 1990s when the peak average was 6,101 in 1995-96. A big part of that push would be helped by a deep run in the Calder Cup Playoffs, as the club is enjoying its best season by a Devils affiliate since 1998-99, setting franchise (2006-present) bests with 42 victories and 94 points as of this writing.
Just right around the corner → https://t.co/ZaNHATUB76 #UnitedInRed pic.twitter.com/xoyMbpqOer

— Albany Devils (@AlbanyDevils) April 5, 2016
The A-Devils, much like the parent club in Newark, also operate in a market which is saturated with fans of various regional NHL teams. Yet, short of moving the club to the Prudential Center, there isn't a move which makes more sense geographically. Albany already has a core of die-hard Devils fans and one could argue it's more Devils friendly than even some parts of the Garden State.
If the NHL and its strange TV blackout rules didn't designate the Capital Region (and other upstate cities) as a Buffalo Sabres market, one could make the case that both fan bases in Albany and New Jersey would grow if fans could follow them regularly on the way up. This season, 21 players suited up for New Jersey who've spent time at some point with a Devils' AHL Albany affiliate.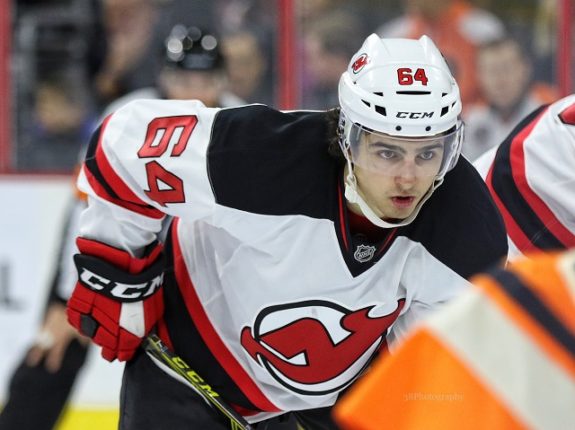 In any event, with the Devils committed to their product both on and off the ice, the current and future relationship between New Jersey and Albany looks bright.
.@hughweber1 at the podium now and says "we are going to engage the fans" #UnitedInRed pic.twitter.com/AwG4T64mQs

— Albany Devils (@AlbanyDevils) April 4, 2016
Michael Gwizdala covers the New York Islanders for The Hockey Writers. Michael is also an Associate Producer at WNYT NewsChannel 13. Additionally, Michael was once a Media Relations intern for the AHL Albany River Rats. Michael is a graduate of The College of Saint Rose in Albany, NY.