Despite having had the privilege of watching some of the greatest players to ever play in the NHL and being handed the opportunity to see the game's next generational talent develop in their own backyard, fans of the Edmonton Oilers have always seemed to hold a special place in the hearts for the so-called hard-working but less talented player. It has been that way since Day One and will likely continue to be the case till the end of time.
https://twitter.com/SteelersOilers/status/717108254925529088
While their individual skill-sets are varied, it is the likes of Jeff Beukeboom, Mike Brown, Dave Brown, Kelly Buchberger, Luke Gazdic, Curtis Glencross, Boyd Gordon, Matt Greene, Mike Grier, Eric Gryba, Todd Harvey, Dave Hunter, Matt Hendricks, Georges Laraque, Dave Manson, Bryan Marchment, Kevin McClelland, Marty McSorley, Ethan Moreau, Craig Muni, Dave Semenko, Jason Smith, Ryan Smyth, Steve Staios, Zack Stortini, Andy Sutton and Igor Ulanov who so many in this marketplace tend to hold a special bond with.
Reading Too Much Into One Game
Be it because of their willingness to routinely put their body in harm's way, play a physical style of game or the so-called "right way", the fact is this fan base has always given those players a bit of free pass when things don't go as planned when it comes to the win/loss column or see a performance like the Oilers delivered on Saturday night against the Calgary Flames on Hockey Night in Canada. Those are the occasions where we tend to see the skilled players on the roster have the wrath of the paying customer fall at their feet and it is usually a "tad" off-base.
[Related Article: The Oilers, Chris Pronger andA Farewell To Rexall Place]
While there is no question almost every player wearing Orange and Blue had a rough showing against their provincial rival over the weekend, all anyone wanted to focus on was the effort given by the likes of Jordan Eberle, Taylor Hall, and Ryan Nugent-Hopkins but not bother to mention the rest of team's equally ugly performance. To be fair, it comes with the territory of being the top players on any team and it has been that way for ages. However, that doesn't make that way of thinking any less irrational.
30 yrs ago today #Oilers Paul Coffey broke Bobby Orr's mark for goals in a season. One of the most fun #NHL games I ever got to produce.

— Steve Lansky 🇨🇦 (@bigmouthsports) April 2, 2016
Let's not forget, this is a marketplace where fans would routinely complain about a guy like Paul Coffey being "soft" or Jari Kurri's "lack" of physical play as a supposed problem that needed to be dealt with. Can you say a little off-base? Ask anyone who was here during the Oilers glory days and they will all tell you how the masses always liked to complain about a supposed lack of "effort" or "jam" displayed by certain players. With that said, if you are one the more skilled players on a team that is not clicking on all cylinders and appear to not be giving  a "full" effort,  you are going to hear it…no matter what NHL city you play in.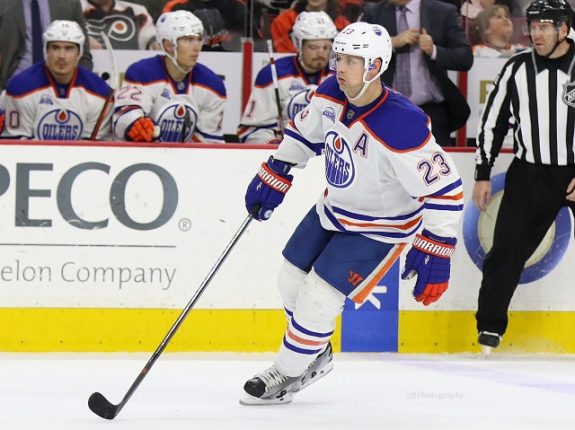 Making Something Out of Nothing
However, there is a problem with that line thinking. Perception is not always as it seems and fans will sometimes allow their passion for their team or preference for a certain player to cloud their judgement of said situation. Believe it or not, players are not all wired the same and just because you might prefer the way a guy like Darnell Nurse or Hendricks responds in a game when things aren't going well for the group, it doesn't exactly mean they are trying any harder than the high-end skilled guy. In fact, that is almost never the case but people tend to see what they want to see.
[Related Article: Oilers Would Be Crazy To Target Milan Lucic]
After years of watching this team give everything they had to do nothing more than scrape their way into the playoffs and ultimately fall short of any sort of real post-season success during the late 1990's and early 2000's, most fans were hoping Edmonton would eventually come to their senses and look towards rebuilding the franchise from the bottom up.  While a retooling and adding a Hall of Fame defenceman in Chris Pronger allowed them to go on a Stanley Cup run in 2006, the draft was the only way this franchise was going to get their hands on the players needed.
https://twitter.com/DKingBH/status/716706139719798786
Well, it has not been pretty and it has taken much longer than some expected but the Oilers are now at the stage where they have enough pieces in place where they should be able to make the necessary upgrades to their lineup in order to help get this thing pointed in the right direction. Having said, one can't help but wonder what type of team this fanbase actually wants to see on a nightly basis. If they want the high-end skill, then they need to come to grips with the fact not everyone on the roster is going to play the game like Hendricks or Smyth. Like it or not, that is how it is going to have to be.
Oilers Still Have Plenty Of Pieces In Place
While that may not be everyone's cup of tea, it is the reality of the situation. The other option is to revert back to the aforementioned sides of the late '90's and early 00's and surround Connor McDavid with a handful of talented sidekicks and a bunch of hardworking plumbers. In my mind, that would be a complete and utter waste of the years this organization has endured in hopes of morphing into something far better than they once were. In this case, there is only one way to go and that is forward.
[Related Article: Are Maple Leafs Headed for An Oilers Styled Rebuild?]
Again, it hasn't been easy but the time to turn corner has arrived for the Edmonton Oilers and the last thing they need to do is overact to a poor showing in 2015-16 and clean house to the extent some fans are hoping. The frustration is more than understandable, just ask Todd McLellan and his coaching staff, but let's not be silly here. It may look ugly at the moment but the possibility of this team becoming a legitimate playoff contender in 2016-17 is far closer than many seem to think.
"Forget about the win & the loss, just the effort. That's frickin embarrassing." Coach McLellan on #Oilers defeathttps://t.co/SzSdHe0mC1

— Edmonton Oilers (@EdmontonOilers) April 3, 2016
So take a deep breath Oilers Nation and soak up the "Farewell to Rexall Place" celebration for the wonderful event it will be and don't worry about what tomorrow might bring. After that, simply focus on enjoying your summer and doing whatever it is you do during the offseason. This thing is still headed in the right direction and if you have you been able to stick it out until this point, showing just a little more patience may be worth your while.