BALLSTON – Though the first day was full of skate tests, drills and other warm-up activities, Alex Ovechkin has been happy to be back in Washington, a huge smile on his face on day two.
Looking ahead to this season, the Capitals all-star took the time to discuss the upcoming Olympic games, what he worked on over the summer and his expectations heading into 2017-18 following his on-ice session Friday.
Ovechkin and the Olympics
Ovechkin released a statement regarding the Olympics Thursday, where he ultimately said that the decision to participate was not in his hands. Throughout the entire Olympic debate, he has been keen on representing his country, but appeared to concede, saying in his statement that "it sucks that will we not be there to play" and that he "will try my hardest to help my teammates win like I do every year since I came to the NHL."
However, his statement did draw some questions, considering that he did not clearly state whether or not he was going to sit out of the Olympics this coming season. However, he said that the door is "obviously" closed.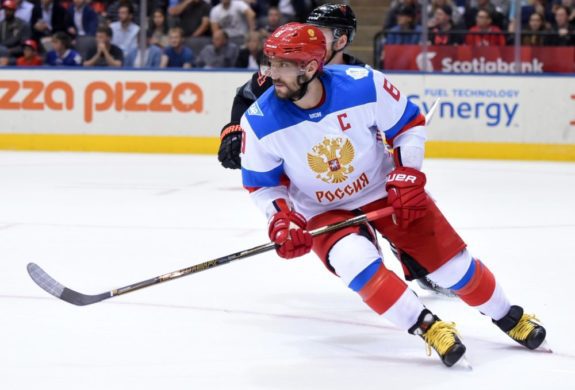 "I don't want to talk about it right now because it's hard," Ovechkin said. "Let's move forward."
He didn't want to continue speaking about the matter but did mention how great of an honor it is to represent Russia as a member of their national team. Teammates Evgeny Kuznetsov and T.J. Oshie also sympathized with him Friday.
Offseason Training and Weight Loss
At the start of the offseason, general manager Brian MacLellan mentioned that in order for the soon-to-be 32-year-old to remain relevant and at his highest level of hockey, he will have to evolve as a player, which means focusing on his speed rather than power in a faster-paced league.
Though Ovechkin said that he didn't change his diet or make any major changes to his offseason training, he did work on a few specific things over the course of the offseason.
"I did do lots of weight and changed it up a bit with more running and stuff," Ovechkin said. "But again, I feel the same as I did last year."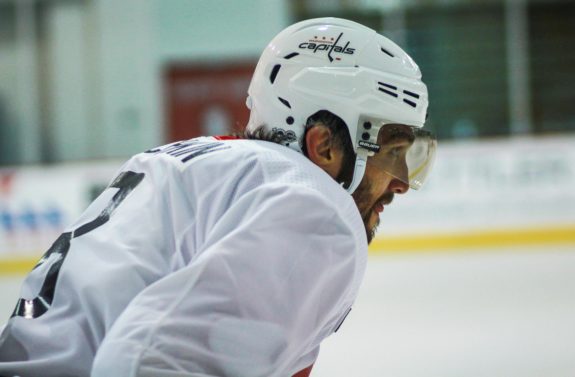 Prior to the start of training camp, Evgeny Kuznetsov mentioned to reporters that Alex Ovechkin appeared to have lost some weight. However, at a press conference Friday, the Capitals captain didn't acknowledge any weight loss.
"Do I look like I lost weight?" he joked. "My weight is same."
The 6-foot-3 winger weighed in at 239 pounds last season but told reporters Friday that he was actually 259 to start the year. At the time, no one could be certain whether he was joking or not. However, official weights were released Saturday, and he lost four pounds, which isn't a major change, but still one to acknowledge.
During his on-ice sessions, he was invested, on his feet and skating fast. And though Ovechkin said he feels the same, MacLellan begs to differ.
"He looks happier," MacLellan said. "He looks good. He looks ready. He looks excited to play."
Expectations and Goals
Though Ovechkin still managed to hit the 30-goal mark, he did have somewhat of a rough year in 2016-17; he finished with 33 goals and 69 points through 82 games scoring 17 fewer than he did in 2015-16 when he hit the 50-goal mark and won his fifth Rocket Richard Trophy.
Coming into this season, Washington lost some of key goal-scorers in Marcus Johansson, Justin Willaims and Daniel Winnik, who accounted for a combined 60 goals last year. Because Ovechkin is a proven elite goal-scorer, he will likely be called upon to lead the charge and pull his weight when it comes to accounting for the Capitals' losses on offense. However, he said that he has another goal
However, he is not making production the biggest priority this year, and he made that perfectly clear on the first day of camp.
"Goals is not my goal right now," Ovechkin said. "My goal is to win a Stanley Cup."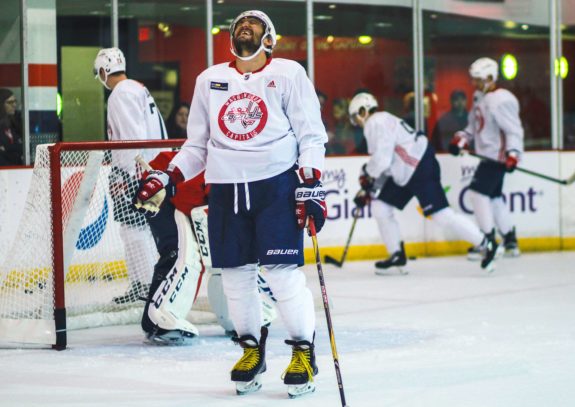 Washington enters the 2017-18 campaign with a number of spots up for grabs, and they appear to be looking to their youth to step up and make the jump to the NHL roster. There are not only a lot of expectations from the management when it comes to the prospects, but also from the captain.
"Obviously, it was tough summer for our organization," Ovechkin said. "We lost a couple key players, but now it's time for young guys to step it up and make the roster."
With a new wave of players coming in, many of who have little to no experience in the NHL, there are many questions surrounding the defending President's Trophy winners. Because big-names like Johansson, Williams, Nate Schmidt and Karl Alzner are gone, will the organization fall in the standings? Or, does the team have enough depth and strength to cope with their losses and remain a Cup contender?
For Ovechkin, he believes the latter.
"I think we have a good team, we're not going to be suck this year," Ovechkin said. "We're going to be fine."
Sammi Silber covers the Capitals beat for The Hockey Writers and is an NHL contributor with Sporting News. She has also contributed to USA TODAY College, Huffington Post, FanSided and the Nation Network. Silber has written four books and recently worked on graphics for the film, The California Golden Seals Movie.