BALLSTON – For the Washington Capitals, there is no such thing as easing into training camp.
Once the clock hit 9:30 a.m. Friday, the first group of Capitals skaters found themselves on the ice and jumping straight into drills. By the end of the first day of camp, there was a broken pane of plexiglass and a good number of players either doubled over or lying on the ice at the end of their sessions.
With an action-packed first day in the books, here's everything to know as the Capitals work toward the 2017-18 campaign, where they will prove that they still have what it takes to win the Stanley Cup.
Skating Test and Groups
Wahington divided its training camp roster of 65 players into three groups. The first half of each group's session consisted of one-on-one drills and line rushes. The latter half marked perhaps one of the hardest parts of the team's training camp, the annual skate test, where each player has to line up and skate suicides from goal line to goal line. By the end of it, many of Washington's players found themselves doubled over or lying on the ice, trying to catch their breath.
Though Tom Wilson has multiple training camps under his belt, he still mentioned that the skate test marks one of the toughest parts of camp regardless of how many times he has participated.
"You can try and get prepared for it, but it doesn't really ever work," Wilson said. "No matter how good a skater you are, how good of shape you're in, you're gonna have to grind to get through it."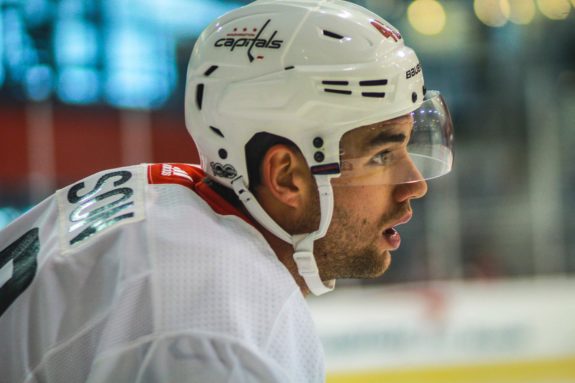 There were some players who passed the skate tests and some who failed, but according to head coach Barry Trotz, it wasn't about that, but instead "about how hard you pushed yourself to get to that point."
"The best way to describe [the first day drills and tests] is that it sort of sandblasts the rust off the summer, and now we're ready to go," Trotz said.
As camp continues, the Capitals will adjust the groups based on the number of players left, but for now, it is a mixed bag of forwards and defenders in all three groups. Some of the most notable combinations come with Alex Ovechkin and Lars Eller on a line together, as well as Nicklas Backstrom centering Jakub Vrana and Andre Burakovsky.
Building From Scratch: the Blue Line
John Carlson, Matt Niskanen, Brooks Orpik, Dmitry Orlov and Taylor Chorney are the only returning defensemen from last season. As of right now, it looks like the Capitals plan to fill the vacancies on the blue line with some of Washington's impressive defensive prospects.
Because of this, Trotz has created defensive pairings that feature a long-tenured Capital with one of the eligible defensive candidates for a roster spot this season. To start camp, Lucas Johansen is playing with John Carlson, Christian Djoos with Matt Niskanen and Connor Hobbs with Brooks Orpik.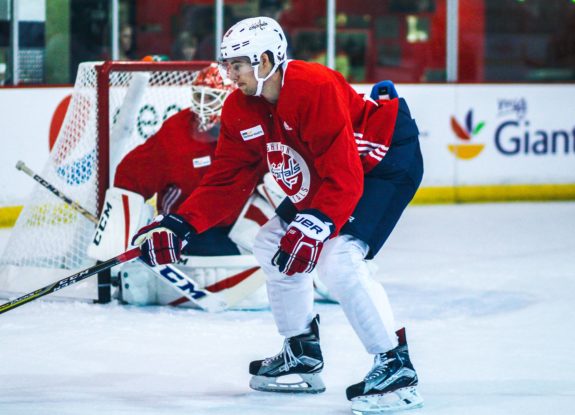 "We tried to pair guys up where I think they can complement each other from a young guy to an older guy, and so that's what we tried to do," Trotz said. "It's all about bringing on the next generation. I think that's what we've established here culturally."
Perhaps the most notable defender at camp is Djoos, the young Swede who may be on the smaller side, but shined in Hershey last season and appears ready to carry that over to the NHL. No spot is guaranteed, though, and with Connor Hobbs coming off a breakout year in juniors and Lucas Johansen proving his worth, there will certainly be a lot of competition in regards to Washington's opening night roster.
Old, New Faces at Capitals Camp
Though the big-name players like Alex Ovechkin, Nicklas Backstrom, Evgeny Kuznetsov and Braden Holtby are still on the team, the Capitals lost a lot of players this offseason, including Marcus Johansson, Justin Williams, Nate Schmidt, Karl Alzner and Kevin Shattenkirk.
To fill those voids, there are a number of prospects and new players participating in camp this year, including the likes of Vrana and Nathan Walker, as well as their offseason signees Devante Smith-Pelly, Alex Chiasson (PTO) and Jyrki Jokipakka (PTO). And while this may be a concern for the Capitals, who lost a lot of scoring and a lot of security on defense, Trotz actually believes that the team is deeper in a way, because of openings on the main roster and other factors.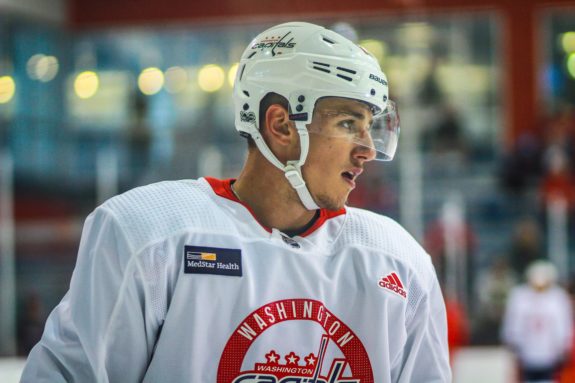 "I think we're deeper because if you look at the young defensemen coming, that's a great sign," Trotz said.  You look at our forwards that are coming, eventually, all the Vranas, the Walkers, the Boyds, the Barbers, those guys are nipping at a spot here and then we got some PTO guys. I actually feel like we're deeper because they've had more experience and more seasoning."
According to general manager Brian MacLellan, all of the Capitals (as of his press conference) at camp passed their physicals, and Trotz mentioned that the team will start to get more into drills and practices as they enter the preseason. Still, on just the first day, every single player on the ice was ready, giving a full effort and showing full investment.