The Carolina Hurricanes have come to terms on a two-year agreement with right-winger Justin Williams. The deal is worth $9 million over those two seasons.
Ron Francis, Executive Vice President and General Manager said of the deal, "We said that we needed goal scoring and veteran leadership, and Justin will bring us both…. He believes in what we are doing here and is returning to Raleigh to help the Hurricanes take the next step."
Williams was one of the more interesting free agents available on July 1. He had as many as 10 teams interested, including the Washington Capitals who were hoping to bring him back, but knew he'd be a popular choice as a veteran player with tons of playoff experience.

The Williams Deal
The two-year contract gives Williams some security in the NHL. Potentially looking at choosing either good money on a one-year contract or a slight pay cut on a multiple year deal, the Hurricanes were able to give Williams both. It helps them inch closer to the salary cap floor and it's a nice payday for a player who's reaching the final years of his career in the NHL.
Justin Williams said about 10 teams inquired about his services. "Carolina was right there. I'm thrilled to get opportunity to come back"

— Greg Wyshynski (@wyshynski) July 1, 2017

The only wonder here is that most believed the Williams would sign with a team that had a legitimate shot at the Stanley Cup before retiring. While an improving squad, the Hurricanes might not be that team.
The signing pays Williams $5 million in year one and $4 million in 2018-19. Last season he finished with 48 points with 24 goals and Williams was fourth among Capitals in scoring during the 2017 Stanley Cup playoffs, totaling nine points (3g, 6a) in 13 games. He clearly got paid for that performance despite the Capitals disappointing exit from the postseason.
Returning Home
For Williams and the Hurricanes, this signing is a reunion. Williams played 265 regular-season games with the team from 2004-2009 and was top-ten in scoring and one of the most notable Hurricanes to wear the uniform. He scored seven goals and added 11 assists (18 points) in 25 games for the Hurricanes during the 2006 Stanley Cup playoffs. It was the team's first and only championship in franchise history. It was also Williams' first Stanley Cup victory.
He went on to win two more times with the Los Angeles Kings and won the Conn Smythe Trophy in 2014.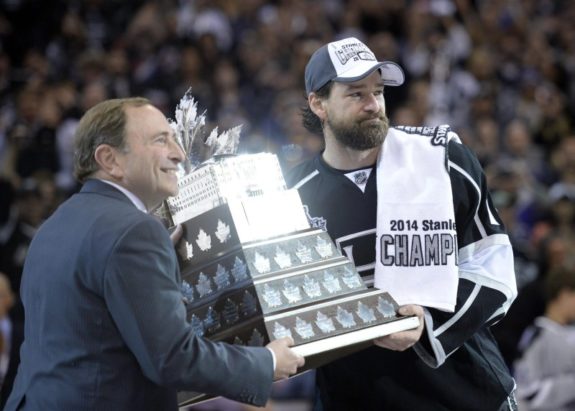 The Hurricanes now have 12 forwards signed and a blue line that is young, talented and inexpensive. The team is probably not done on the free agent market yet and if not, this could be helpful for Williams who'd mentioned publicly that wherever he'd landed was not necessarily about the money, but the ability to win.
The team will need to add a couple more pieces to really be considered a contender.
By most accounts, this is a win for the Hurricanes organization. They paid good money to land an aging player, but the team was looking to make a splash and Williams is proven performer. For Williams, it gives him both money and job security and he'll provide leadership to a fairly young and on-the-rise team who could use a player of his ability.