When you think of the greats in the Buffalo Sabres history it is sometimes difficult to pick out defensemen who have stood above the rest. However, in part two of this All-Sabres team I try to pick out who should join the goaltending tandem of Dominic Hasek and Ryan Miller in the six blue line spots. The six players that made the list are all there for specific reasons, but with the Sabres franchise there really are no clear cut right or wrong choices when it comes to all-time team defensemen. Still, here are the six players who make this team.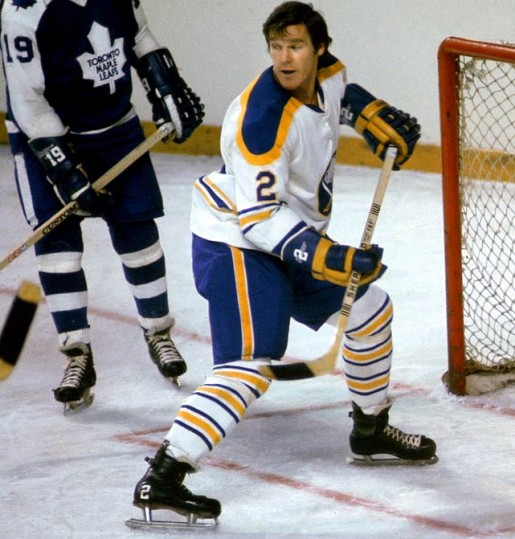 Phil Housley
While making the list of the All-Sabres defense team is difficult, there is one player who stands out above the rest. Phil Housley played for the Sabres from 1982 to 1990. He may have only played in the fourth most games as a Sabres defenseman, 608, but during those games he put up numbers that no other Sabres blue liner even came close to. Housley is the franchise's all-time leader in goals with 178. That is 105 more than the second player, Michael Ramsey, on the list. He also has more assists than any other player with 380 for a combined points total of 558, which is 229 more than Ramsey at number two.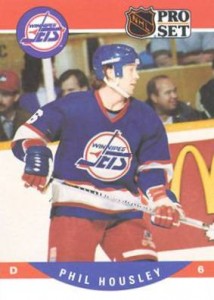 During his career, Housley was an All-Star seven times and the runner up for the 1992 James Norris Trophy.
The NHL regular season schedule was released on Friday. Check out our partners at TiqIQ for the best deals on Buffalo Sabres tickets for all 2013-14 games.
Housley never won a Stanley Cup, but he was part of Team U.S.A in 1996 when they captured the World Cup of Hockey. He was inducted into the United States Hockey Hall of Fame in 2004 and the Sabres Hall of Fame in 2007.
Tim Horton
After Housley this list really opens itself up to subjectivity. The second player on this All-Sabres team blue line is Tim Horton. Horton only played two seasons for the Sabres but is the only defender in team history to be elected to the Hockey Hall of Fame. Horton joined the team in 1972 in the Intra-League Draft. Even as a 42-year-old, Horton appeared in 69 games his first season and then 55 the next for Buffalo. He only scored a goal and 22 assists during his time, but helped in the development of the Sabres in their first few years.  Horton finished his career having played 1446 games with 115 goals, 403 assists and 518 points. He won four Stanley Cups, all with the Toronto Maple Leafs. He was named a First Team All-Star three times and a Second Team another three.
Horton went into the Hockey Hall of Fame in 1977, the Sabres Hall of Fame in 1982 and had his number retired by the team in 1996. Horton is the only Sabres defenseman to have his number retired.
Bill Hajt
It is often tough to rate how effective a defenseman was during his career at keeping the puck out of his own net.  Plus/minus is the best indicator we have to go on. When looking at the plus/minus of Sabres defensemen, no one could come close to Hajt. Much like Housley in the offensive categories, Hajt's plus/minus is nearly 100 points better than the second best. He finished his career as a +321 and was a life-long Sabre spending all 13 of his pro seasons (1973-1987) with the blue and gold after being drafted by them in 1971. His best offensive campaign was as a rookie when he tallied 29 points. He never got back to that mark, but developed as a solid defensive defenseman.  His plus/minus is 15th all time among defensemen and 23rd overall. Hajt went into the Sabres Hall of Fame in 2000.
Jason Wooley
Another important aspect of a player and his contribution to a team is playoff performance. Wooley had a 15-year NHL career with six seasons in Buffalo. His best offensive season was in 1998-99 when he scored 43 points but it is his playoff numbers and clutch performances that get him a spot on this list. He appeared in just 49 playoff games, yet has more playoff points than any other Sabres defenseman. Wooley's 34 points (seven goals, 27 assists) even edges Housley in the category even though Housley only appeared in 35 playoff games. But he also bests the players who played in considerably more playoff games with the team. Richard Smehlik, for example, appeared in 83 games. Wooley's 49 games played is seventh most.
Adding to his points total is the fact that Wooley is tied for the most playoff game winning goals with three. His overtime game-winner in game one of the 1999 Stanley Cup Finals has been called "The Shot Heard Round The Hockey World."
Michael Ramsey
His name keeps popping up at the top of every measureable category that has helped comprise the list so far, so it is only fitting that Michael Ramsey earns a spot on this All-Sabres team. Ramsey does lead the Sabres in games played at 911. He is the staple of longevity for the team spending the first 14 years of his NHL career in Buffalo before finishing with stints in Pittsburgh and Detroit.  He is second all-time, among defenders, in goals 73, assists 256, points 181 and game-winners 14. He cracks the top three in plus/minus +181 and penalty minutes with 924.
Ramsey made four all-star appearances all while a member of the Sabres. But perhaps his greatest accomplishment came before his NHL career when he was part of the famed "Miracle on Ice" where he won a gold medal with Team U.S.A at the 1980 Lake Placid Olympics. He was inducted into the United States Hockey Hall of Fame in 2001 and again in 2003 as part of the 1980 Olympic team. In 2001, the Sabres inducted him into their Hall of Fame.
Larry Playfair
To round out this All-Sabres team defense core why not add some grit with Larry Playfair. Playfair finished his career in Buffalo with an even 100 points, 24 goals and 76 assists during his 577 games with the Sabres. He is the franchise defensive leader in penalty minutes with 1,392, but he is still quite far from Rob Ray's 3,189. Playfair was not afraid to drop the gloves during his career. According to hockeyfights.com as he registered 89 during his 10-year career.  Playfair went into the Sabres Hall of Fame in 1998.
So there it is, part two of this writer's All-Sabres team. Defensemen in the Sabres history are not the easiest to judge or select for an all-time team, but stay tuned because up next are the forwards and the Buffalo Sabres sure have had some good ones.
An avid sports enthusiast, Darren presently is the Communications and Marketing Coordinator at the Golf Association of Ontario. He has served as a Sports Editor with Etcetera Publications and colour commentator on TV Cogeco's junior hockey coverage. He has covered a wide range of junior and professional sports including: hockey, golf, baseball and football to name a few.