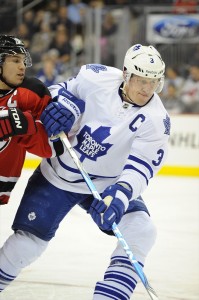 Since the Toronto Maple Leafs finished their heartbreaking seven game series against the Boston Bruins in May, General Manager Dave Nonis has been busy, to say the least.
Beginning with the acquisition of goaltender Jonathan Bernier during the Stanley Cup Finals, Nonis has since traded for Dave Bolland and signed unrestricted free agent David Clarkson, all in an effort to further mold the roster after Head Coach Randy Carlyle.
As it stands now, it's hard to argue that Nonis hasn't made the Blue and White a tougher group to play against; at the forward position, at least.
For all the improvement of the goaltending and forward groups, the relatively new Leafs GM has done little to improve a defensive group that made positive strides last season, but at times still seemed overwhelmed. Nonis has locked up restricted free agent Carl Gunnarsson for the next three years and replaced the outgoing Mike Kostka with T.J. Brennan. Aside from that one swap, the Leafs top six defenders would currently be comprised entirely of returning players.
Perhaps the most glaring issue in Toronto, aside from the lack of a true number one centre, is the lack of a suitable top pairing partner for Dion Phaneuf. The Leafs captain showed signs of returning to his old form in 2013, but is unlikely to completely do so while paired with the likes of Mike Kostka, Korbinian Holzer and the aforementioned Gunnarsson. If the Toronto Maple Leafs are going to take the next step as an organization and enter the conversation of contenders, Dave Nonis needs to find someone to help Dion Phaneuf as he attempts to stifle the opposition's best each night.
Thanks to former GM Brian Burke, Nonis has enjoyed a great deal of flexibility this off-season as far as the salary cap situation is concerned, which cannot be said for every team in the league. With the salary cap falling by several million dollars for the upcoming season, there may be some teams attempting to offload salary in an effort to better their cap position leading into October.
A prime example is Braydon Coburn of the Philadelphia Flyers. As it currently sits, the Flyers are roughly two million dollars over the cap and Coburn is due a cap hit of $4.5 million each of the next three years. The 28 year old stay at home defenseman would be a solid fit beside Phaneuf as he is a big bodied presence with very good mobility and a low risk style of game.
Obviously, for Nonis to fit Coburn into the Leafs cap situation, one or two of John-Michael Liles, Nikolai Kulemin, and the newly re-signed Carl Gunnarsson would have to be made available to either the Flyers, or in a separate transaction.
Same goes for a player like Kevin Bieksa, who would provide a mean, veteran presence alongside Phaneuf, but has a similar cap hit to Coburn's. The Canucks are not in the same kind of financial pickle as the Flyers, but they may be in a position where they are looking to get younger and slow down the closing of their championship window.
There are also free agent options available, but all of them come with baggage and holes in their games. Veterans like Tom Gilbert, who was recently bought out by the Minnesota Wild, or re-treads Carlo Colaiacovo and Ian White may not represent a marked improvement over the current group. Similarly, Ryan Whitney looked old and fragile in Edmonton and Ron Hainsey is likely not the top pairing defender the Leafs are looking for.
It seems safe to say that if Nonis is set on improving his defensive group, it will have to be through a trade, with Coburn and Bieksa representing only two possibilities. However, if the market isn't there, or the prices are too high, entering the season with the same defense corps as last season is not the worst possible outcome. After all, they were good enough to earn a playoff spot.
Luckily, for Leafs fans everywhere, that is no longer the measure of success.
The NHL regular season schedule was released on Friday. Check out our partners at TiqIQ for the best deals on Toronto Maple Leafs tickets for all 2013-14 games.
A graduate of Wilfrid Laurier University, Kevin is the Senior Editor of Maple Leafs Central and has previously worked as a Toronto Maple Leafs contributor for The Hockey Writers. Kevin can be contacted at k.am.pentz (at) gmail (dot) com.