Alex Biega is a 6 feet 3 inch 209 pound defenseman currently playing for the Rochester Americans in the AHL. The Buffalo Sabres selected Biega in the 5th round (147th) of the 2006 NHL Entry Draft. Due to NCAA regulations the Sabres were not able to sign him until he graduated from Harvard University in 2010.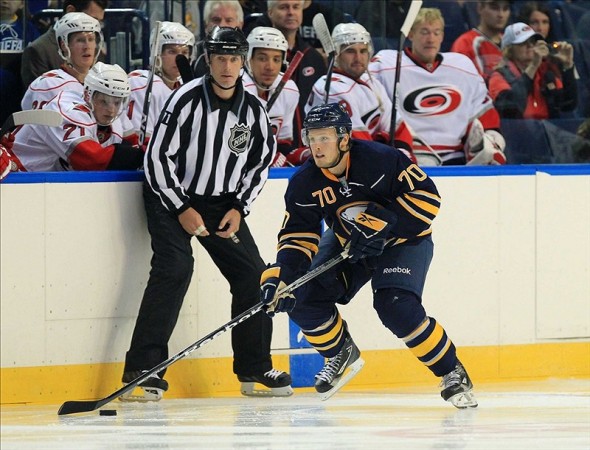 Biega is a big defenseman who wins many 1 on 1 battles and often out muscles opponents, his big size doesn't affect his skating ability as he likes to jump in the rush from time to time. He's got a strong shot from the point and isn't shy about being a vocal leader on and off the ice. There are 3 defenseman ahead of Biega in the depth charts, which will allow him more time to develop at the AHL level and hone his skills so that when the time comes he will be ready for a permanent stay in the NHL.
In 65 games with the Amerks this season Biega scored 5 goals and added 18 assists for 23 points. He had a -/+ 10 and 47 penalty minutes to add to a solid first year. I had the pleasure of having an interview with Alex Biega this past weekend, the purpose of the interview was to shed some light on the Amerks defenseman, and get fans to more of their future Sabres!
1. What did you major in while attending Harvard?
Biega- My major was Sociology, but I took a lot of different classes in different fields while I was there!
2. Do you know Buffalo Bills quarterback Ryan Fitzpatrick, considering you both went to Harvard?
Biega- I don't know him personally, but I have seen him around Harvard during the summer training for the offseason. He's a legend there, and I think he comes back to visit when he can!
3. What are your interests outside of hockey?
Biega- I'm a big movie guy. I've been learning to play the guitar from my roommate.
4. What do you like best about living/being in Rochester/Buffalo?
Biega- The fans. They are avid fans who really have a passion for their hockey!
5. What is the greatest memory you've had in your hockey career?
Biega- Winning the Salisbury school's first ever New England championship. One of my brothers was on the team with me at the time, so it was a great experience to share that with him.
6. Do you like any other sports besides hockey?
Biega- I played soccer all my life, including my time in prep school. I'd be lying if I said I didn't get excited for the World Cup!
7. What was your favorite hockey team growing up?
Biega- I grew up in Montreal so it would be difficult not to say the Canadians!
I Would like to thank Josh Edwards for setting me up to interview Biega, click here to see his interview with Alex Biega!
There you have it Sabres/Amerks fans an interview with Alex Biega