Past the quarter point of the 2014-15 regular season, the league has been getting into the 2015 All Star Game voting process. It's tough to vote for an all star after only two months of the season, and most voters will simply vote for their favourite team's players. But, there are some guys who definitely deserve to be there. But, each team itself has had their own All Star through two months and deserve to be recognized. So, here's one All Star from each team in the league through a quarter of 2014-15.
Anaheim Ducks- Sami Vatanen:
The Anaheim Ducks are off to another red hot start, currently first in the Western Conference. Although the goaltending hasn't been what it was expected to be, the Ducks defence have backed them up each game. Led by Sami Vatanen, who has 20 points in 26 games, tied for second in team scoring with Corey Perry. Oh, but he also leads the team in blocked shots with 53, which is 18 more than the next guy. The 23 year old has been unbelievable and looks like he could be a future Norris Trophy winner, and maybe an All Star this year too.
Arizona Coyotes- Keith Yandle:
The Arizona Coyotes are off to a slow start, but Keith Yandle is one player who's played well though the first quarter. After a season last year which he put up 53 points as a defenseman of a low scoring team but was a lousy -23, Yande has been great so far. He leads the Coyotes in scoring with 18 points in 26 games. He's also third in blocked shots, getting it done on both ends of the rink.
Boston Bruins- Dougie Hamilton:
The Boston Bruins haven't dominated the East as they have the past few years. Zeno Chara has been injured and they haven't been scoring as the usual pace. But, Dougie Hamilton is doing his best to fix both of those problems. He's put up 15 points in 26 games, raising his offensive abilities. He's also been much more sound defensively than in his first two seasons. If things continue at this rate of developing, Hamilton could very well take over for Chara when he retires.
https://www.youtube.com/watch?v=anDW2546lvk
Buffalo Sabres- Zemgus Girgensons:
The Buffalo Sabres were expected to be very bad again this year. And they have been just that. Zeugmas Girgensons has continued to develop though, putting up 14 points in 26 games for a team that can't score. He also leads the teams in plus/minus. Maybe the biggest achievement he's gotten this year is that he's actually leading All Star Voting by nearly double that of second place P.K. Subban. No one is quite sure how or why, but it's happening. Maybe he could become president too! #VoteZemgusGirgensons
Calgary Flames- Mark Giordano:
The Calgary Flames have taken the world by surprise this season, sitting just 3 points out of first place in the Pacific Division though a quarter of the season. Thanks, largely in part to, Mark Giordano. The Toronto native has racked up 26 points in 26 games to lead all defensemen in points in the NHL. The underrated defenseman had a great season last year and has built upon it this year, leading Norris Trophy candidates so far. He's taken the Flames to a playoff spot so far.
Carolina Hurricanes- Riley Nash:
It's been yet another disastrous season for the Hurricanes, who sit just one point above last place Edmonton Oilers. But for former Oiler 1st round pick, Riley Nash, its been the best season of his life. He's tied for the team lead in points with 15. He's winning 52.6% of his face-offs and has a +6 takeaway to giveaway ratio. The 25 year old has been the sole point of optimism on the team this year, but he won't get a trip to the 2015 NHL All Star Game.
Chicago Blackhawks- Corey Crawford:
The Chicago Blackhawks haven't been dominant like they are expected to be, but they've still been very good. They feature great depth this year with guys like Brad Richards and Kris Versteeg playing well. But it's been Corey Crawford who continues to prove he isn't just good because of the team. He's 12-5-1 with a 1.87 GAA and a .927 SV%. Unfortunately, after falling at a concert, we won't be seeing Crawford for 2 to 3 weeks.
Colorado Avalanche- Tyson Barrie: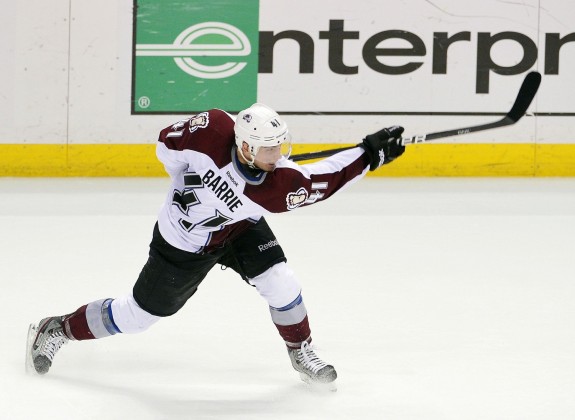 The Colorado Avalanche were amazing last season, winning the Central Division. There were questions if there were for real ornate, it seems as if that been answered. The Avalanche are last in the Central Divison this year, and the players who stepped up last year have stepped back down this year. Except for Tyson Barrie who is leading the team in points with 19 in 25 games. He remains one of the few Avalanche with a positive plus/minus. At only 23 years old, this kid is scary good.
Columbus Blue Jackets- Nick Foligno:
Columbus has been destroyed by injuries this season, losing an incredible 154 man game trough just 23 games in their season. There were expected to challenge for the division title, but find themselves challenging for McDavid instead. However, Ryan Johansen and Nick Foligno have been spectacular all year long. Fooling leads the team in goals and is second in points. He is also the only everyday player with a positive plus/minus. The Blue Jackets should try to lock up this All Star long term.
Dallas Stars- Tyler Seguin:
The Dallas Stars are another team that expected so much more this season after their great 2013-14 seasons and the acquisition of Jason Spezza in the offseason. However, they are out of a playoff spot right now. One extremely bright spot is Tyler Seguin, who continues to blow the league away. Through 25 games, he has 18 goals and 31 points. He leads the league in goals and is only two behind Crosby for points. It's safe to say Boston may be missing this kid. At just 22 years old, there's no telling what the future holds for this All Star lock.
Detroit Red Wings- Henrik Zetterberg:
The Red Wings continue to surprise critics, as they look as if they will continue their Playoff streak this year. Jimmy Howard has had an amazing year so far, so has Datsyuk, when he's been healthy. But, Zetterberg has been the consistent player night in, night out. He has 5 goals and 19 assists in 25 games, but with a lousy 5.8 shooting%, more goals have got to be on their way. If Zeterberg and company can keep healthy, we'll once again see Detroit playing beyond April.
Edmonton Oilers- Taylor Hall:
It's been yet another miserable seasons for the Edmonton Oilers, who are winless in their last 10 games. Their goaltending has been embarrassing, with a combined .898 SV%. Their young guns and multiple first overall picks haven't been great, but Taylor Hall continues to stand above the rest, as he did last season. He leads the team in goals and points, despite missing 6 games. It must be getting frustrating for Hall, as his development is hindering playing for a horrible team. Maybe he'll be glad to see McDavid in June?
Florida Panthers- Aaron Ekblad:
The 2014 1st overall pick wasp straight into the NHL as an 18 year old. He has looked like a seasoned veteran however on the lowly Florida Panthers. The panthers have been one of the lowest scoring teams in the league for a while, but that hasn't phased Ekblad, who actually is leading the team in scoring with 13 points. At this rate, Ekblad should be an Eastern Conference All Star, and perhaps the Calder Trophy winner as well. The future is extremely bright for this kid.
https://www.youtube.com/watch?v=3awu6BSkrS0
Los Angeles Kings- Jonathan Quick:
Quick has been known to turn his play up a notch in the Playoffs, but in 2014-15, he's playing at that level throughout the regular season. He's posted Vezina like numbers, with a 2.15 GAA and a .933 SV%. Los Angeles has been known to be a defensive team, and this year they are emphasizing what has brought them 2 Stanley Cups in the past 3 years. Quick will be on the Western Conference All Star team, and will either start or backup Rinne. Playing the way he is, Quick could bring the Cup to LA once again in June.
Minnesota Wild- Zach Parise:
The Minnesota Wild have had a roller coaster season so far, dealing with injuries, the mumps, and plenty of ups and downs. One constant for them, besides a 5 games absence due to a concussion, has been Zach Parise. He's finally producing at the level the Wild expected, posting 9 goals and 9 assists in 18 games. When he's in the lineup, the Wild are 12-5-1. Although, they are currently out of a playoff position, it's fairly safe to say if Parise stays healthy, they will be in one in April.
Montreal Canadiens- Carey Price:
Although the Canadiens are tied for first in the NHL, four of their wins have come past regulation. No one is blowing away statisticians with their offensive numbers, and Price hasn't been outstanding, but he's still backed up the Canadiens whenever they needed a big save. He's 14-5-1 with a 2.37 GAA and a .921 SV%. Perhps more importunely, he has yet to allow a shootout goal against this year, and for that reason, he's Montreal's All Star.
Nashville Predators- Pekka Rinne:
The Nashville Predators have bene the surprise of the NHL this season, skyrocketing up the standings to first  in the Central Division. Although rookie, Filip Forsberg, has been spectacular and turned Nashville into a team that can finally score, it's been Pekka Rinne who has really carried the team. He's a Vezina favourite through a quarter of the season, with a 16-4-1 record, 1.83 GAA and a .932 SV%. Once one of the best goalies in the league, Rinne fell back due to injuries, but looks like he is now back to his prime form, a great thing for the Preds.
New Jersey Devils- Mike Cammalleri:
It hasn't been the start the Devils were expecting, as the find themselves below .500 and out of a playoff spot. However, a couple bright spots have been Adam Henrique and Mike Cammalleri. However, Cammalleri takes the All Star spot because of his over half a goal per game ratio. Both payers have been hurt, missing 6 and 5 games, respectively. Also, Cammalleri has helped out a little in getting a shootout win, something they couldn't do once last season.
New York Islanders- Jaroslav Halak:
Finally, everything is coming together for the New York Islanders in one season. Although they've had good offence for a couple of years, they've never had the defensive ability to go with it. Until this year. Jaroslav Halak has been a brick wall in the net. He tied the franchise record for consecutive wins for a goalie with 10, and is still counting. He has a 13-4-0 record with a 2.12 GAA and a .925 SV%. He provided what no one could in the past decade for the Isles in solid goaltending. He should be on the Eastern Conference All Star roster, but is his team's All Star no doubt.
https://www.youtube.com/watch?v=x0XDO80Fm50
New York Rangers- Rick Nash:
Remember in the offseason when Rangers fans were begging to have Nash bought out? Well they likely are wearing paper bags on their head snow. Rick Nash is currently second in goal scoring in the league with 16 goals in 24 games, and also tied for 8th in points, with 26. The Rangers are clinging to the final Playoff spot in the East, mostly thanks to offence created by Nash. The Brampton, Ontario native is on pace for a ridiculous 55 goals which would blow his career high of 41 out of the water. Without Nash, the Rangers would likely be no where near a Playoff spot.
Ottawa Senators- Craig Anderson:
Somehow, the Senators are not that bas so far this year. Projected to be a bottom feeder in the league, they are still challenging for a Playoff spot. That result is mainly due to sensational goaltending, mostly provided by Anderson. Splitting time with Robin Lehner, Anderson has a 5-5-4 record despite posting some significant numbers, a 2.46 GAA and .930 SV%. Perhaps the rest tie has been good for Anderson, who could very well be a Vezina Candidate at the end of the year. He's also his team's All Star after two months.
Philadelphia Flyers- Jakub Voracek:
Jakub Voracek is having a career year so far in 2014-15 and has out duelled Giroux as team All Star. He's second only to Crosby in points, by just one. Although the Flyers are having a disappointing season so far, Voracek and Giroux are having a great time, individually. If they had some solid defence they would be a threat. Anyway, the former 7th overall pick by Columbus has probably been the biggest surprise so far this season, and it'll be interesting to see if he can keep it up.
Pittsburgh Penguins- Sidney Crosby:
When you have Sidney Crosby on your team, can anyone else possibly be the team All Star? Not if he's healthy, thats for sure. Once, again, Crosby is leading the league in points and his Penguins are two points out of first in the league with two games in hand. On pace for 113 points, it would be his highest point total since his sophomore year. He's pushed the team power play to an outstanding 30.8% and is 3 for 3 in the shootout so far. It's no surprise Crosby is the best player in the league once again this season, and is a favourite for another Hart Trophy.
San Jose Sharks- Joe Pavelski:
It hasn't been a fantastic year for the Sharks, but they're still well within reach to continue their Playoff streak. That's thanks in part to many Sharks who are still having goods years, but Pavelski receives the team All Star nod. He's put up 10 goals and 10 assists, a position where a 30-30 seasons is still very possible. His FO% is a great 55.2% and he has one of the best giveaway to turnover ratios on the team. All around, Pavelski is having a very solid season and keeping the Sharks in Playoff territory.
St. Louis Blues- Vladimir Tarasenko:
The Blues are finally reaping the rewards of Tarasenko's outrageous potential. Tied for 8th in points in the league, he looks like the new franchise player the Blues were looking for. Often known as a defensive specialist team, Tarasenko has removed that label while also giving his linnets, Lehtera and Schwartz career years so far. He's propelled his team to being just two points out of first place in the NHL. The sky is the limit for this kid and he will likely just continue to improve. That's a scary thought.
https://www.youtube.com/watch?v=UQVnIKUd-6k
Tampa Bay Lightning- Steven Stamkos:
No surprise here. Back form his leg injury which sideline him for most of 2013-14, he is once again near the top of the NHL in points and goals. Always a favourite for the Rocket Richard trophy, he is currently on pace for a solid 47 goals. Although he is now being challenged by Tyler Johnson as the team's All Star, his role as the captain puts him ahead as he has more roles which he is producing well in. Stamkos should be considered a top 5 player in the entire league, and as should his Tampa Bay Lightning, who are first overall in the NHL right now.
Toronto Maple Leafs- Tyler Bozak:
Bozak is often criticized in the tough Maple Leafs market as not being a legitimate number one centre. He's never lived up to his expectations and was on fans trade lists for a while. Until this year. With 12 goals and 11 assists in 24 games, he is tied for team lead in goals and on pace for 41. Although that likely won't carry on, he's also been much better in the defensive zone and carries an amazing 56.9 FO%. He's been the most consistent Leaf this year and is the major reason for their early success. He should be slotted into the All Star Game in February.
Vancouver Canucks- Henrik Sedin:
Captain Henrik has been leading the Canucks once again, and to a somewhat surprising start which has them challenging for the top spot in the eve tough Western Conference. Tied for the team lead in points with his brother, he is on pace for 78 points this season, a great rebound from a less than stellar 2013-14 campaign. Daniel could also the considered the All Star of this team, but Henrik's has always been the better leader of the two and also leads their power play as well to a solid 21.3% .
Washington Capitals- Niklas Backstrom:
Backstrom has always taken a back seat to Ovechkin in Washington, and he wouldn't want it any other way. He's one of the most consistent players in the league and definitely one of the most underrated. His 25 points are tied for 12th in the league and he's been good in the face-off circle as well, winning 54.5% of them. He's an important cog in the Caps lineup each night, manning the first power play unit, he's brought the Caps a ridiculous 28.4% power play. He's become one of the best playmakers in the NHL, and should be a lock for the 2015 All Star Game.
Winnipeg Jets- Michael Hutchinson:
Although the Jets are in a playoff position through a quarter of the season, there hasn't been one standout player. One extremely bright spot is in backup goalie, Michael Hutchinson. A third round draft pick in 2008, he is finally getting his time in the NHL. Through 8 games, he has a 4-1-2 record with an unreal 1.56 GAA and .947 SV%. Those numbers are both good for tops in the NHL. At only 24 years old, Hutchinson could very well be the next franchise goaltender the Jets have been longing for. If he keeps up his play he could steal the starter role this year and push the Jets to their first Playoff appearance since returning.
 Think someone else deserves to be their team's All Star? Let us know in the comments below!
Contributor for the Toronto Maple Leafs and Prospects. Scout with the Oakville Blades of the OJHL. For questions, concerns, or comments, contact me at devinslawson123@hotmail.com or on twitter @SlawsonTHW.