At first glance, things are looking up for the Anaheim Ducks. Despite once again facing a number of injuries, the club has won its first two games and seen a nice infusion of youth. Leading the way in that regard has been Max Comtois, a 19-year-old winger who was a second-round draft pick (50th overall) of the Ducks in 2017. The rookie has scored in each game so far to make a quick statement upon entering the NHL.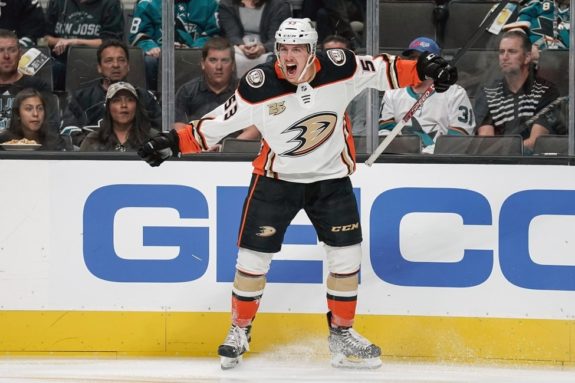 Meanwhile, goaltender John Gibson, who was locked up long-term in the offseason, has been instrumental in each of the two victories. Alas, that development in particular has masked some true underlying issues in Anaheim's play that will ultimately rear their ugly heads in the loss column if the Ducks do not quickly correct them.
Ducks Getting Shelled in Possession
The Ducks certainly do appear to be making a concerted effort to play at a quicker pace and activate their talented defensemen more often. Nevertheless, whether it's a product of working out the kinks of adjusting to a new system, playing with an undermanned lineup (the latest news is that Ryan Getzlaf might be facing a leg injury that could keep him out of the lineup for a little or a lot of time), or some combination of those two factors, the results beyond the scoreboard and win/loss column have been concerning, and not indicative of an undefeated team.
Of course, winning games is the ultimate goal, and the Ducks have been successful in that regard. But we're talking about an unstable sample size. In the long run, the overall efficacy of the team's underlying play should win (or lose) out.
The Ducks have been badly out-possessed and out-chanced in each of their two games so far. Sean Tierney of The Athletic has an ongoing chart that does a great job of illustrating just how ugly it's been for Anaheim.
Happy Thanksgiving!

Please enjoy some hockey charts with your coffee this morning:https://t.co/tkbmcBkD0z pic.twitter.com/ou3eqDkWJi

— Sean Tierney (@ChartingHockey) October 7, 2018
Yes, that's the Ducks all the way in the lower corner of the "Bad" quadrant. I.e., they are giving up a plethora of shot attempts while generating very few for themselves. The numbers behind that come out to 59 total shot attempts for at 5-on-5 play, compared to a whopping 131 against. That's good for a Corsi-for percentage of 31.05 percent—the worst in the league.
One might bring up the fact that the Ducks have won both games and spent portions of each them with a lead. In that scenario, it's more likely that the opponent would get more shot attempts as they take more chances to tie the game while the Ducks would be in more of a mode to protect the lead. So let's look at score-adjusted Corsi-for percentage. The number there is…30.96 percent. Oh. So not better. In fact, marginally worse, and still the worst in the league.
Gibson Keeping Ducks Afloat
At the end of the day, while Comtois's scoring has been exciting and encouraging for the future, and while the Ducks' 2-0 start is fortunate, they are winning because of Gibson, period. The 25-year-old has been a good teammate and downplayed that storyline, but that's what's happening, as he has stopped 72 of 74 shots through two games—good for a .973 save percentage.
"Maybe we had a slow start in the first, but I thought as the game went longer, we got stronger and we found a way," said Gibson after he shut out the Arizona Coyotes Saturday night in Glendale to gave Anaheim a 1-0 win. "If you watch us enough, we usually don't do it the easy way. … (But) I'm trying to be the best I can be every night."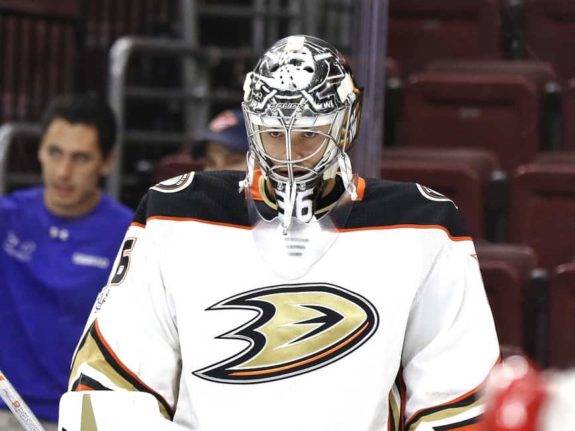 He is definitely right about the Ducks not doing it the easy way. That's something they might want to change going forward, as they can't tax Gibson this much and rely on him to carry them on his back night in and night out. Again, a return to health across the roster might help, but the Ducks will nevertheless have to toe the line between learning a new system and trying not to put themselves at a severe disadvantage each game. If not, the positive vibes from their 2-0 start could soon evaporate, even with as great as Gibson is.
Tom has been with The Hockey Writers for almost four years. After previously covering the LA Kings and the New York Rangers, Tom now covers the Anaheim Ducks.
While in college at Clemson University, the 2016 college football national champions, Tom wrote game summaries and feature articles for the official team website of the Greenville Drive, a Class-A minor-league baseball team and affiliate of the Boston Red Sox. Tom is happy to be able to continue to fulfill his passions for sports and writing with THW.