The Anaheim Ducks have announced the signing of goaltender John Gibson to an eight-year contract extension that will take hold beginning in the 2019-20 season. Per Eric Stephens of The Athletic, Gibson's new contract will pay him an average annual value (AAV) of $6.4 million—a nice bump from his current AAV of $2.3 million.
Ducks announce that they have signed goalie John Gibson to an eight-year contract extension. Big one. $6.4 million AAV

— Eric Stephens (@icemancometh) August 4, 2018
Gibson just turned 25 in July, so the Ducks have locked him up through his prime years. The deal includes a limited no-trade clause (NTC) that kicks in starting in the summer of 2021.
All in all, Saturday was not too bad a day for the Pittsburgh native. In addition to securing a lucrative long-term deal, Gibson got married as well. Quite a day indeed.
Gibson Takes Control of Ducks' Net
From the time he debuted in the NHL in 2013-14, even taking the reins for four playoff games as a mere 21-year-old, it's been obvious that Gibson is the Ducks' long-term guy in net. Anaheim's trade of Frederik Andersen to the Toronto Maple Leafs in 2016 confirmed what seemed inevitable.
After posting a .920 save percentage and 21 wins in 40 games in 2015-16, Gibson appeared in 52 games in 2016-17, racking up 25 wins and compiling an impressive .924 save percentage. This past season was arguably his most noteworthy. While his goals-against average (GAA) of 2.43 was his worst since posting a figure of 2.60 in just 23 games in 2014-15, he achieved a new high water mark with a .926 save percentage across 60 games.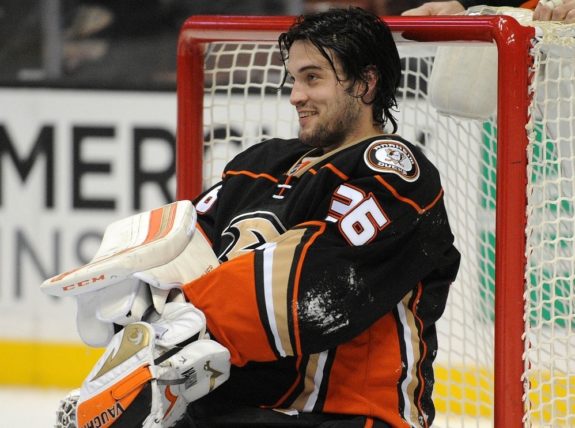 Gibson's inflated GAA—relative to previous seasons—was more so an indictment of the Ducks' porous defense all year. Anaheim surrendered an average of 33.1 shots on goal per game—the sixth-most in the league. They also gave up numerous high-quality shot attempts, as their 759 high-danger scoring chances against at 5-on-5 were the eighth-most in the league during the regular season. Gibson was consistently under siege. 
As general manager Bob Murray said at the conclusion of Anaheim's season, "Good goaltending tends to cover up a lot of crap." Ryan Miller was also great in a backup role, but without Gibson shouldering the load so that the veteran Miller could excel in more limited action, who knows if the Ducks would have even qualified for the postseason?
The stellar play of Gibson in 2017-18 is perhaps best illustrated by how high he ranked in goals saved above average (GSAA) per 60 minutes.
Despite having the second-best such mark among netminders who faced at least 1,000 shot attempts, neither he nor the top goalie on this metric, Sergei Bobrovsky, was named a finalist for the Vezina Trophy. In another example of the wrong criteria going into determining individual awards, it seems winning the Vezina Trophy requires having an excellent team around the goaltender who receives the honor.
In any event, Gibson's value to the Ducks is immense, and they know hope to get a nice return on their long-term investment in him.
Implications of Gibson's Contract
A few weeks ago, I wrote about the Ducks' salary cap situation, and how big of factor Gibson's eventual new contract would be. Specifically, I wrote the following after mentioning Gibson's excellent play last season:
If Gibson keeps up that level of play and can assuage some minor injury concerns that have cropped up intermittently in his career, he will likely be in line for a raise to take his AAV upwards of $6 million. In fact, it's plausible that he could even sign an extension this offseason.
Hey, hey; every now and then I get something right and come off as prophetic! He did indeed sign his extension this offseason and did so at an AAV a bit north of $6 million.
The bit about his injuries represents one risk with his contract. He was still able to appear in a career-high 60 games last year, but ongoing groin issues and what seems like a penchant for freak collisions have bogged down Anaheim's goalies a few too many times in the past. Nevertheless, the Ducks are betting on his youth and a continued increase in workload and durability. With what Gibson provides for them, it's not a bad bet.
Of course, now that Gibson's $6.4-million AAV for 2019-20 and beyond is known, this again points to the inevitable loss of a key player within the next year. More and more, that player looks like it will be winger Jakob Silfverberg, whose all-around game might be easy to overlook but is a critical component for the Ducks. After all, the 27-year-old Silfverberg is set to hit unrestricted free agency after next season and will likely be in line for a raise from his current AAV of $3.75 million.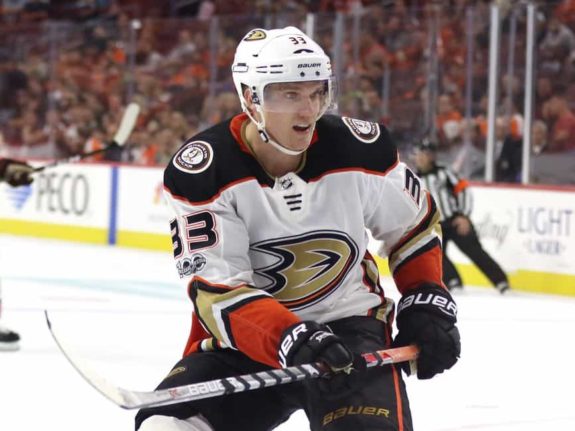 As it stands, the Ducks have a shade under $13 million in cap space projected for 2019-20, but that's with just 13 players on the roster. Filling out a roster with limited cap space will necessitate a youth movement so that cheap, entry-level contracts comprise more of Anaheim's cap structure. Silfverberg's future in Anaheim seems doubtful at best, and additional moves to create more cap flexibility also remain eminently possible.
For now, though, the Ducks can focus on a net positive (pun intended), as they have secured their franchise goaltender for nearly a decade.