The Anaheim Ducks are starting out the season 3-0-0, although they haven't made it easy on themselves. They have difficulty sustaining pressure in the offensive zone, and can't seem to contain their opponents in the defensive zone. This kind of play has lead to an astounding league-worst minus-70 corsi rating. For most teams, that kind of play would spell a disastrous start to the season, but most teams don't have John Gibson.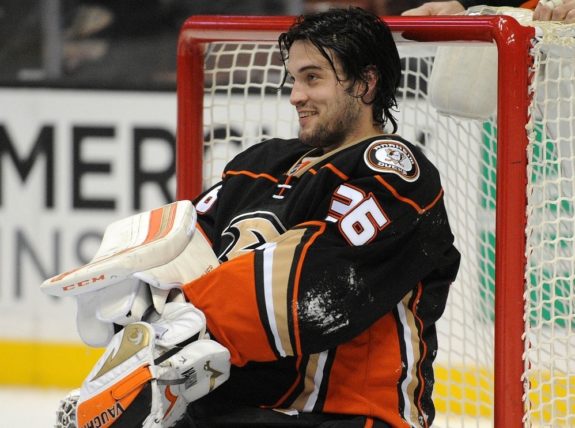 Gibson has been everything the Ducks needed and then some. He's been calm and controlled in net. He's been positionally sound. He's making all the saves he needs to and most of the saves he shouldn't. Most of all, he's lending a massive amount of confidence to the team in front of him.
Gibson Makes the Big Saves
Watching the Ducks in the defensive zone is like watching a two-year-old try and feed itself.  It's just kind of all over the place. There is little chemistry between the defense and the forwards, and as a result, they get outplayed in their zone a lot leading to goals like this:
This is sadly becoming a trend for the Ducks, but luckily the goals aren't always coming so easily for their opponents. In fact, the Ducks have given up 40 high-danger scoring chances and Gibson has only allowed two of those chances to become goals.
No other team has given up that many high danger chances, and the ones that have come close — the Toronto Maple Leafs and the Pittsburgh Penguins — have given up nine and six high danger goals, respectively. The Ducks are not making it easy on themselves, but Gibson is proving to be up to the task.
Can Gibson Continue the Trend?
While the Ducks are doing okay for now, history has proven that teams giving up this much opportunity to their opponents are doomed to poor results eventually.  If the Ducks continue to play as they have, as good as Gibson is, it's hard to fathom them continuing to win games.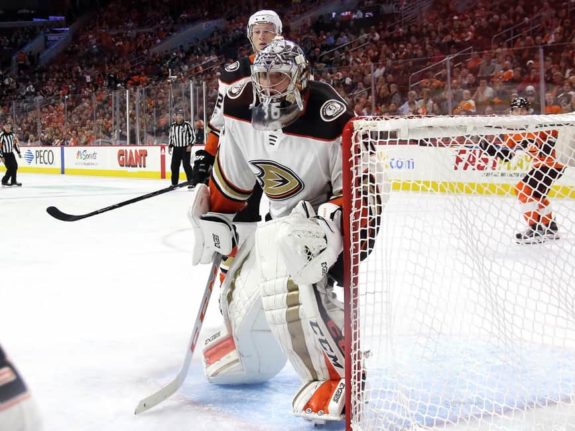 That being said, they hopefully won't need to lean so heavily on Gibson as the season progresses. Right now, the Ducks are plagued with injuries, including to some of their top players in Ryan Getzlaf, Corey Perry, Ryan Kesler, Patrick Eaves, and Ondrej Kase. As these players slowly regain their health and work their way back into the lineup, perhaps the Ducks won't be so uncoordinated and could find more opportunities to sustain pressure against their opponents.
Although the Ducks have some very promising young rookies filling in for their injured players, their youth and inexperience are showing. The Ducks getting some of their veteran forward group back would go a long way in building towards possessing and controlling the puck better.
Gibson has garnered himself a reputation for being injury prone. He bucked that trend last season by suiting up for 60 games. Deserved or not, the reputation is concerning as the Ducks cannot afford to go for a long stretch of time without their number one goalie.
Gibson is one of the top goaltenders in the league and he goes out to prove it every time he steps in that net. The Ducks can be a good team, but so far they are lacking. Luckily for the Ducks, they have Gibson to carry them for the early going of this season, but how long can that last? At some point, they are going to need to play more cohesively and stop letting their opponents dictate the pace of play. As great as Gibson is, this kind of dominance can only last for so long…right?
Born and raised in Anaheim, and a Ducks fan for about that long.