You would think it wouldn't be hard to find chemistry with a player like Patrik Laine. Get him the puck in shooting position and just wait to celebrate. It should be easy.
As the Pittsburgh Penguins demonstrated for years, however, finding a running mate for a star player isn't about just sticking him with the best possible players. After all, Sidney Crosby's most successful winger for years was Pascal Dupuis.
Such may the case with Laine. Chemistry with the young man has been hard to come by in the early going of this year, and the Jets' best option with him to date, Paul Stastny, left via free agency.
Many pundits, we at The Hockey Writers included, argued for the Jets to re-sign Stastny for precisely this reason. The Jets' salary cap crunch made this impossible, and Jets fans by and large accepted Stastny's exit as a casualty of being a deep, young team.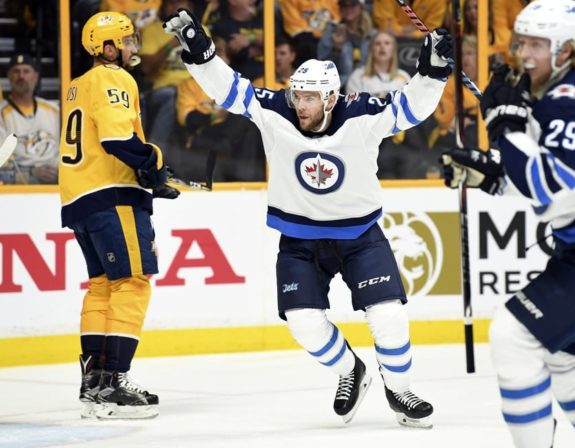 For the Jets, in the midst of a new season as they are, there's no use crying over spilled milk. They need to find a viable partner for Laine and his good buddy Nikolaj Ehlers. Right now that man is Bryan Little, but should it be long-term?
Little Loses Earlier Chemistry
During Laine's rookie season, he spent a fair bit of time with the veteran Little and the two produced results. Laine potted 36 goals in his rookie season and Little put up 21 goals and 47 points in just 59 games.
Laine and Little showed a willingness to feed off each other in the 2016-17 season. More than that, Little showed an ability to keep up with Laine, even teaming up with him in 3-on-3 overtime for some heroics in St. Louis.
This year, however, Little has no points through three games and has been more like the slower version of himself we saw in 2017-18. With fewer points (43) in more games (82) than the previous year, Little needed to bounce back.
Just heard @UtilityVoice mirror the sentiments I've nade regarding Bryan Little for years now.

Little thrives with players who are more straight-line. More North American. More "cycle" heavy. That's what made him successful between Ladd and Wheeler.

I hope he can adapt.

— North End Rick (@NorthEndRick) October 4, 2018
Little may not be the answer for Winnipeg, who needs the most out of not only Laine but Ehlers as well, who has been on a cold streak dating back to last year. Ehlers' ice time and general usage are a conversation for another time.
Little seems to fall somewhere in between Laine and Ehlers in terms of style. He's not the pure shooter Laine is. He doesn't play with Ehlers' breakneck speed. Sometimes that can work well when three players play together. It hasn't so far.
If Rick is correct above, Little would be better off playing with linemates who keep it simple. Laine is not always simple and Ehlers, at his best, has to have the freedom to play east-west. Little's style may not suit either player.
The conundrum for the Jets then is what to do if Little is not the man. Mark Scheifele isn't going anywhere from his spot between Blake Wheeler and Kyle Connor. Adam Lowry is even more of a straight-line player than Bryan Little.
By process of elimination, that leaves Jack Roslovic. The Jets may not want to leave their second line's scoring in the hands of a relatively young player, but they may not have any choice.
Roslovic Clearly Ready
Even allowing for Roslovic's comparatively sheltered minutes, he's looked solid in his first two games. His speed is evident, as is his creativity, and he may be one of the few players able to keep up with Ehlers.
Jack Roslovic stole the puck off Jake Allen behind the St. Louis net and fed a wide-open Nikolaj Ehlers, who was robbed by Bouwmeester's toe. https://t.co/mRpSzl5CvD

— Mike McIntyre (@mikemcintyrewpg) October 5, 2018
Here at The Hockey Writers, we believed Roslovic was the heir apparent to Stastny between Laine and Ehlers. The speed, hands, and shot that allowed him to dominate the AHL last year elevate him above so many other forwards.
Confidence isn't an issue for the young man either. He's showed off a willingness to dangle in his first few games this year. In his first stint with the Jets last year he flew up and down the ice.
Chemistry is a tricky thing. The skillset for Roslovic is certainly there to play with Ehlers and Laine, but his mind for the game may not gel with the two young stars. Or it might gel perfectly. There's only one way to find out.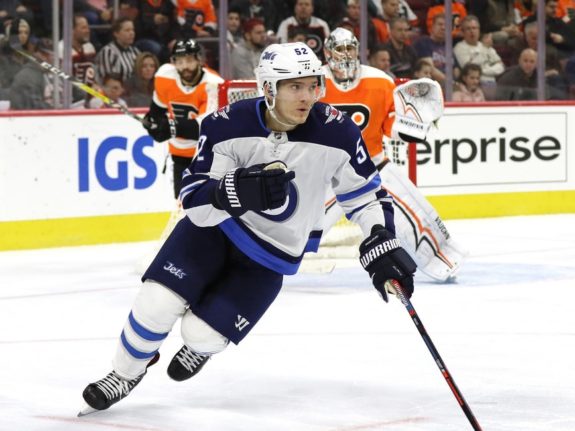 Laine's killer shot means he can score goals on his own sometimes. He'll pile up points almost no matter who he plays with. After all, he eats up power-play minutes and often only needs one chance to make a difference.
Like all great goal scorers, however, Laine needs his running mate. Brett Hull needed Adam Oates to hit his lofty career highs. Alexander Ovechkin is seemingly inseparable from Nicklas Backstrom when he's at his best.
Who does Laine need? The man some have called the next Ovechkin hasn't really found his Backstrom yet. It's up to the Jets to give it to him.
Increasingly, it doesn't look like Little is that guy for Laine. Roslovic may or may not be. He might be too young for the responsibility. But the Jets won't know if they don't try, and with Little pointless through three games now, and Laine's only points coming away from him, the time to try is sooner rather than later.
After all, the sooner the Jets try, the sooner they could reap the rewards of what could one day become one of the NHL's deadliest trios.