In the NHL, it's difficult to remain one of the best teams in the NHL. It's even harder to do that and still maintain an incredibly deep prospect pool. The Anaheim Ducks have managed to do just that. Even when Viktor Fasth was traded to Edmonton this season, young Frederik Andersen was able to step right in and provide solid goaltending as the backup. Now that Jonas Hiller signed in Calgary this offseason, the rising star, John Gibson, is looking to take over the starting role. That's what makes them so balanced – their ability to keep a competitive team on the ice and that they can sub in young players at will without losing a step. Here is a quick look at their top five current prospects.
Criteria:
Skaters can not have played more than 42 games.
Goalies can not have played more than 25 games.
5. Nic Kerdiles – AHL – Norfolk Admirals – C
After two outstanding years with the USNTDP, Kerdiles' freshman season got off to a bumpy start and was suspended 10 games. After his return, he immediately started clicking with the Wisconsin Badgers and rattled off 33 points in 32 games. He returned last season and posted even better numbers – 15 goals and 23 assists in 28 games.
Kerdiles is one of the the most underrated prospects in the NHL. For his size, he uses his body well and has a lethal shot. He's deceptive with the puck and thrives on getting to the dirty areas of the ice. His development has been on a consistent trend upwards and he signed an entry-level contract after Wisconsin was bounced from the Frozen Four playoffs. In his six games in the AHL he scored four points. A full year of AHL hockey will do him good as there is no immediate rush for him on the Ducks, but if he continues to play the way he has been the past few seasons don't be shocked to see him get a call up during the year.
4. Shea Theodore – AHL – Norfolk Admirals – D
Standing 6'2″, Shea Theodore has shown tremendous offensive skill on the blueline in his three seasons with the Seattle Thunderbirds of the WHL. He rounded out his defensive game this season and finished the year with a +19. Theodore has the capability of logging a ton of minutes and makes great first passes out of the zone. He shows confidence with the puck and a knack for using his big shot from the point. He still has to grow into his body a bit and play a stronger two-way game.
Last year was his coming out party with 79 points in 70 games. Making the jump from the WHL to the AHL has its own growing pains, but Theodore shouldn't have an issue with his abilities to push the puck up the ice. I suspect he'll return to Seattle next season before making the jump to AHL/NHL as defensemen take a bit longer to develop than skaters.
3. Rickard Rakell – AHL – Norfolk Admirals – RW
At every level he's played at, Rickard Rakell has been a balanced two-way forward. He puts up points consistently, but also makes sure he gets back into the play defensively. He was used effectively during the World Junior Championships in 2012 with Sweden and helped them secure a gold medal. Having played in 46 games last season with Norfolk, Rackell is already used to playing against stronger competition and has excelled at it.
He did get some much needed time in the NHL last season and will be likely be playing a bottom-six role for the team. The best part about Rackell is that he's a versatile player. You can slot him on just about any line and his game is such that he can make chemistry with any linemates.
2. Nick Ritchie – OHL – Peterborough Petes – LW
After trading Bobby Ryan, the Ducks were able to acquire the Senators' 1st round pick in 2014, which ended up being the 10th overall selection. Looking to replace their former power forward, the Ducks selected Peterborough Petes standout, Nick Ritchie. Ritchie is a monster and plays with an aggressive edge to his game. He crashes the net, gets into scuffles, and has an ability to score at will. He's a force to be reckoned with and is NHL ready, size-wise.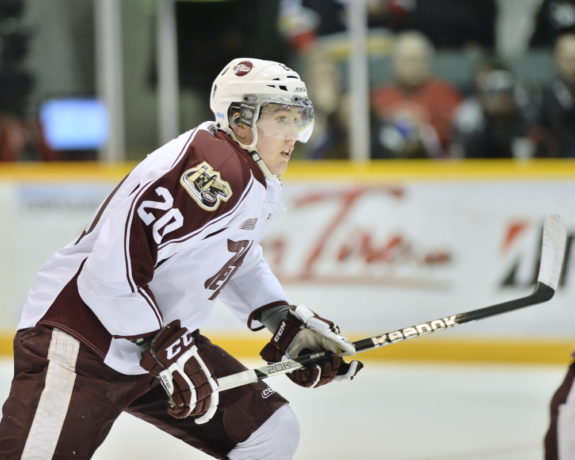 Last year on an abysmal Peterborough team, Ritchie was one of a few bright spots. He scored 39 goals and had 74 points all while amassing 136 PIMs. He'll be a tough customer when he reaches the NHL and is the next breed of power forward. He needs some conditioning, but it shouldn't be long before Ritchie makes it to the pros.
1. John Gibson – NHL – Anaheim Ducks – G
A winner at every level, John Gibson got a sniff of NHL hockey during the playoffs and recorded a shutout in his first ever NHL start. Gibson has an impressive list of achievements in North America and internationally and is one of the most promising young goaltenders in the league. It's beneficial that Anaheim was able to get rid of Viktor Fasth and let Jonas Hiller walk as it opens up a direct route for Gibson to take over the starting role and get a great deal of playing time.
With that collection of prospects, the Ducks look to be one of the hardest opponents in the NHL.