Hockey has a long history in the city of Vancouver, during which time thousands of players have pulled on a jersey in pursuit of the game's ultimate prize.
And during that time, it is possible no player has been as universally adored by Canuck fans as Gino Odjick. He was a hit almost from the moment he took to the ice, banging and crashing and playing with the heart and determination that would forever be linked to him.
Gino played in a few cities in his career, but said himself,
"In my heart, I have always been a Canuck and I have always had a special relationship here with the fans."
That special relationship with Vancouver fans made it all that much more difficult to process the news that Gino himself told the Canuck faithful: He has a terminal disease and has months, possibly only weeks, to live.
But those that have followed his career refuse to give up, because as we glimpse over a life that has inspired many, this is far from his first battle. And the hope is that this story will reach fans in other parts of the league, so that they will learn there is much more to him than an enforcer role on the ice, and get a better idea of the significant impact he has made on the city.
A World Away From The NHL
Gino Odjick was born on an Algonquin native reserve just outside of Maniwaki, Quebec. Although he played hockey from an early age, he didn't start playing organized hockey until he was 11, on a team managed by his father Joe.
It was a small town and life wasn't easy. Poverty was a common issue among those living on the reserve, and the day to day tasks of keeping families fed and clothed was an ongoing struggle.
Gino developed his instinct to protect and a willingness to help others a long time ago. Unfortunately, racism was also a common issue as he was growing up. He fought often from an early age, mostly with white kids from the neighboring town, and often more than one at a time. An intolerant attitude toward natives may have been common during his childhood, but Gino was not about to let his friends and family suffer indignities while he was around.
A Fan Favourite From Game 1
It's not surprising, then, that as he progressed in hockey it was in the role of protecting his fellow players. An ice-hockey Gladiator, armed with a stick instead of a sword, an Avenger who carries out wrath on the wrongdoer.
And that's exactly the role he played in Vancouver from his first shift with the Canucks, after being drafted by them in the 5th round in 1990.
In his very first game in the 1990-91 season against the Chicago Blackhawks, he squared off against 2 of the NHL's heavyweights, Stu Grimson and Dave Manson. The Pacific Coliseum crowd on Renfrew was alive and progressed into a frenzy, and the fans have been chanting "Gino" for him ever since.

It wasn't as simple as popularity however. Gino had an effect that few players ever have on fans, and in return, they truly wanted good things for him. In 1992 when he scored on a penalty shot against Mike Vernon, the arena was in danger of crumbling around him from the waves of sound assaulting his eardrums.

The somewhat goofy, ever present smile, the genuine manner in which he spoke, the passion he displayed when he played, it's hard to single out one reason he was so revered. Probably all of the above and more.
The bulk of his time in Vancouver was spent on a line with Pavel Bure, where he took on the duties of protecting him against the rest of the league. Though Pavel was often considered less approachable in his demeanor, Odjick formed a tight bond with Bure through their mutual emergence from vastly different cultures. Uncomfortable in his new life himself, Gino once again thought nothing of looking out for someone else.
Off The Ice, Challenges Arose
Gino was never a goal scorer, though he had decent hands when opportunity arose, as shown by a 16 goal season. It was established that his primary role was to protect his teammates, and really, he always did this to the best of his abilities.
Off the ice, however, it was a different story. Being from a small town and having lead a sheltered life left him completely unprepared for the alien world of an NHL player and it's surroundings. Going from never having cable TV to roaming the streets of New York and other big cities is a major adjustment.
One day Odjick did a very open interview that detailed how difficult things had gotten. It chronicled a lot of drinking, usually it was Vodka, progressing to a 26 ouncer 3-4 times a week, albeit never before a game. A brush with death, a lost family, and a lack of self-worth, all as a result of alcohol.
After fighting his alcoholism in a traditional First Nations sweat lodge, he began a journey he wanted to undertake for a long time. He visited as many First Nation communities as he could, be they large or small, speaking out and telling kids that education was the key to their success. Education would pave the way to a better life, not fighting their way through it like he did.
And people responded, because he was genuine and had lived the stories he told. Hundreds of people would gather to listen to Gino when he came to town, and he had time for all of them, because he wanted to help all of them.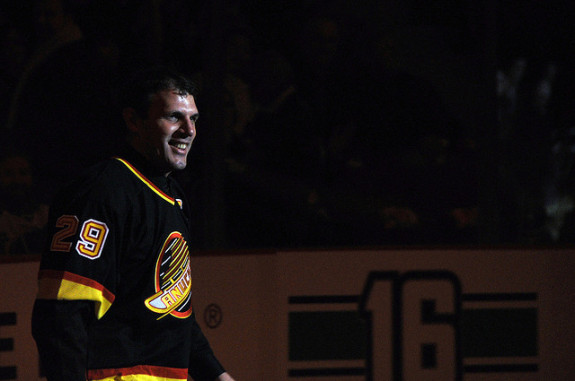 The News We Didn't Want To Hear
It's never easy nor expected to hear bad news, but Gino's letter to the fans explaining his condition was something no Canuck fan was ready to absorb. It hit people as though it was a friend they had grown up with, and for some fans that is in fact what Gino is.
Amyloidosis is a blood disorder where an abnormal protein called Amyloid builds up in your tissues and organs. It's a very rare disease, but there are a few types of this ailment. Gino is battling AL Amyloidosis, the most common type, which usually involves the kidneys, liver, intestines or as in this case, the heart. Amyloid deposits can make the walls of the heart muscle stiff and the heart muscle weaker, and eventually it will no longer be able to pump.
There is no cure, but early identification and treatments improve survival. It isn't known what exactly is being used in Gino's case, but a couple options are chemotherapy and stem cell transplant.
No one knows what causes this disease, there could be more than one cause, but it's often associated with other blood disorders like multiple myeloma. There are, however, people more at risk than others. 2/3 of those affected are men. People over 50, or people with diseases affecting plasma cells are a couple more groups at risk, but even under those circumstances, there are less than 3000 cases reported every year in the U.S.
A Day By Day Approach
Since he revealed his condition, there has been an outpouring of emotion and support that would befit a dignitary, exemplifying exactly how much he means to the fans he worked so hard in front of for so many years.
For his part, he is making the most of every opportunity to spend with friends and family, even going so far as to come out of the hospital to meet with a large group of fans that had gathered to show their support.
Elsewhere, his hometown of Maniwaki is renaming the local rink the Gino Odjick Sports Centre, after town council unanimously adopted the resolution.
Other plans for rallies continually spring up in Vancouver. And Canuck fans in Vancouver have begun debating a fitting tribute for him for the upcoming season. Induction into the ring of honour, retiring his jersey, even a statue at Rogers Arena are all ideas being thrown about.

What does it say about a person, when such accolades are considered for a player who amassed a career total of 46 goals and 98 points while in a Canuck uniform? It tells us that Gino was a special player to the Canuck faithful, and that the measure of a person goes beyond statistics.
Some have stated they are against the idea of his induction into the Ring of Honour, as it is reserved for exceptional performance over the span of a career. I think it is a rare opportunity to recognize someone who made equally significant contributions to fans off the ice as he did on it, an accomplishment that is extraordinarily rare in professional sports.
It's with cruelest irony that a disease has affected Gino's heart, the one part of his body he will forever be synonymous with. His life has been about battles, but it has also been very much about caring and selflessness. The memories of the fights and the goals will linger in our memories, but when asked to describe Gino Odjick, it will be the kindness and compassion he exuded every day that we will use to define him, and the devotion he inspired in fans will be the enduring legacy by which he is remembered forever.
Darrin Hayes is a regular contributor for the Vancouver Canucks on TheHockeyWriters.com. Follow Darrin on Twitter @HayesTHW or on Facebook via TheHockeyWriters fan page.