There are many that would argue that the Norris Trophy belongs to Drew Doughty. But, not only is Dewey not the best defenseman in the league, he isn't even the best blue liner in the Pacific Division. That honor belongs to the oft-overlooked Marc-Edouard Vlasic.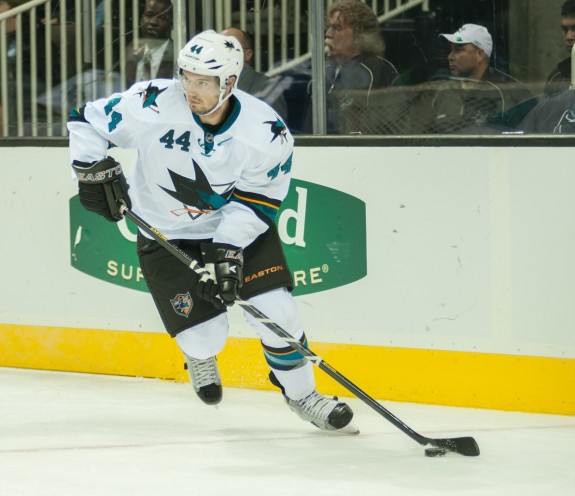 Let's make something clear. I am not talking about the Norris Trophy winner. That award is more about offense than it is defense, ironically. This discussion is about shutting down the best shooters in the league. This is the best defensive defensemen.
Overlooked and Underestimated
I have moaned about how unappreciated Marc-Edouard is in the past. Vlasic is often overlooked for what many call the East coast bias. Maybe if he didn't play half of his games at 10 Eastern Standard Time, Vlasic might get the press coverage of Zdeno Chara and Duncan Keith.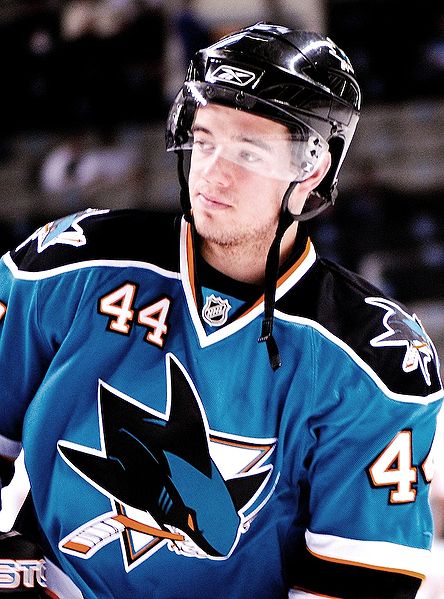 He did, however, earn all the press he could handle during the Sharks shocking playoff run. Once the Sharks top d-man went down, the Sharks quickly followed suit. And with Dan Boyle leaving the Silicon Valley for the East Coast, Pickles has all the interviews to himself now. Especially with the growing fascination with hockey's boom in California, Marc-Edouard Vlasic might see more of the microphones this season.
Take a few of these stats from Vlasic's season:
5 goals, 19 assists for 24 points
A penalty differential (penalties drawn vs those taken) of zero
+7.1% Corsi For relative
+10.8% Goals For relative
A plus/minus of +31
150 blocked shots
Competition for Best Defender: Doughty and Keith
Now let's look at two opponents of Pickles for the best defender title. The shut down man in LA and the Norris Trophy winner from Chicago. Drew Doughty is the blue liner many would claim as the defensive elite and Duncan Keith has the hardware to support it.
The Norris Trophy Winner
First, let's take the award winner. Duncan Keith has won the Norris Trophy twice, won the Stanley Cup twice, and even a gold medal from the Olympics… yeah, twice. There is no denying Keith's value to the Chicago Blackhawks. His 55 assists led all defensemen in the NHL. And only 18 of those assists came on a power play he consistently quarterbacked. Keith was also strong in the advanced stats category. His Corsi For sat at 56.6% for the 2013-14 season.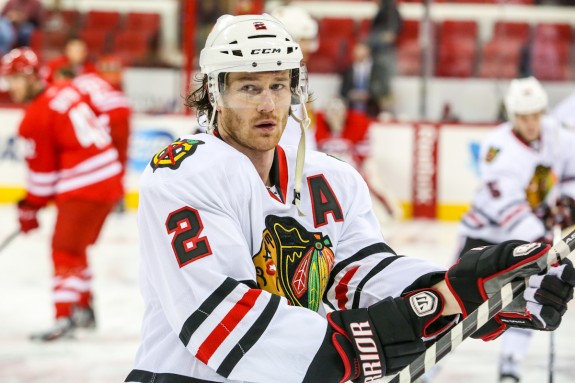 However, those same advanced stats can betray him when compared to Marc-Edouard Vlasic. Keith's quality of teammates is higher than Pickles'. He also had a negative penalty differential for the season (-6). Vlasic managed to draw as many penalties as he took. Another eye opener, Keith had a goals for percentage ten points lower than Vlasic. With less than half of the points that Keith has, it shows that Vlasic was a force that focused more on keeping opponents out of his net.
In short, Keith was a force to be reckoned with on the offensive side. The Norris Trophy does tend to go to the more offensive defensemen. So, it's no surprise that he won it. But, by no means does that make Duncan Keith the guy I would put in front of my goalie. Defense isn't the first thing on his mind.
The Reigning Stanley Cup Champ
Unlike Duncan Keith, Drew Doughty is a more defensive-minded blue liner. He does top Vlasic in points. Doughty has an incredible hockey sense and knack for disrupting offenses. He is also a horse for the Los Angeles Kings. With over 25 minutes on the ice per game, Dewey eats up the minutes. Doughty excels on the offensive side when he is needed up top where Vlasic currently lacks. There is no doubt he is a crucial part of Stanley Cup winning teams.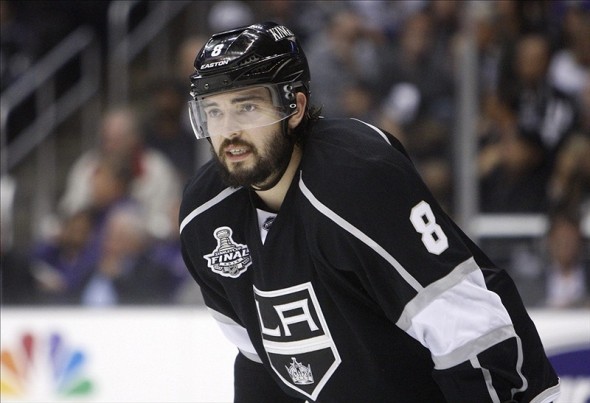 Enter Marc-Edouard Vlasic. Take a look at the team around Pickles and the team around Dewey. Drew Doughty played for the best defense in the league. The Kings netminder is a freak of nature that makes my lower body hurt every time I see him do the splits. Antti Niemi… well, he's okay.The Kings were the top Fenwick for team as well, 2 full points better than the Sharks. The Kings also possess an embarrassment of riches in terms of possession players. Half of the top ten Corsi For players are from LA. And number 11? That's where Drew Doughty falls. This is not to say the Sharks were terrible, but compared to the Kings, the Sharks were guppies.
Doughty's advanced stats are strong, but they don't match up to Vlasic's. The only things he outranks Pickles on can be attributed to a much more complete defensive unit around him. Goalie save percentage definitely gets a boost from a few eye popping saves from Jonathan Quick. And while Doughty has positive advanced statistics (2.9% relative Corsi and 4.5% goals for against 29.0% quality of competition) they aren't enough to usurp Vlasic's numbers in those categories.
Why Pickles Takes the Top Spot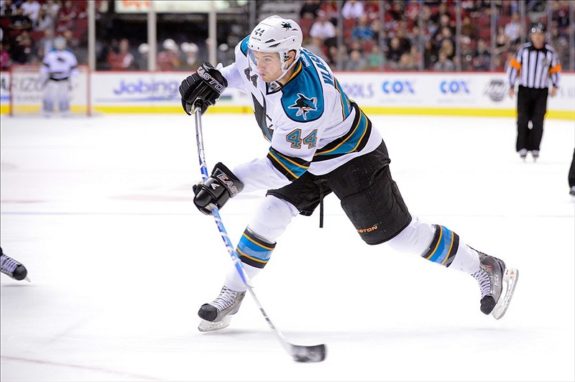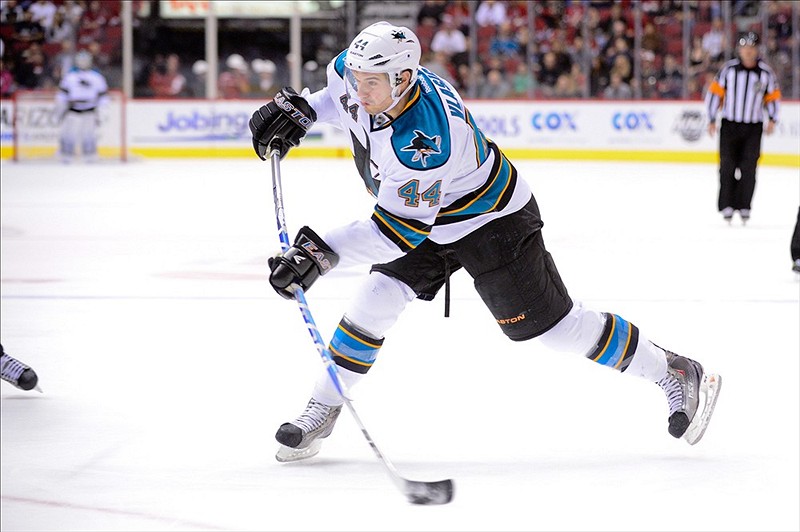 Drew Doughty is over four points lower than Vlasic on Corsi For. His goals for percentage is also dwarfed by more than six points. Vlasic's dizzying +31 is almost double Doughty's. Don't even get me started on the differentials to Duncan Keith.
I can go on and on about stats, but the intangibles are also there. He blocks shots as if his life depends on it. Nearly half of the time that the Sharks are on the penalty kill, Vlasic is out there. Sharks goaltenders rarely see breakaways while he is out there because Vlasic is well-positioned. The best defender can't be caught out of position that often can he? He is trusted by his coaches and leading by example. He doesn't need the points and the flash. Marc-Edouard would prefer to see a goose egg on the scoreboard more than anything.
The biggest piece of evidence to Vlasic's case is the crippling loss he was when injured. As soon as Vlasic went down in the playoffs, the Kings (especially Anze Kopitar) were unleashed. He made almost all of his teammates better. Only Brad Stuart and Scott Hannan have lower Corsi For percentages with Vlasic. Pickles may never get the Norris Trophy because he doesn't score that often, but he will be one of the most valuable players in teal for years to come.