We've witnessed a couple more days of Olympic action in men's hockey, and the Ducks have certainly not been quiet thus far. Jonas Hiller and the Austrians as well as Jakob Silfverberg and the Swedes have concluded round robin play, and teams Canada, Finland and USA have all improved to 2-0. Here's your second update:
Canada
What an electric game from Canada from start to finish. After a lethargic start against the Norwegians, Canada knew they had to improve against Austria in order to carry some momentum toward the tournament's bigger threats. Ryan Getzlaf is your MVP of the day after contributing an assist and possibly the goal of the tournament early on.
A short-handed goal for Canada, Ryan Getzlaf, and it's 6-0 Canada near the end of the 2nd period. #WeAreWinter pic.twitter.com/o4lWkc86UJ

— Team Canada (@TeamCanada) February 14, 2014
During a four-minute penalty kill after Canada was all ready up 5-0, Getzlaf chipped the puck along the boards and raced past Andre Lakos. The play turned into a short-handed two-on-one before another Austrian defender raced back to tie Getzlaf up. Getzlaf was clearly hoping for that as he used the defender's speed to surprise him with a toe-drag before sending a beautiful backhand over the blocker of Bernhard Starkbaum to make it 6-0.
Ten minutes into the first period, Getzlaf and Corey Perry worked together to set up the game's first highlight-reel goal. Getzlaf backhanded the puck to Perry through the neutral zone where he knocked it out of the air. Perry carried it to the hashmarks where he left a perfect drop pass for Shea Weber to come in and send it into warp speed directly toward the top corner.
Both Perry and Getzlaf finished around the middle of the pack again in terms of TOI and are now a combined +3.
Finland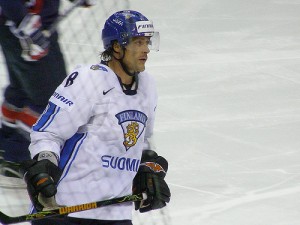 Well, he's done it again. Teemu Selanne, the Finnish Flash, has set another record. At 43 years, seven months and 11 days, Selanne became the oldest player to score at the Olympics, potting the first goal of the game in a 6-1 win over Norway. And guess who helped him do it? None other than Sami Vatanen. Carrying the puck from behind his net, Vatanen sent a no-look pass to Selanne in the neutral zone. Selanne carried the puck toward the hashmarks and sent a wrist shot just fast enough to beat Lars Haugen's glove-hand, though it did bounce off his arm.
Selanne only played one period in his first game, but bounced back strong finishing with the second most time among Finnish forwards, just ten seconds behind Mikael Granlund's time of 17:50. For the second consecutive game, Vatanen led the way among defenceman with an icetime of 18:05. Both players finished +1.
USA
Cam Fowler was not brought to Sochi for his goal-scoring prowess, but he showed us today it's not all about flashy goals or rockets from the point. Fowler showed us that hustle and body parts are just as good. With the U.S. down by one and the second period almost over, Alexander Radulov took his second straight penalty. Both Phil Kessel and James van Riemsdyk were looking dangerous on the powerplay, but couldn't put anything past Sergei Bobrovsky. With those two working diligently along the boards to Bobrovsky's right, Fowler saw a wide open lane toward the net and took it. JvR noticed and sent the puck flying toward him. Unfortunately, Fowler couldn't get his stick on it. Fortunately, his skate was at exactly the right angle to direct the puck in and he remembered not to kick.
The kid is ecstatic just to be in Sochi, as he expressed on twitter, but he's done more than just show up. The coaches have rewarded him with a three minute increase in ice time, and he played some difficult shifts against a formidable Russian squad. We may see more from him yet.
Sweden
Jakob Silfverberg played only 2:34 in game one, and just 4:23 in game two, but more than doubled his time in game three with a respectable 11:29. He rewarded his coaches good faith by providing an assist in Sweden's (odd) 5-3 win over Latvia. What many expected to be a blowout became closer than most had imagined. After Sweden regained the lead, they were given a great opportunity to extend it to 4-2 before the second intermission. On the powerplay, Silfverberg gained entry into Latvian territory with some great speed. After missing the net, he found his own rebound and passed it back to the point to Oliver Ekman-Larsson who one-timed it. Jimmie Eriksson sealed the deal after the massive rebound landed right on his stick. Silfverberg will be advancing to the playoffs.
Switzerland
Last but not least, and candidate for MVP for the second straight time, Jonas Hiller Pitched another shutout. Two games, zero goals for the Ducks netminder. If he had started against Sweden, Switzerland might even be 3-0 heading into the playoffs, which would have shocked everyone.
2nd shutout in 2nd game for Switzerland's Jonas Hiller, who's much sought after for interviews. pic.twitter.com/zCtGIltWVd (via @SwissIceHockey)

— IIHF (@IIHFHockey) February 15, 2014
The Swiss netminder made 26 saves in another incredible performance.
Note: No team has lost in the Olympics while starting an Anaheim Duck. This will change tomorrow as Finland faces Canada, a match-up featuring four Ducks.
Note 2: Every game Switzerland has played has ended 1-0. They finished the round robin 2-1 and are poised to make an upset in the playoffs.