For all the bitterness thrown toward GM David Poile and the rest of Team USA hockey's management team, something Poile said during the roster discussions has proven to be remarkably — and importantly — prophetic.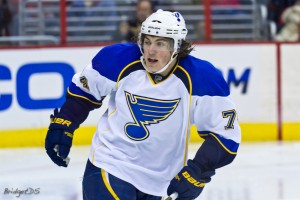 "Oshie's got that shootout move."
Relative to other skills, shootout prowess is generally held as a largely unimportant ability when it comes to putting together an Olympic roster. But Poile's insistence — notably over Chicago Blackhawks GM Stan Bowman, who preferred Brandon Saad — has led to Team USA winning Pool A and nabbing an elimination bye.
This, of course, entails a much less arduous path to the gold medal game. Let's take a look at why Team USA is a major contender to take home that medal.
Speed
Quite a simple concept, really. Perhaps the single most vital element to success on international-sized ice is strong skating ability. Notable exceptions on the U.S. team are Brooks Orpik and Dustin Brown, but such is reality; not every individual player will be fast, but it is important that the team as an aggregate is.
The American forwards are every bit as quick as they are skilled, with Patrick Kane, Phil Kessel, Zach Parise, Joe Pavelski, and Ryan Kesler leading their ranks. On defense, the story remains the same with Ryan Suter and Kevin Shattenkirk among the smoothest skaters at their position in the world.
Team USA's game is, as you might predict, entirely predicated on taking advantage of their speed. They dump and chase far more than the other elite nations (Canada, Russia, Sweden), and the larger ice surface compared to Vancouver in 2010 almost surely helps more than it hurts. This has been evident in the first two games, a 7-1 pasting of Slovakia and a 3-2 shootout victory over the far more individually talented Russians.
Goaltending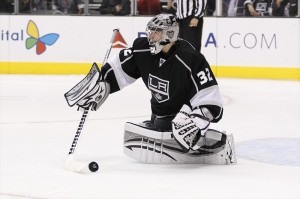 Jonathan Quick, whose play had slipped badly for the Kings immediately prior to the Olympic break, has apparently regained whatever he had been missing. Oshie will be lauded the most for the win over Russia, but Quick was every bit as responsible; the Americans were clearly outplayed at even strength and had numerous long stretches of no possession in the offensive zone. He did let a rather questionable shot past him that by a stroke of good fortune did not end up counting… but perhaps it wasn't just good fortune. Slava Voynov says it's the latter.
Even if Quick falters (unlikely), Team USA will feel every bit as comfortable putting 2010's Olympic MVP in net in his stead.
Completeness
The performance against Russia erased any questions about the Americans' young defensive core, as they held up more than admirably against the most dynamic top-6 forward group in the Olympics.
Concerns over the team's ability to score, meanwhile, have been repudiated by both on-ice results and simple facts. As the NBC Sports Network broadcasting crew has pointed out several times, Team USA's roster has 4 of the NHL's top 11 goal scorers and 2 of the top 5 in points. Patrick Kane especially was dominant against Russia, and Ryan Kesler has looked similar to the player who scored 41 goals several seasons ago. Matters only look to improve once Zach Parise — a past 40-goal scorer himself — finds his offensive game.
Thus, the only team that can rival Team USA in terms of completeness is Canada. The Canadians are icing the deepest roster in the tournament as always, and constitute the most daunting challenge to the gold medal hopes of each and every other country. Still, an unspoken question looms around Canada's goal crease, and it will remain there one way or another until the end.
Why Team USA Hockey Will Win Gold
Because they have (arguably, of course) the best mix of the three most important ingredients to Olympic success on international ice: team speed, reliable goaltending, and no clear weakness for other teams to exploit.
But hockey is infamous for extreme variance and unpredictability. Time will tell.
Follow Sean Sarcu on Twitter: @seansarcu