The Hershey Bears' defense was outstanding throughout the 2012-13 campaign under former head coach Mark French. That trend has continued under the tutelage of first-year Bears coach Mike Haviland, who hopes a hot goalie can provide them with dangerous ammunition heading into the 2013-14 Calder Cup playoffs.
Their top defensive paring of Cameron Schilling and veteran Tyson Strachan has been cohesive since they formed, also shaping the Bears' penalty kill into one of the best in the AHL. Having two elite goals in the AHL doesn't hurt either in David Leggio (20-17-3, 2.60 GAA, .915 SV %) and Philipp Grubauer (11-1-1, 2.70 GAA, .912 SV %).
Over their last five games the Bears have given up more than two goals just once, allowing eight over that time span, an average of 1.6 per contest.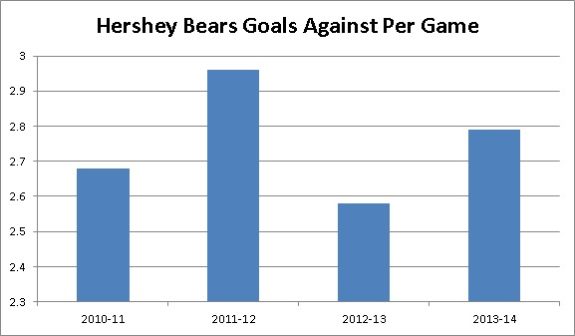 "To be a championship team your goals against are pretty low," said Bears goalie David Leggio. "I'm sure you can look back at the last few years, goals against average for the goalies and the team is low, near two or under. To build on that for the playoffs and help us get into the playoffs, that's essential."
Bears Win Second Straight
Tyson Strachan's ability to get in the lane served a huge purpose Saturday night in a must win game for the Hershey Bears. But that was just the prelude to a fitting end to a hard fought 2-1 shootout win for the Bears against one of the best teams in the Eastern Conference. The Bears improved to 34-25-4-4 and 22-10-1-3 on home ice.
In the 12th round of a grueling shootout for goaltender David Leggio, Strachan skated slowly to St. John's goalie Tyler Beskorowany, weaving back and forth across the freshly shaved ice and backhanded the puck psdy Nrdkotoesny for a momentum win for Washington's AHL affiliate. Strachan originally played an integral role for Hershey in overtime, aiding the Bears' top PK unit in a four-on-three penalty kill in the final 2:03 of the extra frame.
"There were some scrambles off the faceoff, Newbury and Potsy wanted to win the draws so maybe we can get 20 seconds off of that kill, they get their looks, but he made the saves," said Hershey Bears coach Mike Haviland. "That's what you need to win in the playoffs and to win down the stretch, you need to sacrifice. When you do that it goes through the whole team, you can hear it on the bench and maybe it was fitting with all the blocked shots that core had tonight that (Strachan) gets the goal in the (shootout)."
"A couple of the forwards turned to me and said Strachs is really good, he doesn't miss much in practice," Haviland said. "Huge goal and Leggio was outstanding."
Bears kill off St. John's PP in OT to get game to shootout. Hershey goalie David Leggio with 32-save effort.

— Kevin Freeman (@KFreeman732) March 30, 2014
Leggio totaled 32 saves on 33 shots including four enormous overtime saves, with most of them coming on the IceCaps' four-on three-power play with 2:03 left on the clock following Dane Byers' hooking penalty on a St. John's odd man rush.
"Leggy played great last night I thought, it's this time of the year where if you feel like he's in a little bit of a groove you got to go with it," the first-year Bears coach explained. "I think we've had two goalies that are number ones at obviously at this level. It's a good problem to have, but the decision was made because of last night. He played well and he deserved to play (tonight). If you can get a hot goalie and start winning some games you got to do what you got to do right now at this time of the year."
The Bears' PK killed of all five of St. John's opportunities on the man advantage, continuing their recent streak of success. Over their last five games, Hershey is 19/22 shorthanded, just over an 86% clip.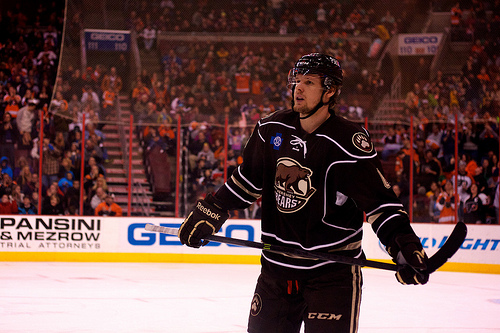 "The penalty kill was outstanding, I thought it was great," stated Haviland. "I thought our defense played a hell of a game. That's a tough team over there, they can skate, they got some good offensive weapons and they're fast. I tip my hat the (defensive) core back there, they did a great job, everybody did."
Jeff Taffe scored in regulation for Hershey to give the home club a 1-0 lead 1:25 into the second period, but his marker was quickly answered by Kyle MacKinnon's ninth goal of the season just 5:05 later to complete all the scoring through regulation and overtime.
The Hershey Bears embark on a five game road trip before returning home, beginning with a matchup against the lowly Portland Pirates Tuesday night. The Chocolate and White inched two points closer to the Norfolk Admirals in the Eastern Conference standings, decreasing the point gap by just one after the Wilkes-Barre/Scranton Penguins defeated Norfolk Saturday night.
"You're a point behind Norfolk now, I know nobody including myself don't want to say thank you to the Penguins, but certainly at this time of the year we'll take everything we can get from them right now. You've closed that gap again and now you get people looking at you going 'here they come again'. I still believe I know we're going to get in and when we get it we're going to make some noise because this team's a good team."
Game Notes
Attendance: 10,506
Bears Injuries: Nate Schmidt and Brandon Segal
Hershey Healthy Scratches: Nathan Walker, Joel Rechlicz, Caleb Herbert and Julien Brouillette
Hershey improved to 21-1-1-1 when allowing two goals or less
Bears Lines
Forwards
Nicolas Deschamps-Ryan Stoa-Casey Wellman
Dane Byers-Kris Newbury-Stanislav Galiev
Jeff Taffe-Peter LeBlanc-Dustin Gazley
Ryan Potulny-Michael Latta-Matt Watkins
Defensemen
Cameron Schilling-Tyson Strachan
Chay Genoway-Steve Oleksy
Patrick Wellar-David Kolomatis
You can follow Matthew on twitter @m_speck and email him at mspeck21@yahoo.com with any questions or comments.