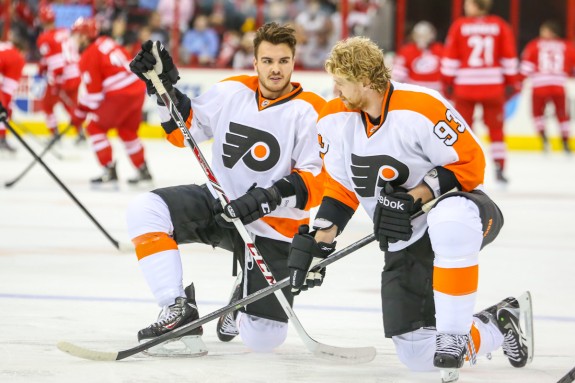 With the struggles early on this season, the Flyers line changes were in a constant state of fluctuation. Recently, for the most part, the Flyers have found a good bit of chemistry with the line combinations they've been using. Let's take a look at the numbers.
Line 1: Hartnell: 6G, 6A, 12P, -6
Giroux: 7G, 18A, 25P, -5
Voracek: 6G, 11A, 18P, -2
The Flyers first line this season has been maddeningly inconsistent and rather disappointing. Scott Hartnell has looked lost and utterly invisible throughout large portions of games.  Jake Voracek isn't scoring anywhere near the pace he was last season, which leads to the question of whether he's simply struggling or if last season was indeed an aborition. Claude Giroux started the season off very slow, but has picked it up recently. Although his play hasn't been that of a top 5 player in the league, he does lead the team in points, has hit the post almost as many, if not more, times as he has scored, and he has five points in his last three games.
*Hartnell has been demoted to the second line and has been replaced by Michael Raffl on the top line, but for the purpose of this post, we are looking at the majority of the season.
Line 2: Schenn: 7G, 11A, 18P, 0
Lecavalier: 9G, 5A, 14P, -6
Simmonds: 5G, 10A, 15P, -9
Schenn got off to a great start when the team was struggling, but has cooled off significantly. He has gone 11 straight without a goal. Lecavalier has been out for periods at a time but has been one of the positives for the Flyers this season when he's been on the ice. Simmonds hasn't scored as much as expected but has done his part along the boards and on the forecheck.
Line 3: Read: 9G, 6A, 15P, -6
Couturier: 6G, 10A, 16P, 2
Downie: 2G, 9A, 11P
This has been the Flyers' best line all season. They are easily the most responsible defensively, and have spent many shifts deep in the offensive zone when the Flyers need a spark to get going. Couturier has been stout defensively and is finding his groove on offense. They are one of the best third lines in hockey.
Line 4: Raffl: 2G, 6A, 8P, 1
Hall: 1G, 1A, 2P, -6
Rinaldo: 0G, 1A, 1P, -7
Most of Raffl's points have come recently on the top pair with Giroux and Voracek. Hall has been dominant in the face-off circle and an asset on the penalty kill. Rinaldo has regressed mightily this season, taking multiple undisciplined penalties and not drawing nearly as many as he did last year.