During the month of December, Corey Trivino and Charlie Coyle made decisions that had various impacts on the BU Terriers men's hockey team. While Trivino and Coyle's actions were glaringly different, this piece will look into the effect that their decisions had on the BU hockey program and their individual endeavors as potential NHL players.
Here's the centering-feed on the two: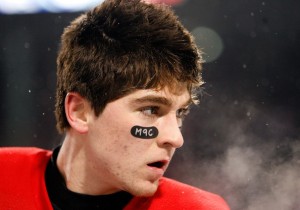 Corey Trivino (2nd Round, 36th Overall Draft Pick at 2008 NHL Entry Draft by the New York Islanders):
Corey Trivino's most recent decision was not one that worked out in his favor. Trivino was kicked off of the BU Terrier hockey team almost a month ago after he forced himself onto a Resident Assistant. Coach Jack Parker booted Trivino from the team after the senior was involved in yet another alcohol-related incident.
Trivino supposedly returned from a night of partying and made numerous trips to a Resident Assistant's room where he engaged in inappropriate behavior that prompted the female assistant to phone for police help.Police apprehended Trivino after he fled the RA's room and arrested the center. Trivino has a court date set for January 18th and the full ramifications of his actions are yet to be seen.
This much is known, the center had apparently worn out his welcome with head coach Jack Parker since the bench boss decided that his most recent alcohol-fueled incident was just one too many for the team to handle.
What does all of this mean?
While Trivino was a highly regarded prospect that was drafted by the New York Islanders, he put a serious dent into his chances of making an NHL roster and progressing to the professional level at a rate that he would have liked. Trivino's actions could hinder his chances with the Islanders or any other NHL club unless he demonstrates that his substance-abuse problem can be curbed.
A ban from Boston University's prestigious hockey program will undoubtedly be a black mark on Trivino's record, but the forward still has time to make up for his mistakes. Trivino could have been given a shot to show off his skill sets for the Isles during the 2012-2013 training camp, but the center's main priority will be to get his life in order after his court appearance.
General Manager Garth Snow's selection of Kirill Kabanov illustrated that there was room in the Islander's organization for a player who was perceived as having his fair share of personal demons. Snow has stuck by his draft pick, who dropped to the third round of the 2010 NHL Entry Draft, and the forward figures to be a part of the franchise's future.
While Corey Trivino also possesses great skill sets and still has tremendous upside, the consequences of his actions have taken him away from playing hockey in his final year at BU. Trivino was finally coming into his own in the Hockey East (17 points in 15 game before being booted) and was on pace to shatter his previous point totals at BU. However, two counts of breaking and entering, and one count of assault with attempt to rape will create a roadblock for any aspiring individual, to say the least.
There are many distractions on and off a university campus that could have shifted the focus of certain youngsters away from their ultimate goals. Trivino was definitely among those impressionable youngsters and coach Jack Parker's decision to ban the senior center from the BU hockey program because of his latest alcohol-fueled episode indicated that drinking had become a noticeable problem with Trivino.
Boston Terrier head coach Jack Parker had this to say about the senior center:
"There is no question in my mind it's an alcohol problem," Parker said. "I did [ask him to get treatment], but he didn't think it was for him… Corey knew exactly where he stood," Parker said. "It's sad but it's simple for me. Corey knew in September that if he had another alcohol-related incident on campus or off campus, he would be gone from the team."
On the other hand, credit is due to Boston University for handling the situation in the correct fashion and not just sweeping it under the rug. Since Trivino was using alcohol in an irresponsible fashion, maybe it was better that the center got a reality check before his drinking completely spiraled out of his control. While Trivino will have to take the right steps – think alcohol abuse rehabs – to ensure that he tempers his drinking, the center is still an interesting prospect with a ton of upside. If Trivino can show the Islander's brass that he is capable of a change of lifestyle and not "Partying like a Puckstar", the sky will be the limit for the center.
Charlie Coyle (1st Round, 28th Overall Selection at the 2010 NHL Entry Draft by the San Jose Sharks):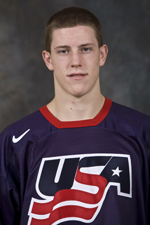 Coyle was acquired by the Minnesota Wild in the trade that sent defenseman Brent Burns to the San Jose Sharks. The American center was a highly regarded prospect that was making his mark in the Hockey East with the Boston University Terriers, but his decision to commit himself to the Saint John Sea Dogs of the QMJHL saw the Terriers lose two of their top centremen within the span of a week.
Coyle's decision to leave BU was fueled by his desire to fully dedicate himself to hockey and the QMJHL offered the Minnesota prospect the best opportunity to play more games in a highly competitive environment. Coyle's decision to join the Saint John Sea Dogs allows the center to play with talent such as Zack Phillips, Jonathan Huberdeau, and Tomas Jurco among others. While Coyle was showing improvement with the Boston Terriers (14 points in 16 games), he hasn't failed to showcase his skills with the Sea Dogs as he recorded 2 goals in his first 2 games with the club.
While the Hockey East and the BU hockey program are very competitive in their own rights, the QMJHL can also help to prepare Coyle for the NHL because of an increased amount of games on the schedule. Academics is extremely important, but Coyle made his decision and is genuinely interested in building his skill sets for a lengthy career as an NHL player.
Coyle's dedication to a full-time hockey career and drastic change of scenery could be knocked by some, but who really cares as long as the center develops into the force that he is projected to be?
The centreman put up a respectable 5 points in 6 games for Team USA at this year's World Juniors and his presence in the QMJHL has already been felt. Even though Coyle had a chance to sign with the Houston Aeros of the AHL, he made a conscious decision to play out the rest of the season in junior hockey and it is paying its dividends thus far. If Coyle feels that he is ready to try out for the big leagues after the QMJHL seasons ends, then the Minnesota Wild ownership and management will probably give the center a shot and sign him to an entry level contract.
While Coyle could be in the AHL or NHL at the start of next season, the center must make sure that he makes the most of his opportunity in the QMJHL. The Saint John Sea Dogs are the reigning Memorial Cup champs and the addition of Coyle has definitely strengthened an already potent and talent-laden team. Coyle has played for a winning Boston University Terrier squad so he knows what is at stake for the Sea Dogs this season and will bolster the team's firepower. Coyle and the Saint John Sea Dogs should share a mutually beneficial relationship as Coyle will gain experience playing in the QMJHL and the Sea Dogs will have another weapon to aid them in their title defense.
Biggest Losers – Boston University Terriers
While the Boston University Terriers have performed admirably after losing their top centers, it will be very hard to keep pace in the Hockey East without the help of Coyle and Trivino. The former Boston University centers accounted for 31 total points in 31 combined games played and it will definitely be a challenge to replace those lost point totals. However, Jack Parker is an experienced coach who will get formidable production out of players such as Matt Nieto, Alex Chiasson, Chris Connolly, Sahir Gill, Adam Clendening, and Garrett Noonan.
The BU Terriers have definitely lost the most assets in the Hockey East, but are still a team that should not be overlooked. Head Coach Jack Parker will get the most out of his remaining players as the Terriers have five straight conference events before their Beanpot semifinal match-up with Harvard at the TD Garden.
Look for the Terriers to finish strong despite having lost some big offensive weapons in Charlie Coyle and Corey Trivino.
Impact on the Wild/Islanders
The Minnesota Wild have a talented and gifted center in Charlie Coyle and the forward will sharpen his skill sets in the QMJHL for the rest of the hockey season. Coyle will be able to try out for the AHL and NHL once the QMJHL season is completed and fans alike should look forward to the development of this young and exciting prospect.
On the other hand, Corey Trivino will have to get his life back in order after his court hearing on January 18th. Garth Snow has shown a commitment to Kirill Kabanov despite his "bad-boy" image in various media outlets and could extend that same courtesy to Trivino if the center is able to reverse course. Trivino's future will be up in the air for now, but he still possesses immense hockey talent that could be utilized if he is able to fully commit himself to hockey.
In his third year with The Hockey Writers, Toli covers all things related to the New York Islanders. Focusing on the Islanders, the NHL Draft & draft-eligible prospect goalies, and hockey history, Toli can be contacted on Facebook by searching/messaging Toli Metter and on twitter by searching @ToliMetterTHW.