An afternoon affair at the Times Union Center saw the rival Adirondack Phantoms and Albany Devils squaring off in a Northeast Division tussle.  Albany was especially fired up, because they knew they had a special guest in the house.  New Jersey Devils General Manager Lou Lamoriello was on hand and he must've been pleased from what transpired in this one.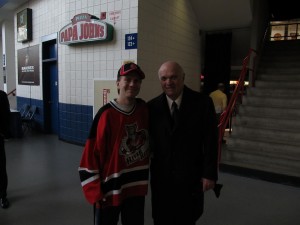 Also taking the trip from Newark, was forward Nick Palmieri.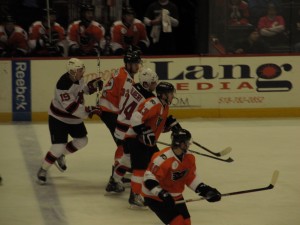 Early in the first, Albany was on the power-play and it was Nathan Perkovich in the slot for his sixth and third in consecutive contests.  Mike Sislo and Eric Gelinas added helpers and the Devils had a 1-0 lead.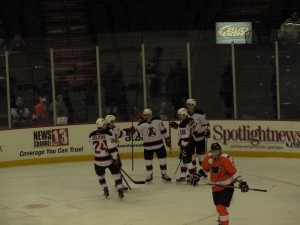 Late in the period, with Albany down a man, Matt Anderson came streaking in and beat Michael Leighton, popping the water bottle for the shorty.  Anderson's seventh, doubled the Devils lead through one.
During the second stanza, the Devils put on an absolute clinic.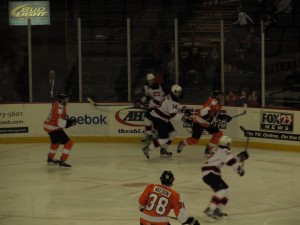 In the early going, Vladimir Zharkov made a pretty little move to the net and put one off Leighton.  With Leighton stretched out, Jacob Josefson was there to clean up, with a sharp, side angle shot, over Leighton and in.  The goal was Josefson's first and it put Adirondack in a three goal hole.  It shouldn't be long until Josefson makes his way back to the NHL.
Then, shortly thereafter, playing against his brother Tom, who was back from "fantasy camp," Timmy Sestito scored one heck of a breakaway goal.  It all started with a sweet head-man pass from Perkovich, hitting Sestito, who backhanded the puck past Leighton for the tally.  Sestito's third marker, was enough to chase Leighton.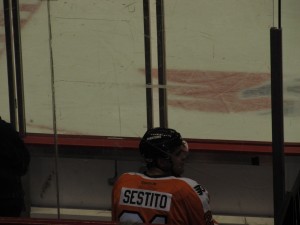 For a guy who once stopped 98 shots in a Calder Cup playoff game, in this building for the Albany River Rats against the then Philadelphia Phantoms, it was just not his day.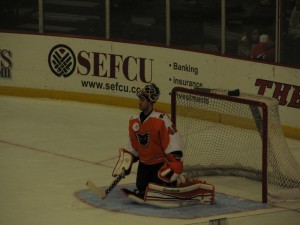 Within minutes, Jason Bacashihua found out what Leighton already knew.  This time it was Brad Mills doing the scoring, stuffing it home to light the lamp, with assists from Palmieri and Chad Wiseman.
The rout was on, and with Jeff Frazee between the pipes making 32 solid saves, Albany had a fairly good grasp on this one.
Adirondack did manage to scrape through, midway through the period.  Phantoms rookie and leading scorer Jason Akeson beat Frazee for his tenth, to break the shutout.
In the third period, Adirondack broke through once again, this time on the power-play.  Garrett Roe, who assisted on Akeson's goal, posted his fifth on a backdoor shot.
Following that, the Phantoms were able to cash in shorthanded themselves.  On a giveaway, Captain Ben Holmstrom found Eric Wellwood, who bested Frazee for his ninth.  It was a  familiar sight for Lamoriello, whose New Jersey Devils lead the NHL in shorthanded goals scored and allowed.
From there, some minor hostilities played out but it was all said and done on the scoreboard.
With the 5-3 victory, Albany now had points in six straight games.  The loss for Adirondack snaps their mini streak at two, after consecutive home wins on the weekend against Hamilton and Manchester.  Both clubs now find themselves in a three-way tie for second in the division with 42 points, along with Bridgeport, and two behind Connecticut.