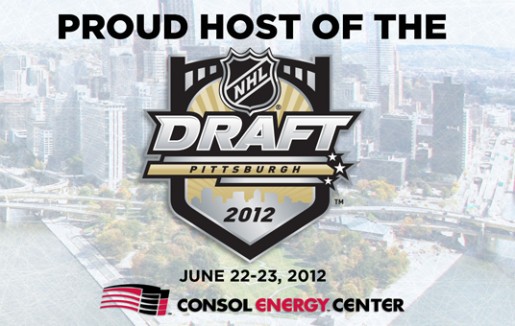 Is it ever too early to think about the NHL's next entry draft?
Many shots will be taken. Many saves will be made. Many hits will be dished out. Many battles for loose pucks will be fought. Many passes will be delivered. Many savvy puck moves will be executed. Many coach tirades will fall on deaf ears.
All before the 2012 NHL Entry Draft takes place on June 22nd-23rd in Pittsburgh Pennsylvania.
Every year it seems I contemplate whether or not to go through the intriguing yet dubious task of putting together a mock draft. We all know how fascinating it is to go through the progress of formulating which team should select which prospect and at what point in the draft.
We also know how quickly a mock draft can go off the rails when the actual NHL draft takes place. Whether it be the Phoenix Coyotes going off the board to take a Blake Wheeler or the Los Angeles Kings selecting Thomas Hickey seemingly out of nowhere, one's mock draft can be wrecked faster than Michael Grabner can do a lap around the rink.
Of course, temptation got the best of me again yet again.
Today's article embarks on my first mock draft of the season.
Notes:
This is not an attempt to rank prospects – rankings will follow similar to preceding years. This is mere a "guesstimate" at what teams might choose if they were to draft today based on weighing out best player available with team need and past experiences at the draft table.
Draft order is based on the NHL standings as of morning of January 17th, 2012. Standings and thus team drafting positions will obviously fluctuate on a day-to-day basis from here on end.
1. Columbus Blue Jackets – Mathew Dumba (D, Red Deer, WHL)
Starting this mock draft off with a bang, the Blue Jackets would likely heavily shop this pick should they land the #1 overall pick. Make no mistake, I feel Nail Yakupov and Mikhail Grigorenko are the 1A and 1B prospects eligible for the 2012 draft. However, given the franchise's atrocious history with drafting talented Russian players near the top of the draft, they are likely terrified of having similar outcomes as with the two Nikitas – Zherdev and Filatov – and thus go against the consensus Fail for Nail or Mikhail theme of this draft.
If they keep the pick, why not swing for the fences and go with the blueliner with the highest risk/reward in the draft – Mathew Dumba. The Red Deer Rebel defenseman is an explosive and dynamic player with a seemingly unmatched passion for the game. He has a personality that could really be infectious in Columbus.
2. Anaheim Ducks – Nail Yakupov (RW, Sarnia, OHL)
The Ducks do not hesitate to call the name of Yakupov, perhaps the most talented and creative player in the draft with game-breaking potential.
3. Tampa Bay Lightning –  Mikhail Grigorenko
GM Steve Yzerman knows the importance of strength down the middle. The big Russian centerman is an exceptional talent that can control the tempo of a game. He reminds some of Evgeny Malkin. The Lightning also consider potential franchise blueliner Ryan Murray.
4. Edmonton Oilers – Ryan Murray (D, Everett, WHL)
The Oilers have a plethora of talent up front and land their future anchor on the blueline. Put Ryan Murray's dreadful hard luck semifinal game against Russia out of your mind. Murray experienced Murphy's Law in that game, but the cool, calm and collected blueliner will put that game behind him. He is a steady, superb skating defenseman with ridiculous upside in the mold of Scott Niedermayer.
5. New York Islanders – Filip Forsberg (C, Leksand,  Sweden)

The Islanders were hoping for one of Ryan Murray or Mathew Dumba to further build up the blueline, but gladly settle on the top rated Swedish prospect in the draft – centerman Filip Forsberg (no relation of Peter). Filip was a member of Sweden recent World Juniors gold medal winning squad, albeit with a limited role. He is a good sized center and one of the youngest eligible prospects for the draft. Forsberg projects as an excellent two-way center who creates plenty opportunities for his teammates.
6. Carolina Hurricanes – Alex Galchenyuk (C, Sarnia, OHL)
The 2012 NHL Entry Draft class seems like it's cursed – cursed with an abnormally high number of injuries to top end prospects. Galchenyuk is at the top of this list, having to miss all of this season with a knee injury. The Canes draft the talented center based on his high end skill level. He had an absolute stunning season for the Sarnia Sting last year with 83 points in 68 games.
7. Montreal Canadiens  – Brendan Gaunce (C, Belleville, OHL)
The Habs recent trade of Mike Cammalleri for Rene Bourque makes it evident the value the organization now place on size. Gaunce  fits the mould possessing good size and is a tantalizing package of skill, grit, leadership ability and strong two-way play.
8. Buffalo Sabres – Griffin Reinhart (D, Edmonton, WHL)
The Sabres struck black gold the last time they went out west and drafted a big blueliner with high upside. In 2008 it was the towering Tyler Myers. In 2012, it's 6'3″ Griffin Reinhart, son of former Calgary Flame Paul Reinhart, who has the potential to be a fantastic two-way defenseman, but has to continue to work on consistency.
9. Calgary Flames – Cody Ceci (D, Ottawa 67's, OHL)
The Flames select the best player available on their list in Cody Ceci. The 6'2″ defenseman can fill the role of powerplay quarterback and is calm and steady in his own zone.  At this point in the season, he has notched an impressive 38 points in 41 games in the OHL.
10. Winnipeg Jets– Morgan Rielly (D, Moose Jaw, WHL)
2012 is definitely the year of the defenseman and the year of the injury for the entry draft.  Morgan Rielly fits both descriptions. The blueliner was averaging a PPG when he too went down with a knee injury. He is highly regarded for his high hockey IQ and is a scintillating skater.
11. Phoenix Coyotes – Sebastian Collberg (RW, Frolunda, SEL)
With the trade of Kyle Turris to Ottawa and the arrival of yet another blue chip blueliner in David Rundblad, the Coyotes opt for Swedish speedy sniper Sebastian Collberg. Perhaps no skater increased his stock more than Collberg in the recent World Juniors. He notched 4 goals and 3 assists for 7 points in 6 games. Add in two super-slick shootout goals to round out his impressive performance.
12. Toronto Maple Leafs –  Jacob Trouba (D, NTDP, USHL)
GM Brian Burke is not to shy in stating he is ecstatic the American two-way defender fell to the Leafs. Trouba possesses good size and skill and is has a physicality aspect to his game. He was one of the few bright spots for Team USA at the recent World Juniors.
13. Dallas Stars – Derrick Pouliot (D, Portland, WHL)
Pouliot is admittedly one of my favourite prospects in the entire draft. He is not the biggest blueliner in the impressive crop of defensemen in this year's draft class, but he has one of the highest levels of hockey sense. He has excellent puck poise and is a smooth operator. The Stars get a good one in the lucky #13 draft slot.
14. Washington Capitals (formerly Colorado Avalanche) – Slater Koekkoek (D, Peterborough, OHL)
Injured and a defenseman. Familiar storyline. Koekkoek is out with a shoulder injury. The 6'2″ rear-guard had 18 points in 26 games before going down with an injury. He is a very good skater with a nice blast from the point.
15. Pittsburgh Penguins – Tomas Hertl(C, Praha Slavia, Czech)
The Penguins go slightly off the board from some draft lists, but Hertl's play and stat-line of 3 goals and 2 assists in 6 games at the World Juniors for the Czech Republic was very impressive, tying for the team lead in scoring. He exhibited strong and savvy puck possession skills.
16. Washington Capitals – Zemgus Girgensons (C, Dubuque, USHL)
The Capitals land the Latvian forward who could prove to be a vital piece of the equation in Washington. Dale Hunter will love to coach this Rod Brind-Amour clone – albeit a Latvian version.
17. Minnesota Wild – Ludvig Bystrom(D, Modo, SEL)
The Wild go back to Sweden yet again and land yet another silky smooth reliable blueliner who may be a future pairing partner of last year's first rounder and gold medal winner Jonas Brodin.
18. Florida Panthers – Matt Finn (D, Guelph, OHL)
The Panthers have the luxury of not worrying whatsoever about what position to draft and ultimately land Matt Finn. The offensively minded defender has seen his stock rise immensely this season. He has notched an impressive 29 points in 35 games played so far this season. A future partner of Erik Gudbranson?
19. New Jersey Devils – Jordan Schmaltz(D, Chicago, OHL)
The Devils eagerly snap up the 6'2″ Schmaltz who looks to be a future NHL powerplay quarterback. He has 21 points in 27 games so far in the relatively low scoring USHL.
20. Los Angeles Kings – Jarrod Maidens (C, Owen Sound, OHL)
While Maidens may not make up for the loss of Brayden Schenn in the franchise's prospect ranks, he will help restock the cupboards. I'll defer to my colleague Brendan Ross' description of "Iron" Maidens in his mid-season mock draft:
Maidens is a versatile player able to play up the middle or on the wings and uses his size (6'1") very effectively.  Maidens is a tireless worker with good offensive skills but his biggest weapon is his hard heavy shot.  The Rangers will have many choices if they land at this position but Maidens is a power forward capable of providing help at both ends of the rink.
21. San Jose Sharks – Pontus Aberg (LW, Djurgarden, SEL)
The Sharks start the process of revitalizing the prospect ranks by drafting the very talented offensive forward Aberg who is having success in Sweden top pro league at a young age.
22. Ottawa Senators – Radek Faksa (C, Kitchener Rangers, OHL)
The last time the Sens drafted a Radek in the first round, it was centerman Bonk in 1994 at 3rd overall. While he may have not lived up to the hype of such a high draft slot, Bonk had a fairly solid career. Faksa has intriguing size and has made a solid transition to the North American game averaging about a PPG in this his first in the OHL. He possesses very good two-way upside ability.

23. Nashville Predators – Martin Frk (RW, Halifax, QMJHL)
Frk has been highly touted by scouts for several years with his stock on a gradual decline the last while and topped off this year with concussion issues. He is an intriguing mix of size, skill and physical play and could be a draft day steal sometime down the road for the Preds who could use an offensive infusion in the lineup.
24. Philadelphia Flyers – Olli Maatta (D, London, OHL)
Maatta unfortunately got injured in the first game of the World Juniors. The Finnish blueliner has a defense first mentality but has displayed somewhat surprising good offensive instincts in his first season in the OHL. Countryman Kimmo Timmonen might still be around to show him the ropes.
25. Vancouver Canucks – Danil Zharkov (LW, Belleville Bulls, OHL)

Zharkov may raise some eyebrows in being selected here given the Russian factor, but the 6'3″ winger has 15 goals in 25 games for Belleville in the OHL and also posesses good defensive awareness.
26. Detroit Red Wings – Teuvo Teräväinen (LW, Jokerit, SM-liiga)
Teuvo is a supreme offensive talent that is slightly undersized. He is highly creative offensively with outstanding hockey sense. Yes – the Red Wings do it again at the draft table.
27. Boston Bruins – Andreas Athanasiou (C, London, OHL)
The Bruins keep stockpiling and land the speedster forward who can generate offense on his own as well as make those around him better.
28. Chicago Blackhawks – Hampus Lindholm (D, Rogle, Sweden)

The Blackhawks have good prospect depth and take who they feel is the best player available. The 6'2″ Swedish defender turns into a draft day riser. He is an outstanding skater who has a penchant for the offensive side of the game, but is savvy in his own end as well.
29. St. Louis Blues – Tanner Pearson (LW, Barrie, OHL)
The Blues get it done on the ice without a bona fide big time scorer. They could utilize Pearson in the lineup almost immediately next season given his maturity. He leads the OHL in PPG and won't sneak through the draft a third time. He is the classic late bloomer and one of those players that leaves scouts scratching their heads wondering how they missed him before.
30. New York Rangers –Ville Pokka (D, Karpat, FIN)
With a big blow to the blueline when Olli Määttä was injured in Finland's first game of the World Juniors, Pokka's role increased substantially. The young defenseman did not disappoint exhibiting his solid 2-way play which leans towards the offensive side. Pokka finished the championships tied for 6th in scoring amongst defenseman scoring with 4 points in 7 games.
***