The National Hockey League season is at its midway point and with the Under-20 World Junior Championship recently completed scout's notebooks are  containing a little more information on the upcoming draft class.  It is now time to complete my first Mock Draft attempt of2012 NHL Entry Draft.
First off, let me put out a disclaimer that this mock draft is for fun only and that there is still plenty of hockey yet to be played for both NHL players and the following draft eligible players. Players have a lot of time to either improve their draft stock or fall in the rankings.  At this point, there is nothing set in stone and a lot will change leading up to the June NHL Entry Draft including the actual NHL draft order their improvement, trades or the draft lottery.  Secondly, it should be mentioned that the players selected below is not a ranking but merely a "best guess" at how NHL teams might draft based on the combination of their scouting and team needs.
Time is a wasting so let's dig in deep here and take our best guess at how the 2012 NHL Entry Draft will fall.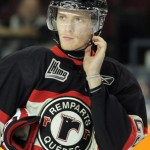 1. Columbus Blue Jackets – Mikhail Grigorenko (C, Quebec, QMJHL)
Personally, Nail Yakupov is the number one pick in the '12 draft class in my opinion but Grigorenko is no slouche either chasing Nail all season long.  NHL teams love big centres that can control the pace of the game and Grigorenko excels in that area.  It is no secret that the Blue Jackets have had trouble developing prospects but my gut feeling is they pass on the smaller winger (who's currently out with an injury) for the big center.  If true, are they setting themselves up for failure again at the draft? Time will only tell but both of these players project well to the NHL.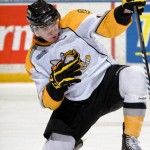 2. Anaheim Ducks – Nail Yakupov (RW, Sarnia, OHL)
The Ducks have relied on right winger Teemu Selanne for much longer than they ought to but he retirement is inevitable soon (isn't it?) and there may be no better player to take over than Nail Yakupov who is a left handed shot playing the off wing and capable of sniping goals with the best of them.  If I were the Blue Jackets I would not pass on Yakupov's star power but I can visualize Nail in a Ducks jersey.  Yakupov will need to change his number "10" if he lands in Anaheim as Corey Perry currently occupies it but he will do so in order to play alongside Getzlaf, Perry and Ryan.
3. New York Islanders – Ryan Murray (D, Everett, WHL)
The Islanders have a tendency to draft from the Sarnia Sting organization in recent years (Mark Katic, Matt Martin, Justin DiBenedetto) making Alex Galchenyuk a real choice but they'll likely opt for a defenseman as it is a bigger team need.  In the past four years, New York has chosen forwards with their first round selection (three of which are centres – Bailey, Tavares and Strome).  Look for the Islanders to shore up their defence with one of Murray, Dumba or Rielly as their forwards are looking good for the future.  Ryan Murray is the safest pick here and could stabilize their backend for years to come with his strong two-way abilities.
4. Carolina Hurricanes – Filip Forsberg (LW, Leksand, SWE)
The Carolina Hurricanes organization believes in selecting forwards with their first pick unless an elite defenseman falls to them like last year in Ryan Murphy.  The hunch I am getting is that Jim Rutherford drafts the big Swede forward Filip Forsberg who projects to be a very talented player and is considered NHL ready.
5. Edmonton Oilers – Mathew Dumba (D, Red Deer, WHL)
The Oilers would love to end this never-ending rebuild and it's no secret that their weakness is on the backend.  If Oil town can nab a player of Mathew Dumba's flare and talent then this organization receives a huge boost.  If selected by Edmonton, Mathew Dumba would make it two years in a row that the Oilers selected a player from the Red Deer Rebels organization as Ryan Nugent-Hopkins was last season's star acquisition.
6. Tampa Bay Lightning –  Alex Galchenyuk (C, Sarnia, OHL)
Steve Yzerman will have a tough decision to make if the draft unfolds as It has above especially with Sarnia Sting Alex Galchenyuk still on the board.  Galchenyuk is a top four talent in this draft year but he's been somewhat overlooked due to his season ending knee injury.  Yzerman could strengthen his defence up but he showed us in 2010 with his Brett Connolly selection that he's willing to take the best player available despite injury risk.  After Tampa selected Stamkos from Sarnia in 2008 look for the Lightning to draft from the same organization and make Alex Galchenyuk property of the Lightning.
7. Montreal Canadiens  – Morgan Rielly (D, Moose Jaw, WHL)
The Habs would love for a big talented two-way centre in Galchenyuk to fall to them at 7th (and he might) but if not Montreal will select the best player available.  Morgan Rielly is a player sitting out with a season ending knee injury as well but he is a player who plays with tons of confidence and has good hockey sense with the skills to make the Canadiens a stronger team.
8. Buffalo Sabres – Brendan Gaunce (C, Belleville, OHL)
With the exception of last year's selection of Joel Armia, the Buffalo Sabres have a tendency to draft North American players.  Brendan Gaunce would be a player who could catch the Sabres attention with his size, good hands, pro shot, leadership abilities and good two-way ability.
9. Calgary Flames – Griffin Reinhart (D, Edmonton, WHL)
The Flames have plenty of holes to fill so expect them to take the "best player available" approach as well and that player could be playing just hours north of Calgary with the Edmonton Oil Kings.  Griffin Reinhart, son of former Calgary Flame Paul Reinhart, would join his older brother Max as a Calgary prospect if they decided to draft the big blueliner with good offensive upside.
10. Washington Capitals – Jacob Trouba (D, NTDP, USHL)
American John Carlson has been a fantastic pick for the Washington Capitals and his country-mate Jacob Trouba has the potential to be equally as good. Washington has two first round picks after trading Varlamov to Colorado and Trouba would fit perfectly on a team with good forward depth.  Jacob has good size (6'2", 196 lbs) and is a player with good offensive skills who isn't afraid to lay the body either.
11. Phoenix Coyotes – Zemgus Girgensons (C, Dubuque, USHL)
The Coyotes have used their past three first round selections to select defensemen – Ekman-Larsson, Gormley, and Connor Murphy.  The latter was selected out of the United States Hockey League and the organization may choose to go that route again by selecting centre Zemgus Girgensons from Dubuque.  The Latvian forward is a good skater boasting NHL size and has a very good shot.
12. Winnipeg Jets – Cody Ceci (D, Ottawa 67's, OHL)
The Atlanta Thrashers/Winnipeg Jets have had great success drafting out of the Ontario Hockey League picking players such as Bryan Little, Bogosian, Burmistrov and Scheifele.  Cody Ceci has been making noise playing for the Ottawa 67's and projects to be a steady defenseman with good powerplay quarterback abilities.  Ceci handles the puck well and his size (6'2") is certainly an attractive attribute for NHL teams.
13. Pittsburgh Penguins – Sebastian Collberg (RW, Frolunda, SEL)
In the past, the Penguins have had trouble drafting forwards who pan out if they aren't a top five pick but they've got to keep trying.  I doubt that the draft hosts end up drafting in the thirteenth slot but if they do they should take a long look at Frolunda's speedy sniper Sebastian Collberg who has been rising up the draft rankings.  In recent years, the Penguins have not turned to many European players in the draft but Sebastian Collberg projects to be a complementary player with good scoring instincts. Collberg struggles at times to create scoring chances on his own but if you are playing alongside Crosby, Malkin or Staal then you don't have to "create" too much on your own.
14. Washington Capitals (formerly Colorado Avalanche) – Martin Frk (RW, Halifax, QMJHL)
The Capitals' second pick in the opening round allows them to take a bit of a risk and the concussion that has currently sidelined Martin Frk for most of the season is certainly risky.  The Czech winger is a big gritty forward with good offensive skills.  Frk was once considered by scouts as a potential first overall pick but his injury has caused him to slide.  The talent is there and if Washington gambles on him here then it could pay off huge.
15. Los Angeles Kings – Pontus Aberg (LW, Djurgarden, SEL)
The last time the Kings drafted a player in the opening round from Europe (specifically Sweden) was in 2005 when Anze Kopitar was selected eleventh overall.  The L.A. Kings should definitely try using that strategy more often and Pontus Aberg is a player worthy of such a selection.  Aberg is a winger who can play at top speed and has sniper abilities (quick accurate shot) that has been on display against men in the Elitserien league this season.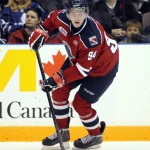 16. Toronto Maple Leafs –  Radek Faksa (C, Kitchener Rangers, OHL)
Brian Burke has shown he prefers to draft big strong players and there is an import playing in Toronto's backyard with the Kitchener Rangers that will be very attractive.  In many ways, Faksa (6'3", 202 lbs) has picked up right where former Rangers' import, Gabriel Landeskog, left off. Two months ago Radek Faksa couldn't crack the top 30 players but he has surged up the rankings attracting the attention of all scouts.Burke will do what he thinks best but if the Leafs can draft a sizeable centre with good hands, physicality and playmaking abilities then it could be what they've been looking for.
17. Dallas Stars – Derrick Pouliot (D, Portland, WHL)
The weakness of the Dallas Stars is considered by most experts to be their blueline.  Last year, Dallas drafted six-foot-seven defenseman Jamie Oleksiak with their first round selection.  The 2012 draft class has good defensive depth and it is likely that one or two quality defensemen will drop further than they should.  In our case, Derick Pouliot of the Portland Winterhawks has all the potential to become one of the better defenseman of this draft class.  Pouliot has some similarities to Blackhawks' Duncan Keith in the way that he controls the game and is an exceptional skater.  Pouliot is a personal favourite of mine and if he falls to the seventeenth spot I believe he'll become a steal.
18. Ottawa Senators – Ludvig Bystrom (D, Modo, SEL)
Over the past few years Bryan Murray and the Senators organization has shown that they are one of the better drafting teams in the National Hockey League.  Ottawa has had very good success drafting Swedes and they could turn to one of the youngest projected first round picks in next year's draft in Ludvig Bystrom.  The Swedish defender has been logging big minutes in Sweden and plays a patient mistake free game.
19. Minnesota Wild – Slater Koekkoek (D, Peterborough, OHL)
The Wild have improved their prospect situation tremendously over the last handful of seasons but Minnesota could benefit from adding more defensive help.  Slater Koekkoek has been rated anywhere from a top ten pick to a late first round pick but it is likely that he ends up somewhere in the middle. Koekkoek is currently sidelined for the season with a shoulder injury but when he is playing he brings good size (6'2"), an important physical element and can really skate.  Minnesota could see a fantastic skating powerplay tandem of Jonas Brodin and Koekkoek in the future if this pick holds true.
20. New Jersey Devils – Olli Maatta (D, London, OHL)
Lou Lamoriello continues the Devils' rebuild on-the-go and after New Jersey won the draft lottery last season they will be hoping that a player falls to them again much like Adam Larsson did in 2011.  Olli Maatta from the London Knights is a player who could help restore stability on the Devils' blueline. Solid defensively and capable offensively Maatta plays an honest game that projects well for the NHL.
21. Florida Panthers – Matt Finn (D, Guelph, OHL)
Depending on who you ask, the Florida Panthers may have the deepest prospect cupboard in the NHL.  However, many NHL teams, including Florida, can never have enough defensive depth.  Matt Finn has the skills to log serious minutes and shows good offensive capabilities through smart decision making. The Storm defenseman has the potential to become a top four blueliner.
22. Nashville Predators – Teuvo Teräväinen (LW, Jokerit, SM-liiga)
Music city has seen their NHL franchise become the experts at drafting defenseman but is it possible that the Predators choose not to select a defender in a draft loaded with them? Maybe.  Last year, Nashville used their second round pick to select agitating skilled forward Miikka Salomaki from the Finnish league and it's possible that they select another top rated Finn in Teuvo Teräväinen.  Undersized by NHL standards (5'10"), Teräväinen is a quick skilled winger capable of playmaking but can also adopt the "sniper" mentality as well.
23. San Jose Sharks – Thomas Wilson (RW, Plymouth, OHL)
The Sharks may have one of the weakest prospect pools in the NHL after trading away Charlie Coyle last season.  The lack of depth puts an added pressure on the Sharks to make their first round pick count.  Thomas Wilson is one of the safer picks of this draft class due to his size and versatility.  Wilson is the Tyler Biggs of this draft class and while he could end up in a top six role it is more likely that Wilson becomes a very serviceable third liner. Thomas is a physical winger with great size and good hands.
24. Detroit Red Wings – Phil Di Guiseppe (LW, University of Michigan, NCAA)
Di Guiseppe is a fun player to watch and his upside is pretty intriguing making him a typical Red Wings' draft pick.  The University of Michigan freshman has good offensive instincts, nice skating skills and can put the puck in the net three qualities that Ken Holland and his staff should like about the local kid.
25. Chicago Blackhawks – Jordan Schmaltz (D, Chicago, OHL)
Schmaltz may not last this late as he is a very capable puck-moving defenseman but the Sioux City defender is a confident player with a quick shot that would help add depth to the Hawks backend.  Schmaltz has all the tools to become an effective powerplay quarterback and he is turning heads through the first half of his draft year.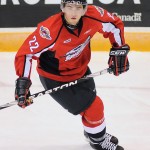 26. Philadelphia Flyers – Nick Ebert (D, Windsor Spitfires, OHL)
Once considered a top ten pick Ebert has watched his draft stock drop dramatically due to a combination of being under the microscope too long as well as a slow start in his draft year.  Scouts see the potential to become an offensive-defenseman with a good shot and admirable physical skills, however, Ebert has struggled to take over in the huge footsteps of the departing Ryan Ellis in Windsor and it has come with disappointment.  Frankly, Ebert needs to simplify his game and stop trying to do too much.  Obviously, it's easier said than done with the draft pressure intensifying but Ebert does have first round skills and teams will take a long hard look at him.
27. St. Louis Blues – Scott Laughton (C, Oshawa Generals, OHL)
Scott Laughton is a reliable two-way forward that plays with a lot of grit but comes with good skills as well.  There are some people who feel he emulates Mike Richards' style of play as he enjoys engaging physically and comes with a tireless engine.
28. Boston Bruins – Tanner Pearson (LW, Barrie, OHL)
Over the past few years the Bruins have been plucking gems in the first few rounds of the draft from the Ontario Hockey League who others have passed over for someone else.  Tyler Seguin was an easy selection in 2010 but the Black and Gold have identified good talents in underrated players like Jared Knight, Ryan Spooner, Dougie Hamilton and Alexander Khokhlachev. Currently, Tanner Pearson of the Barrie Colts is leading the OHL in scoring with 66 points in 31 games.  Pearson was passed over in the 2011 draft but it will not happen in consecutive years.  One of these teams picking in late in the first round might take a swing at the third-year eligible with good skating abilities and a do-everything-to-win approach to the game.
29. Vancouver Canucks – Tomas Hertl (C, Praha Slavia, Czech)
Hockey in the Czech Republic has been on a down swing in recent years but there are still a few names catching scout's attention and Tomas Hertl is one of them.  Hertl is coming off a strong World Juniors tournament where he notched three goals and five points in six games. The Czech forward entered the tournament playing well in the Czech's top league against men where he has been showing his good playmaking abilities and puck protection skills.
30. New York Rangers – Jarrod Maidens (C, Owen Sound, OHL)
Maidens is a versatile player able to play up the middle or on the wings and uses his size (6'1") very effectively.  Maidens is a tireless worker with good offensive skills but his biggest weapon is his hard heavy shot.  The Rangers will have many choices if they land at this position but Maidens is a power forward capable of providing help at both ends of the rink.
Draft order and observations based on games up until January 8, 2012.
Follow @rossyyoungblood on Twitter for the latest on 2012 draft eligible prospects as the NHL Entry Draft draws ckiser.