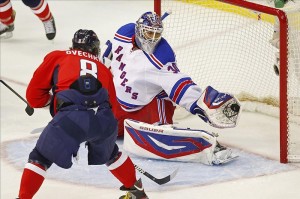 Let this soak in. The Washington Capitals have been shutout by the New York Rangers over the last 180 minutes. That's nine periods of hockey without a goal. You don't need to use difficult math to figure in that it totals to three horrendous appearances on the ice. Two of those games were in front of the home crowd. One was in an elimination game in the playoffs.
One would think after being embarrassed in Game 7 of the Eastern Conference Quarterfinals that the Capitals would come out in their first game in the following season against the Rangers with vengeance. They came out with the exact opposite. They managed just 22 shots on goal and couldn't fire more than eight on net in a single period. They were outshot in the second period 21-6. The players looked lazy. The blue line is a bit banged up with injuries, but these are NHL players getting paid to play, and there is no reason for these guys to be consistently making sloppy passes in their own zone.
The Rangers were missing arguably their best player in Rick Nash, who is recovering from a vicious elbow hit to the head by San Jose Sharks defenseman Brad Stuart. Not to mention, the Rangers had surrendered five goals per game in their first five games of the season.
It was another slow start for the guys from DC. The Rangers came out in the first period taking an early lead in shot totals by a count of 7-1. This Capitals team has not been able to jump off to a quick start all year. And there is no excuse for it with the talent they have offensively. I mean, it boggles my mind that a team with Alex Ovechkin, Mike Green, Nicklas Backstrom, Mikhail Grabovski, Troy Brouwer, and Brooks Laich can't manage to put home a single goal in a game. Yes these guys are talented, but the team is nowhere near being a contender, especially in the new division they are playing in.
The second period was completely dominated by the Rangers. The Capitals could barely manage a minute of ice time in the Rangers zone. While the Rangers defensive efforts deserve plenty of praise for their play, the Capitals need to get it together.
Everything stems back to management. With all the talent the team has had since they finally started making the playoffs again in the 2007-08 season, the Capitals have not managed to get over the hump of the second round of the playoffs. George McPhee has not made the necessary moves to get them there.
We can take a look at some of the moves McPhee has made in recent years to try and get the team to where they expect to be; hoisting the Stanley Cup. McPhee traded goaltender Semyon Varlamov to the Colorado Avalanche for a first-round draft pick (which turned out to be No. 11 overall in the 2012 NHL Draft). They used that pick on a promising prospect in Filip Forsberg, only to trade him away halfway through the 2013 season to the Nashville Predators for Martin Erat and Michael Latta. They got rid of him before he could even suit up in a Caps uniform. In doing so, McPhee brought on Erat's $4.5 million cap hit. $4.5 million is way too much to be paying a guy to play on the fourth line.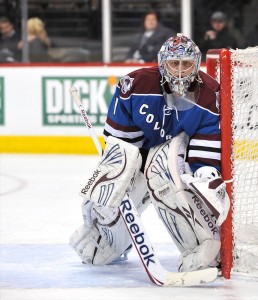 Getting rid of Varlamov was a very premature decision in the first place. Varlamov was just 23 years old and had just 59 regular season NHL starts for the Capitals under his belt. It was his performance against the Pittsburgh Penguins that ultimately did him in, but all McPhee did to replace him was get injury-prone net minder Tomas Vokoun and place trust in Michal Neuvirth. Both goalies, in my opinion, were less valuable than Varlamov at the time.
The inevitable occurred in the 2011-12 season when Vokoun went down with an injury, only to never log another second of ice time for the Caps. While replacing him, Neuvirth got hurt, too, opening the door for Braden Holtby. Holtby is young and now the goaltender of the future, but at his current age, 24, he looks worse than what Varlamov looked like at 23 for the Caps while he was healthy.
Now Varlamov is the marquee goaltender in Colorado, boasting a 5-0-0 record, 1.20 GAA, and .965 save percentage in 2013. He looks unflappable. More importantly, he looks way better than Braden Holtby and Neuvirth, who combine to have a 2-5-0 record in the current season and below league average save percentages.
McPhee also acquired Joel Ward in free agency prior to the 2012 season. McPhee went out on a limb here, going off of a small sample size of success from Ward in one playoff run thinking Ward could get the Caps over the hump. In doing so, he took the burden of a three million cap hit through the 2014-15 season. Ward is currently a third liner that hasn't tallied more than eight goals in a season with the Capitals. Sure, he is a big-bodied guy who cycles the puck well and does a good job winning battles along the boards. Every team needs a guy like that. But McPhee paid way too much for Ward's services. There are plenty of players out there that demand less money and play the game similar to Ward.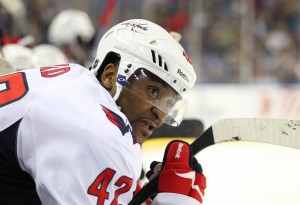 The only move that was friendly to the team's cap space was the acquisition of Mikhail Grabovski this offseason.
All in all, not much of what McPhee has done has produced the results the organization and fans across the nation's capital have been hoping for. There is no doubt that the scouting department has made some great decisions over the years in drafts. But aside from bringing on Jason Arnott in the 2010-11 season, the Capitals have never had a solid veteran presence in the locker room. The team has absolutely no leadership and one can easily see that from wherever they are watching games.
After Arnott joined the Caps, this is what he had to say about his leadership role (The Examiner):
I can't hold anything back. I think they brought me in for a reason, to speak up in the room. There's certain things that we have to address before we go forward. If these guys want to win there's a lot of things that we need to address and play a lot better than we did tonight. If it means me speaking up and guys don't like it, then that's what I got to do. I saw a lot of stuff that we can do a lot better and I think guys know that.
After the Capitals were swept in four games by the Tampa Bay Lightning in the second round of the playoffs that year, Arnott had enough and moved on from the team. Since then, there has not been one player on the team that has stood up to be a leader. Right now, Ovechkin is the captain of the team, and Laich, Backstrom, and Green are the alternate captains. Laich is the only one close to being a leader.
Troy Brouwer is the only guy on the team that knows what it takes to win a Stanley Cup because he has done it with the Chicago Blackhawks. Regular season success goes out the window when the playoffs start. The Capitals have proven that to be true more than any team in the NHL over the last five years.
McPhee has failed to prove that he can put together a team that is able to get their names engraved on the most famous trophy in all of sports. He hasn't brought in the right veteran guys. Following last season's early exit, was he content with where he was at? As in, was he content not making it out of the first round of the playoffs? I mean, his actions over the offseason would prove so. He barely made any moves to make the team better. But then again, he couldn't. He restricted himself from doing so with all the money allocated to the team's salary.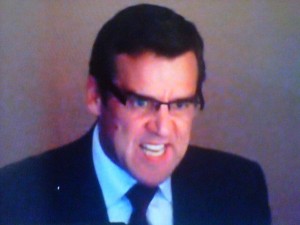 McPhee put the Capitals in the position they are in right now, and it's going to take plenty of time for them to get out of it. With the team the Capitals currently have, there is a very slim chance that they will have the success they hope for. They're stuck with Laich's $4.5 million cap hit until 2015-16, Ward's $3 million until 2014-15, and Erat's $4.5 million through 2014-15. They have already used one of their two compliance buyouts on the awful contract they gave to Jeff Schultz. The only way to move on from these three players is to trade them, but chances are, there isn't a team in the NHL willing to take on any of their ridiculous cap hits.
It would almost be unfair to bring in a new general manager and put him in this situation, but hey, that's what he'll get paid to do. McPhee has proven that he doesn't have what it takes to mold together a Stanley Cup-caliber team, and at this point in time, the Capitals should seriously consider moving in a different direction.
For more Capitals insights, join Matt on Twitter. Follow @SchreibersTake

The NHL regular season schedule was released on Friday. Check out our partners at TiqIQ for the best deals on Washington Capitals tickets for all 2013-14 games.
Matt Schreiber is the Florida Panthers Lead Writer for The Hockey Writers. He grew up just outside of Washington, DC before moving to Boca Raton, FL, where he currently resides. He also covers the NHL for Bleacher Report.