Tuesday proved to be a costly night for both the St. Louis Blues and San Jose Sharks.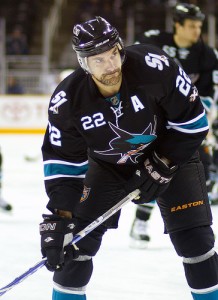 For the Blues, their perfect record was wiped away after a disastrous 6-2 loss. In addition, forward Brenden Morrow did not skate in practice Wednesday, attempting to shake off effects of a hit delivered by Sharks forward Brent Burns.
For the Sharks, the team's top offensive defenseman was taken out early in the first period after a hit from Maxim Lapierre. Dan Boyle laid motionless on the ice after the hit, resulting in a donnybrook at center ice that saw Lapierre, teammate Ryan Reaves and Sharks tough guy Matt Pelech ejected from the game. Boyle was taken off on a stretcher.
The hit, which occurred precisely at 5:17 of the first period, was a check from behind that sent Boyle into the boards head first. To make matters worse, the defenseman's chin appeared to slam into the very top of the boards.
The video can be seen below, with a breakdown of the hit following: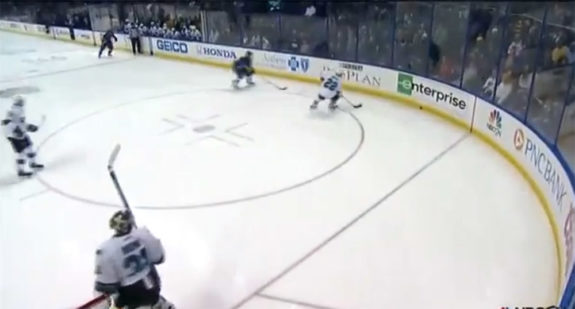 Here, we see Boyle turning into the boards to gather the puck. At this point, Lapierre sees Boyle's arm and has a slight read on Boyle's body position.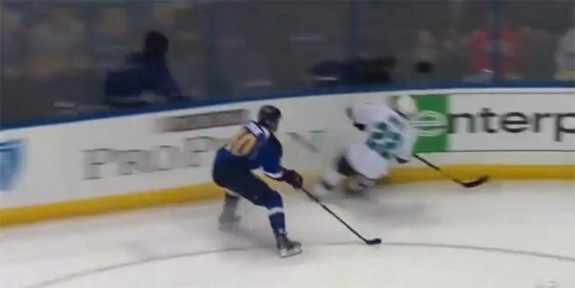 This time from a better angle, we see Boyle's body almost fully turned. Lapierre, coming in with speed, prepares for the hit. His wide stance and shoulder position shows that he has already committed to sandwiching Boyle into the boards.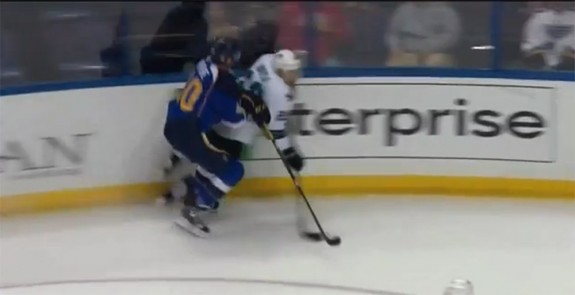 Better seen in full video, Boyle stumbles just as Lapierre's body connects. Lapierre's arms are extended out for a push while Boyle's body has completely turned the other way. Lapierre's head of steam and commitment to the hit from the prior shot display that in this quick game, it would have been hard for the fourth liner to lay off.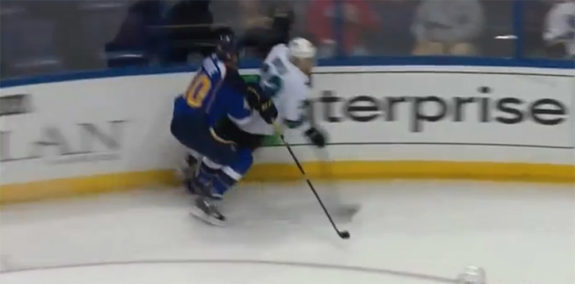 At this point, Boyle's upper body is in full flight and Lapierre's forearms are fully extended. Boyle's left foot has completely left the ice.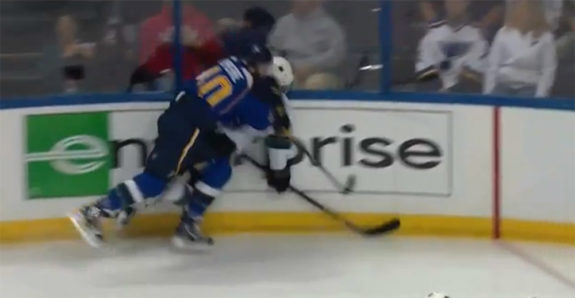 Boyle's face has now connected with the dasher. Lapierre has completely thrust his body into Boyle's, causing a huge collision. Slightly after this, Boyle was flat on the ice and the line brawl ensued.
It was reported that Boyle was released from a St. Louis hospital Wednesday morning and he has not suffered any facial injuries… miraculously.
Lapierre will be suspended for this hit. He has been called to the NHL offices for a hearing, which usually means that the suspension will be more than five games. In the meantime, Lapierre will miss tomorrow night's game, likely counting toward his inevitable suspension.
This will be his second suspension, but he is not considered a repeat offender. His last suspension occurred three years ago, having it fall out of the NHL's statute of 18 months for repeat offenders.
Even considering that Boyle turned his back after Lapierre committed to the hit, the suspension will be deserved. Though disciplinarian Brendan Shanahan and the NHL insist that reputation is not grounds for determining suspension time, Lapierre's cannot be ignored. If this were any other player on the Blues' roster, an in-person hearing may not have been required.
This was not Lapierre's first questionable hit this season. In the Blues' 3-2 win over the Blackhawks last Thursday, Lapierre delivered a similar hit to Andrew Shaw along the boards, receiving a two-minute boarding penalty. The Blackhawks scored on the ensuing power play seven seconds later.
Rory Boylen of The Hockey News also outlined Lapierre's history with videos of his past transgressions included.
Blues head coach Ken Hitchcock would be wise to keep Lapierre on a short leash once he returns to the Blues lineup. Both of his questionable penalties this season have led directly to three power-play goals against. If his play continues down the same path, the Blues have not seen the last of Shanahan this season.
I am a former NHL media member and reporter for the St. Louis Blues, working for various media outlets. Currently, I am an NHL News Writer and Editor for The Hockey Writers. I live in St. Louis and work as a freelance copywriter in numerous industries.