ANAHEIM, CA — In 11 seasons of NHL hockey, Anaheim Ducks' third string goaltender Jason Labarbera hasn't played in very many pivotal nationally televised games, but on Wednesday night at the Honda Center, he did just that and turned quite a few heads in the process, making crucial stops in regulation and in the shootout.
Luckily for Labarbera, he had a chance to do some early scouting on Anze Kopitar's shootout move, as Kopitar was awarded a penalty shot in the first period, where he easily slid the puck home between Andersen's pads. "On the penalty shot, I knew he was going to make that move. I didn't think he was going to do it in the shootout, so I felt like I should go old school and poke check him. I probably threw him off because I think he shot it a little quicker than he wanted to".
As a veteran of the highest level of professional hockey in the world, one would think that Labarbera has his game pretty much set in stone. However, he explained a rather interesting approach to the shootout: "For me, once he gets past the blue I try to get out and just try to be as patient as possible, it's all about making small adjustments, like on the Gaborik goal I didn't make a very good adjustment. Same on [Gaborik's shootout goal] he kinda surprised me. I've tinkered with a lot of stuff for shootouts over the years. My record in shootouts isn't usually very good, I think I've found something that works for me, being a little more aggressive, kinda picking that up playing with Mike Smith, seeing him come out hard and challenge".
Relying On Labarbera Not Great Long Term
While Labarbera was good enough in relief of Andersen, it'll be interesting to see how the latter performs on Saturday in Los Angeles. With John Gibson out at least for another month, an under-performing Andersen certainly won't help the Ducks, who aside from a dominant showing against the struggling Kings, still aren't the best at suppressing scoring chances. He was so bad that the Kings were actually able to hang in there in a game where they got completely outplayed, as this chart from hockeystats.ca shows: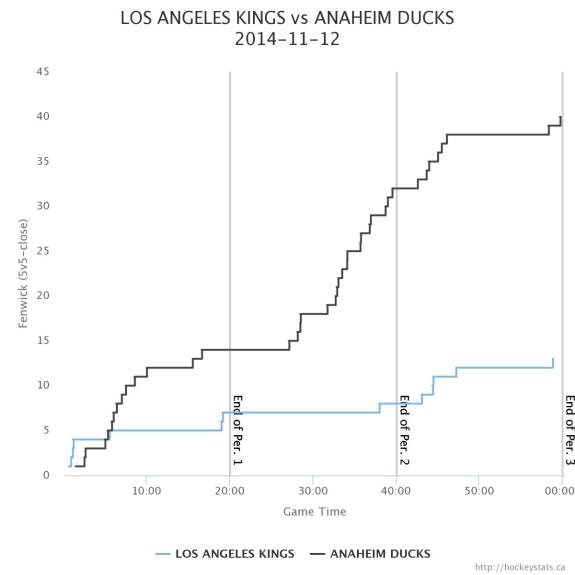 With the score close, the Ducks basically took the Kings  back to hockey school. But it was almost all for naught had it been for some stellar work by Labarbera, and Anaheim better hope that he can keep it up if Andersen continues this trend. It's worrying because the Danish goaltender has basically been at least decent in every game he's played in his career, so he could be entering the first slump of his career. Relying on a career backup/third string isn't exactly what any team would hope for.