I have been complaining lately about the Leaf lack of direction. To sum up quickly: I feel that without a top centre and another top pairing defenseman, the Leafs are in the NHL's version of No Man's Land, which means they are not good enough to compete for the Cup, but not bad enough to garnish a top 3 pick in next years draft.
I feel this issue is compounded by the fact the team hired a new President who came in and gutted the organization's management team of virtually everything but it's coach and GM, who he then surrounded with his own people. This gives off at least the impression that both Carlyle and Nonis are in a "lame-duck" position. I like Shanahan's progressive make-over of the Leafs, but I find his retention of Nonis and Carlyle curious because by keeping them, they are in a position to manage for the present, while any objective analysis of the Leafs current roster suggests they should be using this year as a developing year and focusing on the future.
Now, whatever Shanahan's intentions are, I am not privy to them. I do, however, feel the Leafs have a very good core from which to build around and I like their current roster. My only beef is that since they can't win this year with the current roster, Kadri and Holland should be getting Bozak's minutes and Gardiner, Percy and Reilly should never be scratched. Basically, that 2 points on any given night is less important than developing and learning what they have in those players.
However, as I've said all along, if the Leafs could find a way to upgrade the current roster with  #1 C and a #1 D, then they probably could put themselves in very good position to compete in a weak Eastern Conference.
There are two players I believe the Leafs could target to fill these roles. What's more is that both these players are said to be available, and that both are still fairly young and capable of giving much more than they have lately. They also have added bonus of fitting into the Leafs young-player-gone-wrong rehabilitation program that saw them pick up JVR, Kessel and Phaneuf at serious discounts in a league where players of that quality are hardly ever traded in their primes. (That's one reason it's so hard to build up a winner without drafting a few top three picks).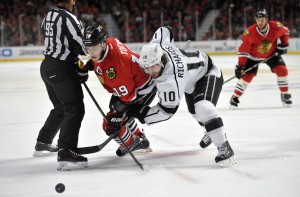 Mike Richards
Mike Richards is 29, he's not big by NHL centre standards at just 5'11 195lbs, but he's something they don't currently have: a true number one centre. Sure, he's not elite in the Stamkos, Crosby sense, but he's easily capable of playing top minutes on your best line. He is also an excellent defensive forward and a great penalty killer. In the mold of Doug Gilmour and Wendel Clark he'd also be a huge fan-favorite in T.O.
He may have slipped a bit since his early career point-per-game level, but he has also been slotted in behind Kopitar and Carter in LA. In Toronto, he would get to play with elite players again and I am certain his production would meet or exceed that of Bozak's, but with the added bonus of being a much, much better all-round player.
For those that count leadership as an important thing, he is also known as one of the best in the game. He has 2 Stanley Cups and an Olympic Gold from 2010. To sum up, he is exactly what the Leafs need: a talented centre who brings a winning attitude and playoff experience to the team.
Richards is locked up for 5 more years at a $5.75  million cap-hit. If he excels at all with them, that would be a bargain.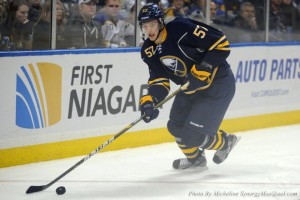 Tyler Myers
Tyler Myers is also said to be available, though understandably, the Sabres are asking a lot for his services. Based on the difficulty of finding a top pairing defenseman in the NHL without drafting and developing him yourself, the Leafs should move heaven and earth to acquire Myers.
While he has struggled to re-find the form that saw him score 48 and 37 points in his first two years in the NHL, it's worth pointing out that the Sabres have been terrible the last few years and it's hard to be a young, top defenseman on a bad team. Instead, I would look to the fact that he has proven before that he can be excellent in the NHL and that he is 6'8″ 230lbs.
I also want to note that at the age of 24 the Islanders gave up on a similarly sized defenseman in Zdeno Chara. I don't pretend this means that Myers is automatically going to become Chara, but that the potential is there and it isn't unusual for NHL defensemen, especially the bigger ones, to develop significantly in their mid-twenties.  I believe Myers is a potentially elite defenseman and I believe that his availability is a rare thing, so if I am the Leafs, I immediately target him.
Another plus is Myers salary. At a cap hit of   $5.5 million through 2019,  he is a bargain. Acquiring him not only gives the Leafs a potential elite defenseman, but it should he live up to his potential, it will help them control and manage the cap for years, since it is an incredibly cheap cap-hit for a first pairing defenseman.
Final Analysis
If the Leafs want to go for it this year, sit their young players when necessary and go for two points every night, no-matter-what, then they have to make a couple of moves to make it worthwhile. The current roster, as nice as the recent winning streak is, can't compete with the likes of Tampa and Pittsburgh over the long haul. If they were to add Richards and Myers to what they already have, I believe they'd be one of the favorites in the East.
To acquire Richards, the Leafs wouldn't have to give up much, I wouldn't think. The Kings are up against the cap and could use the relief. Myers might be a different story, but if the Leafs get creative, maybe they could make it happen. What about keeping next year's pick, but offering Buffalo the following two first rounders?  Maybe they want Nylander?  I'd hate to trade him, but if a full rebuild isn't in the cards, they could use some youth to sweeten the pot and it wouldn't be the worst idea.
All in all, Myers and Richards would have a cap hit of $11.25 million. To clear this from the current roster Bozak, Franson and one of Gardiner or Lupul would have to be moved. If that happened, the Leafs would still have a vastly superior lineup than they do right now.
Thanks for reading.