At age 38, Andrei Markov continues to be a big part of the Montreal Canadiens. The defenceman has 557 points in 959 NHL games, all with Montreal. For years, Markov has been "The General" on the back end for Montreal, playing heavy minutes and quarterbacking the power play. He has made several of his defence partners look better and had serious knee injuries put his career in question. However, Markov continues to impress night in and night out.
The General
Markov was never the quickest skater and that has become glaringly apparent in recent years as he has aged. Considering the extent of his past injuries, it isn't surprising he has lost a step in the speed department. However, what has had made him so successful despite not being the biggest or the fastest is his on-ice intelligence.
Markov is still arguably the smartest player on Montreal's back end, even with the addition of Shea Weber. While Markov still occasionally gets burned by speedy players, his positioning and ability to create offense are still elite. As of Dec. 20th, Markov is currently in the top ten in scoring for defensemen and is easily the oldest in that group, the second oldest being Duncan Keith at age 33.
The video below is a good example of Markov's vision. He is almost at the Edmonton goal line before sending a cross-ice pass to Alex Galchenyuk for the goal. No one on Montreal can pass like Markov and Galchenyuk especially has been a beneficiary of Markov's passes for a one-timer.
Between 2009 and 2012, Markov only played 65 out of a possible 246 regular season games because of injury. Knee injuries robbed the Habs of his services during those years and their defence corps missed his presence. The emergence of PK Subban made it easier but Markov's experience and his ability to quarterback the power play were missed immensely.
Who Is Montreal's Next Markov?
As Markov has grown older, the natural question for years has been, who is his successor? Subban was more or less that player until the trade and Weber has assumed the role as the number one defenceman in Montreal. Since 2010, Montreal has used their first round pick on a defenceman four times. Jarred Tinordi, a 2010 pick, didn't pan out as he was traded last season and remains in the AHL as part of the Arizona organization.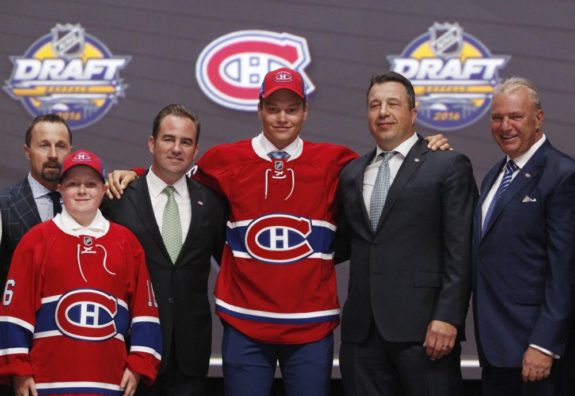 Nathan Beaulieu is now an NHL regular but he hasn't shown the chops to be an offensive defenceman or enough consistency to be a 20+ minutes a night kind of player. Noah Juulsen, a 2015 pick, of the WHL's Everett Silvertips has a lot of potential but he doesn't necessarily project to be a top pairing player.
The defenceman with the most upside in the organization is 2016 ninth overall pick Mikhail Sergachev. Sergachev has all the tools to become a number one defenceman in the NHL and doesn't look too far away from making the leap on a full-time basis. He has been dominant in his time in the OHL with the Windsor Spitfires and is the most promising defensive prospect in Montreal since Subban.
Big difference:
Times Andrei Markov played > 23 minutes after 22 games last season: 13
This season: 5, except all 5 came in last 7 games

— Аrpon Basu (@ArponBasu) November 27, 2016
Time For Victory
Finding Markov in the sixth round of the 1998 draft remains a steal to this day. The biggest question that remains for him is how much does he have left? He noticeably runs out of steam and looks tired in the second half of a season as well as the playoffs. It seems fitting that if Markov were to win a Stanley Cup, it would be in a Montreal uniform. Will "The General" have enough come springtime for another playoff battle?