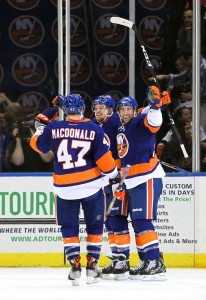 Andrew MacDonald has been one of the biggest bargains in the National Hockey League the past few seasons. He has been among the leaders in ice time the past three years, while being one of the lowest paid players in the entire league. The 4 year contract that pays MacDonald $550,000 per season is set to expire at the end of this season, and Andrew is due a huge pay raise.
Andrew was a sixth round pick of the Islanders in the 2006 NHL Draft, and climbed his way from the bottom of their depth chart, to one of the most frequently used players in the league. In fact, Andrew's average ice time of 26:56 per game this season, trails only Ryan Suter, Erik Karlsson and Dennis Wideman.
MacDonald led the Isles in ice time last season, and his 23:31 per game in the shortened 2013 season left him 31st among NHLers. All 30 players ahead of Andrew in ice time last year, except for Carolina Hurricane defender Justin Faulk, who is in the final year of his entry level deal, make at least $3.25 million per season.
MacDonald's best offensive season was the first year of his four year contract, when he scored 27 points in just 60 games, but he is mostly known for the defensive side of his game. He is counted on to play tough minutes against the opponents best players, and has been among the leaders in shot blocks the past three seasons, and leads the category so far this year.
Andrew is not a perfect defenseman, and will not be seeing 7 million per season like Norris Trophy caliber defenders Shea Weber and Drew Doughty are making. MacDonald is an agile skater with that can make a good pass coming out of his own end, but his offensive game is limited and he is prone to a defensive lapse and the odd turnover. In fact, he played some of his worst hockey at the beginning of this season, but has turned his game around to the point he is back to his usual solid play.
Andrew may be forced to do a bit too much on a team that is thin on the back end, but he is an excellent shot blocker, great penalty killer, and has proven he can handle a heavy workload.
Over the past four seasons, Andrew has averaged over 24 minutes of ice time per game, 0.31 points per game and 2.6 blocked shots per game. In other words, over an 82 game schedule, you can expect MacDonald to score 26 points, and block well over 200 shots, while playing in all situations.
What Have Similar Defensemen Been Paid Recently?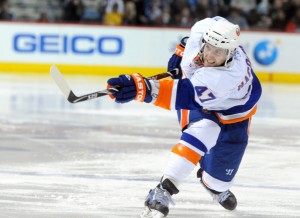 In the past few years, defensemen in the NHL with a similar stat line have cashed in big time when it came to their new contracts. Trevor Daley was the same age Andrew is now (27) when his contract ended in 2011. He was no offensive dynamo, but played on the Stars second power play, and though he is not overly physical, he earned plenty of ice time against top players, and was trusted on the Stars penalty kill. Daley inked a 6 year extension with the Stars that will have him cost 3.3 million per year against the salary cap.
Andy Greene had a very MacDonald-like season in 2010-11 when he was the New Jersey Devils second most used defender, playing in all situations. He was not a big hitter, but led the team in blocked shots, and chipped in 23 points, while being among the league's top shot blockers. When it came time for contract talks, the Devils re-signed Greene to a 4 year deal that pays him 3 million per season.
Josh Gorges of the Montreal Canadiens, plays a slightly more physical game than Andrew, but cashed in based solely on being the NHL's best shot blocker. Gorges offers very little offensively, and has rarely been used on a power play, but was signed to a 6 year contract that will has him earning 3.9 million per year since the start of the 2012-13 season.
Niklas Hjalmarsson, a defenseman who plays with the security of being behind Duncan Keith and Brent Seabrook on the depth chart, has proven to be a solid shot blocker and penalty killer. Hjalmarsson is 26 years old, and recently signed a contract extension worth 4.1 million dollars over the next five seasons.
We are beginning to get a feeling for what the going rate is for defensive defensemen around the league. Based on the fact that Andrew is trusted to be one of the most frequently used players in the league, and the fact he is the NHL's best shot blocker, a 3 year contract that pays him 3 million per year would be the least Andrew can expect.
MacDonald's defense partner Travis Hamonic was re-signed by the Islanders this past off season to a lengthy 8 year deal that will see him earn just under 4 million per year. Hamonic is much younger that Andrew, and has the potential to be a fantastic two way defender, and the cornerstone of the Isles defense in the future, even with the likes of Griffin Reinhart and Ryan Pulock waiting in the wings to join the team. It seems unlikely that Garth Snow will be willing to give more money to Andrew than he did to Hamonic.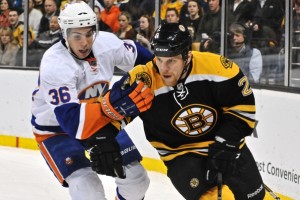 With all this being said, it appears that MacDonald will be earning somewhere between 3 and 4 million dollars next season. The question then becomes, how many years will Snow be willing to sign him for?
Garth has done a great job signing players to long term deals once he identifies them as part of the team's core. John Tavares, Kyle Okposo, Josh Bailey, Frans Neilsen, Michael Grabner and Hamonic were all signed to deals of at least four years.
Giving a player more than 27 minutes of ice time per game is clearly a sign that he is part of the team's core. Now, if history tells us anything, we should expect MacDonald to ink a 4 year deal worth approximately 3.5 million dollars per season before the puck drops on the 2014-15 campaign.