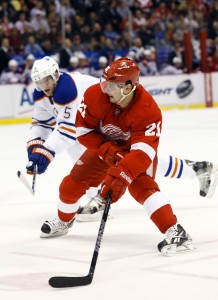 At the end of last season, the Red Wings roster was littered with youth. In fact, there were nine Wings 26 or younger who played in over 10 regular season games. This season, six of those same players, have had regular spots on the Wings' roster.
However there are three players that have had up and down seasons with the red and white – playing games with both the Wings and the Grand Rapids Griffins. All three have played significant roles with the big club, thus far in their short careers. So is time to give these younger guys a chance in Detroit?
It wouldn't be considered a rebuild for a team that's seen playoff action consecutively over the past 22 seasons. The Wings still have their corner stone players in Pavel Datsyuk, Henrik Zetterberg, and Niklas Kronwall. They've added depth in the form of Daniel Alfredsson and Stephen Weiss. So it shouldn't hurt to have players like Cory Emmerton, Tomas Tatar, and Gustav Nyquist in the lineup – especially with the enthusiasm they brought to the team at the end of last season.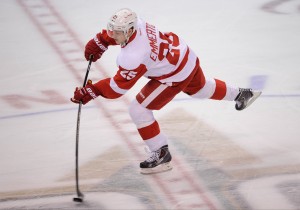 Emmerton and the Red Wings' PK
In 2005-2006, with the OHL's Kingston Frontenacs, Cory Emmerton put up 90 points in just 66 games – a scoring touch he has yet to find with the Detroit Red Wings. But while his offensive game has yet to show up, Emmerton has brought a defensive game that many coaches and teammates see as a valuable asset.
The 25-year old has 20 points in 125 career regular season games with the Wings. But more importantly, he started this season on the team's penalty kill.
"He's gotten to be a good player," said head coach Mike Babcock in an article by Ansar Khan. "He skates. He's much stronger. He can penalty kill. That's why we have so much more depth. A guy like this is getting better and better, which means the push from the bottom is real good."
So why is he playing in Grand Rapids now? He's one of only four Wings to play in all 48 games during the shortened season and has continued to improve his game every season.
Waived, nearly demoted, Cory Emmerton happy to suit up for Detroit Red Wings in season opener http://t.co/Lj76aaeZlc

— Freep Red Wings (@freepwings) October 1, 2013
As a centre, he sits behind Datsyuk, Zetterberg, Weiss, and Joakim Andersson on the team's depth chart, making it hard for the St. Thomas, Ontario native to maintain consistent playing time with the big club. His contract doesn't make it hard for the team to send him down and that – along with his lack of offensive production – is likely why he finds himself in a Griffins uniform.
Gustav's Disappearing Act
Gustav Nyquist was among the young guns who finished the 2012-2013 shortened season with the Red Wings. He's also one of those players who's found himself back in Grand Rapids to start the season. During parts of two regular seasons with the Wings, Nyquist has recorded 13 points in 40 games. But it was his five points over the team's 14 playoff games last season that demonstrated how far his game had come.
Like Emmerton, Nyquist is an expendable player – in the sense that he can be sent down thanks to his contract. Now, behind Alfredsson and Johan Franzen, some would argue that Nyquist is the next best option at the right wing position. But with the team bringing back Daniel Cleary – for a questionable $1.75-million – it bumps Nyquist into a battle for the final wing spot with veteran Todd Bertuzzi.
Still waiting to see the @DetroitRedWings have called up Gustav Nyquist…

— Matt Solarz (@mattsolarz) November 5, 2013
Every time they show Gustav Nyquist on that "young guys" promo, my blood pressure goes up 800psi

— Winging It In Motown (@wingingitmotown) October 31, 2013
While Nyquist brings youth and speed, Bertuzzi give the Wings a big body up front to replace the one-time goalie nightmare Tomas Holmstrom in front of the net. On top of that, Bertuzzi is making just less than $2.2-million this season which could prove hard to bury in Grand Rapids. So while the promising Nyquist remains with the Griffins, it won't be long before he reappears. This time it will be in a Detroit Red Wings jersey.
The Talented Tatar Back With the Red Wings
Tomas Tatar is the most recent call up for the Wings. Since being put back into the lineup, Tatar has recorded three points in eight games and has a plus-two rating. Tatar is the youngest of the three, but has made the most progress in solidifying a roster spot with the big club in 2013-2014. However, he understands that the success – and roster spot – aren't going to come easy.
"Right now, I am not able to do what I did in Grand Rapids," said the 22-year-old Tatar in an interview with Helene St. James of the Detroit Free Press. "It might come eventually. I just have to accept it's not there, I'm not ready for it. Hopefully I will develop into one of those players, a leader who is carrying the team."
But for a guy who has had no problem producing offensively throughout his minor league career, it's only a matter of time until he can do the same with the big club. In fact, Tatar is a great example of how the Wings' development program continues to excel. He was a second-round pick in 2009 – 60th overall – and since then has taken steps to learn the professional game.
"He's a strong guy with quick hands and quick upstairs," said Franzen in the article by St. James. "He's got no worries in the world, and he plays like that. It's good to have those guys."
Tatar could be the start of the youth movement for the Red Wings – a team that is the sixth oldest in the NHL according to NHLNumbers.com. But whatever the time frame for players such as Nyquist and Emmerton, the Wings have a deep prospect pool and a bright future. There's no reason their playoff streak should end anytime soon.
The NHL regular season schedule was released on Friday. Check out our partners at TiqIQ for the best deals on Detroit Red Wings tickets for all 2013-14 games.
Any questions or comments? Leave them below or follow Andrew on Twitter @AndrewGForbes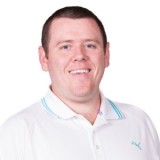 Andrew is in his 8th year reporting for The Hockey Writers covering the Toronto Maple Leafs. He began his broadcasting with CBC's Hockey Night in Canada team as well as being part of their coverage of the 2014 Winter Olympic Games in Sochi. He's the former play-by-play voice of the London Jr. Knights for Rogers TV and currently hosts the Sticks in the 6ix podcast. You can follow him on Twitter at @AndrewGForbes.