By Mike Miccoli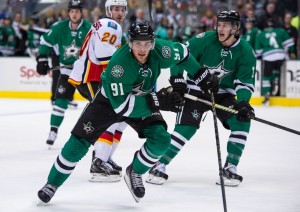 The tone was set just as public address announcer Jim Martin announced his name in the Dallas Stars' starting lineup.
"At center, number 91, Tyler Seguin."
Boos–a parade of them usually reserved for visiting players such as Matt Cooke, P.K. Subban, or Phil Kessel, all of whom have some muddled backstory that makes them vilified any time they come to Boston. Yet, the 17,565 fans on-hand at the TD Garden on Tuesday night chose to induct a new heel to the class, one that they cheered for about four months earlier.
Seguin, the Bruins second overall pick in the 2010 NHL Entry Draft, was traded on July 4 to the Dallas Stars along with Rich Peverley and AHLer Ryan Button for Loui Eriksson, Reilly Smith, Matt Fraser, and Joe Morrow. Tuesday night was Seguin and Peverley's return to the Garden to face their former team for the first time. While the Stars won 3-2 in the shootout thanks to Peverley's clinching goal, Seguin was the primary focus on the night.
Every time Seguin touched the puck, boos rained down on the Stars' top-line center. He may have been wearing a different number, but Seguin had a target on his back for the entire night. Not because he decided to sign somewhere other than Boston. Not because he demanded to be play for another team. Not even because he injured a current Bruin. Seguin was being booed for something he had zero control over: an offseason trade.
Maybe that's why Boston is such a tough place to play.
"If I got a contract or a trade to come back here or asked, I don't think I would come back," said Seguin after the game, reflecting on his reception. "I think in the end you want to play where you are wanted. I have great relationships with our coach and the GM here, and I know how much they want me. It feels good to play here. I guess that is all I want to say on that."
Seguin wasn't a fit in Boston. It could have been because of the Bruins' defensive-minded system or the fact that he was a young kid who liked the city life a bit too much. What matters is that Seguin wasn't going to be the player that the Bruins thought he would be if he continued on this path in Boston. So instead of being tied to the player who wasn't living up to his billing, they did the best thing they could–they traded him to a team where he might succeed for a pretty decent return.
So far in Dallas, Seguin's been good. Really good, actually. He's a better "fit" in Dallas and he'll probably go on to have a great career there just like Phil Kessel is having in Toronto and Joe Thornton in San Jose. It's irrelevant; some players just do better elsewhere. Boston is a good example of this, too. Ever wonder why Dennis Seidenberg didn't stick in Philadelphia? Or Phoenix? Or Carolina? Or Florida?
Exactly.
There's this obsession to immediately dub a team the winner of a trade. It's worse in Boston where people are still trying to justify which team won the Phil Kessel trade. Maybe it's because of the scorn still stemming from Boston trading away Thornton in 2005 for an average return. It's okay for teams to make a trade that benefits both sides. The Seguin trade was just that–it worked for both sides. Although Eriksson hasn't broken out just yet, he's a high-caliber player who will actually fit into the Bruins' defensive-style of play while adding offense.
Dallas got their number one center and a depth forward. Boston got themselves a proven, two-way scorer and some prospects along with cap relief. What's the problem?
No idea.
So why is everyone booing Tyler Seguin? You could argue that he didn't score enough goals in the 2013 playoffs. (You could the say the same for current Bruins still on the roster.) You could argue that he didn't make enough of an impact or even that his reported off-ice antics cost him to focus on the task at hand. Whatever–it doesn't matter now.
Add Seguin to the list of former Bruins who done the team, its fans, and the city wrong…but for absolutely no reason.
Mike Miccoli covers the Boston Bruins for The Hockey Writers and has been a credentialed member of the media for all Bruins' home games for the past five years. As a former player, coach and official, Miccoli has been around the game of hockey since the age of three. Along with his work on THW, Miccoli has also been published in the New England Hockey Journal, Improper Bostonian magazine and on BostInno.