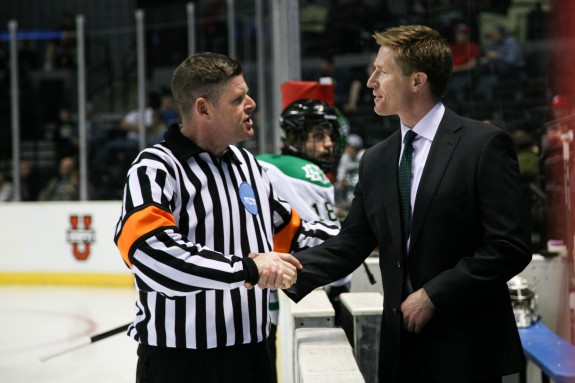 I have been covering the University of North Dakota for two plus seasons, and I think David Hakstol is a very good hockey coach. Hakstol's numbers speak for themself. His teams have a NCAA runner-up finish, four NCAA third place finishes, five regional titles, two regular season conference titles, four conference playoff titles. He's also the only active Division I hockey coach that has had a winning record in every season that he has coached.
Those achievements would probably be impressive in most people's book, right, unless you're a fan of the UND hockey team. UND hockey fans are fanatics, and they take their hockey very seriously. They travel well to away games too. Depending on the arena, "sometimes" there appears to be  more UND fans at an away game, than the home team. That's a good thing in my opinion.
The University of Denver actually changed its ticket policy to try and thin out the amount of UND fans at Magness Arena. That policy change might have actually failed. We will find out on January 24-25, 2014, when UND plays the University of Denver in an NCHC matchup.
Hakstol's only crime, his teams have never won a national title. Not a single one. That's the only trophy missing from the trophy case. Needless to say, the University of North Dakota fan base is getting antsy, it's going on 14 years since UND last won at national title and they want a national title, yesterday. The call for the head coach's head is starting to grow. It got louder this past April, after eventual national champion Yale bounced UND in the Western Regional final 4-1. This past June, I actually went on a local talk show to defend the head coach. Seriously!
So, yes, I support Dave Hakstol, the head hockey coach, University of North Dakota. Hakstol became the head coach of the University of North Dakota during the summer of 2004, when head coach Dean Blais resigned, to become the assistant coach with the Columbus Blue Jackets. While this year's team might have gotten out of the gates a little slow (2-3-1 record), they have played a pretty tough schedule to date, nobody's making excuses for them either.
"People like to label us as a young team, but that's not an excuse now. We've been here two months." North Dakota defenseman Troy Stecher on being swept at home last weekend by the Saint Cloud State Huskies.
A breakdown of Hakstol's numbers
Career overall record: 237-121-38 (.646)
Career conference record: 144-85-27 (.615)
Career NCAA postseason record: 13-9 (.591)
Career Conference playoff record: 32-10 (.762)
Career overall (NCAA + conference) playoff record: 45-18 (.714)  [UND Media Guide]
If you compare coach Hakstol against the other head coaches in college hockey, his NCAA playoff records is pretty impressive. You can also see that he has compiled a pretty good record in the NCAA tourney. Again, the only thing missing is an NCAA title.
19-5 Boston College (5 Frozen Fours)
13-9 North Dakota (5 Frozen Fours)
8-4 Wisconsin (2 Frozen Fours)
8-8 Miami (2 Frozen Fours)
6-2 Minnesota Duluth (1 Frozen Four)
6-3 Michigan State (1 Frozen Four)
6-5 Notre Dame (2 Frozen Fours)
5-6 Denver (1 Frozen Four)
5-6 Minnesota (2 Frozen Fours)
5-8 Michigan (2 Frozen Fours)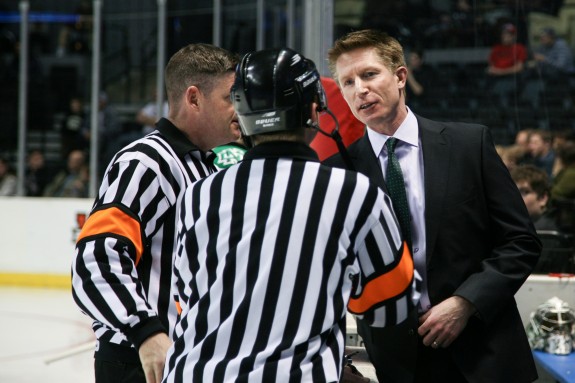 Recently, while interviewing Dave Starman of CBS Sport Network for another article, he said something that I thought was very profound. Starman was talking about Miami head coach Enrico Blasi and UND head coach Dave Hakstol. Just for the record, neither coach has ever won a national title, but they have both come very close.
"These two coaches; I mean you can say it about a lot of guys," Starman Said. "These two guys specifically, because how close each of them have come to winning a national title and the consistency that they have had getting to the (NCAA) tournament. These are two guys – even though their programs expect a national title: even if they never won a national title, they would still be huge successes as head coaches, because they have developed their players to be either better players or pro players or where ever the case is, in hockey. The players that don't wind up playing at the National Hockey League level or even playing pro hockey, wind up going on to be successful,   away from the game. I really mean this. These two guys have proven to be exactly what college hockey should be, getting the most of our student athletes from both sides of the equation."
Fire Hakstol
North Dakota has historically been known as a second half team. They "usually" start slow and peak at the end of the season in the NCAA playoffs. Last weekend, UND was swept, by the Saint Cloud State Huskies, almost on cue, the Fire Hakstol thread appears on the fan message board Sioux Sports. Seriously, it took six games for the first fire Hakstol thread to appear. Maybe some are jumping the gun just a bit. That has to be a record. Like I said, the UND fan base is getting antsy and they want a title, now.
Eric is a 1996, 1999 graduate of the University of North Dakota. Eric covers the University of North Dakota Hockey and Division I college hockey. Eric is the Contributing Editor for Inside Hockey.