Andrew Shaw has certainly laid the path for his legacy in hockey last year and this week he has only added to his résumé after jumping the boards to pound his opponent.
Shaw was suspended six games in the American Hockey League for leaving the bench with the purpose of starting an altercation with AHL tough guy Patrick Bordeleau… although the league certainly tacked on to that lengthy suspension after he went rogue ala Stu Grimson-style after the fight.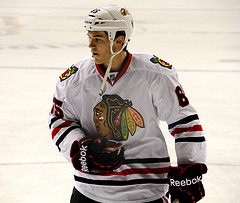 Shaw made national headlines for his actions as Puck Daddy picked up the story. After Bordeleau jumped Dylan Olsen and continued to pummel the defenseless defenseman, Shaw jumped the boards and gave the big man a taste of his own medicine by following up with five or six uppercuts to the enforcer. Keep in mind, Shaw gives up about seven inches to Bordeleau, and is quickly earning a name for his fearlessness to challenge any opponent regardless of size.
Ever since Andrew was drafted he has given Blackhawk fans everything they hoped for in an energy player after former first round draft pick, Kyle Beach, is still unable to quench the thirst of old-time hockey.