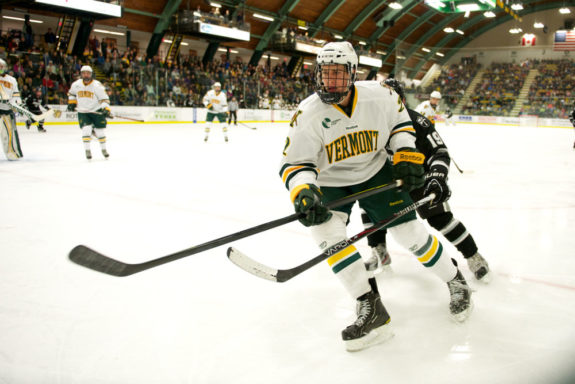 "I matured as a player and as a person, and you are consistently pushed out of your comfort zone, which makes you a better player."
Those are the words used to describe how USA Hockey has helped develop former USNTDP and current standout defenseman on the Vermont Catamounts, Mike Paliotta.
"I can't say enough about USA Hockey and the way they develop players.  Moving out to Ann Arbor when I was 16 was the best decision I've made in my hockey career," said Paliotta.  "You grow up a lot faster than any other kids your age, and you're given a lot of responsibility.  I developed a lot of great friendships and memories that I'll never forget.  Wearing the USA on your jersey everyday is a huge honor and privilege."
In the span of 3 years, Mike went from gold medal winner in the U-18 World Championships to 3rd round draft pick of the Chicago Blackhawks in 2011 to successfully completing his freshman season with the University of Vermont.
I use the term successfully somewhat loosely.  While Paliotta did show great improvement in his game throughout the season, his Catamounts finished dead last in Hockey East.  A last place finish in Hockey East for the 2011-12 season is not what Mike had envisioned when he came to the university, but with a brand new season comes a new outlook.
"I was obviously disappointed with the way our season went last year as a whole, and couldn't wait to start up this year.  With that being said, I was given the opportunity to come in as a freshman and play in key minutes and crucial situations, which definitely helped me grow as a player.  It gave me a lot of confidence and I'm excited about continuing to help my team win anyway I can this season."
One of the many things Paliotta has learned in all his years of playing hockey is that one person does not make the team.  To succeed at any level, each player needs to be part of cohesive unit on the ice that puts the extra effort in to achieve success.  The team has changed their game plan with a simple 3-letter acronym: P-S-T.
"We've established a new mentality as a team this year.  We worked hard in the off-season to address the issues we had last year, both on and off the ice. Our team identity this year is based off our three core values: Pride, Selfless, and Tough, and that allows us to take our season one day at a time, making sure we get better everyday."
After last year's dead last finish, the team has put in the extra time in the gym to build up the stamina they lacked the year prior, and it's begun to show.
"We completely changed the way we trained off the ice, and I think that has helped our team more than anything.  We're in far better shape then we were at this point last year, and I think that's showing in the third periods of the games we've played."
A difficult college season isn't the only hardship Mike has had to go through in his young career.
In July of last year a story broke in the Chicago Tribune outlining his mother's bout with breast cancer.  To this day, she still remains the beacon of strength in the Paliotta family and Michael continues to learn everyday from her.
"My mom is the strongest person I know, and I learned so much from her battle with cancer. Her positive attitude throughout made me realize how you can't control a lot of things in life but it's important to make the best of it.  She never let cancer affect the way she went about her everyday life."
He continued, "When I think I'm having a bad day, I realize how fortunate I am to be able to play hockey everyday and go to a school like UVM.  Her fight and positive attitude have made me a much stronger person."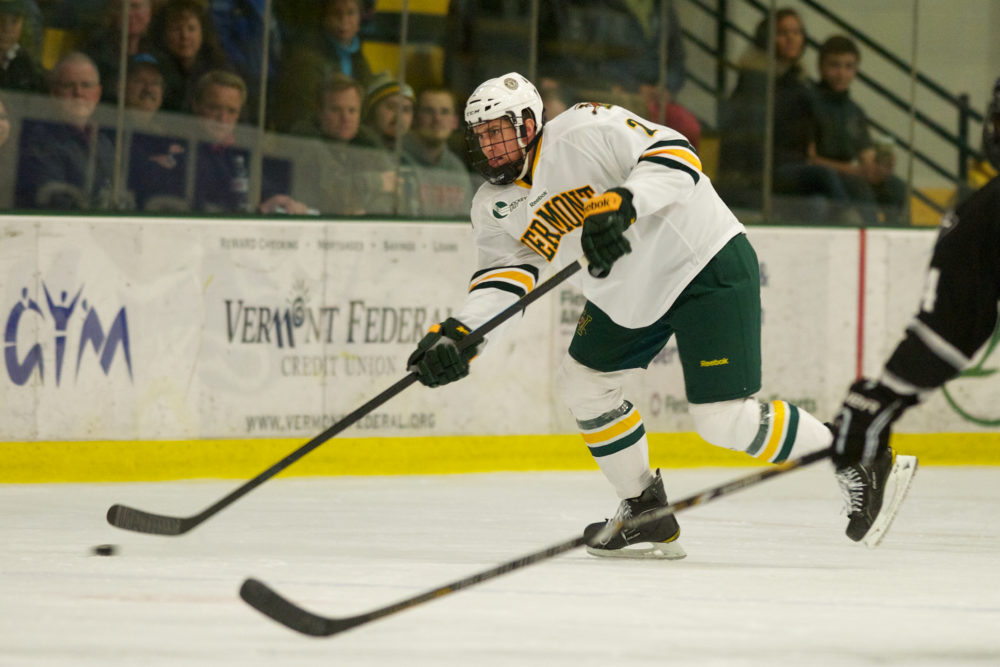 His positive attitude has transitioned in the way he's played this season.  After scoring 10 points in 30 games last season, Paliotta is already on pace to break last year's point total, but still remains true to his original style of play that has credited him with so many accolades.
"I definitely take pride in my defensive game, and like to be relied on to shut down the other team's top players.  I've continued to work on my offensive side of the game and becoming a more complete player.  Just working on the little things like getting pucks to the net and being part of the offense from the blue line have helped my game."
Certainly a great thing to hear for Blackhawks fans.
Vermont wasn't the only team to do poorly last year.  After having so much promise, the US National Team had an abysmal showing at the World Junior Championship in 2012.  Paliotta was invited to this summer's World Junior Evaluation Camp.  Contrary to popular belief, just because a player has suited up for Team USA before, does not give him an automatic spot on the team and Michael knows that full well.
"I don't think I had any advantage going into camp, aside from maybe knowing a lot of the players from playing with them in the past.  The level of competition was very high and every player there brought something to the table."  He also added, "It would be an honor to represent my country again, especially at the World Juniors."
Yet another camp he attended over the summer was the yearly rookie camp held by the Chicago Blackhawks.  Most of the Blackhawks draft picks turn out to see where they stand against their competition – sometimes better, sometimes worse.  It's a tall task having to go up top forwards like Brandon Saad, Tuevo Teravainen, and Mark McNeill, but Paliotta seemed to take it all in.
"This year's development camp for Chicago went really well.  Anytime you're on the ice you try to absorb as much information as you can from the coaches because they all want to make you better.  There wasn't anything in particular that they asked me to work on.  You can always get better with your skating and working hard off the ice."
Vermont is coming off a weekend split against Providence where they secured their first victory of the season, much in part to a key assist by Paliotta in the 2-0 victory.
The road doesn't get any easier for the Catamounts since the next 3 games come against Hockey East teams who are ahead of Vermont in the standings – New Hampshire, Boston University, and Northeastern.  The sophomore defenseman will meet the challenge head-on and will continue to progress in his development.  At the current time, the NHL (amid their 2nd lockout of the past decade) and Team USA are taking a back seat to Paliotta's main goal.
"My main focus is on Vermont, and I've just been taking it one day at a time.  I'm just going to continue to play my game and help my team win games."
With determination and attitude like that, it's no wonder why the Blackhawks feel they got a steal of a defenseman in the 3rd round.
Follow Mike Paliotta on Twitter (@MikePaliotta93).