Author's Note: As part of the New Jersey Devils' 30th anniversary season, we will be looking back at the careers of several prolific Devils players and coaches. We hope the Devils are able to play this year and celebrate their time in New Jersey, but in the meantime, enjoy catching up with your former favorite Devils figures.
Joe Cirella
Position: Defenseman
Height/Weight: 6'3", 210
Drafted: First round, fifth overall by Colorado Rockies in 1981
Pre-NHL Team: Oshawa Generals (OHL)
Devils Career
Cirella was part of the Rockies during the 1981-82 season, but played just two games in the Devils' inaugural season, registering an assist . However, in 1984, he led defensemen with 44 points and was fourth overall on the team in scoring. Then, in 1985-86, he again led blueliners with 29 points, while in 1988, he finished tied for sixth on the team with 39 points.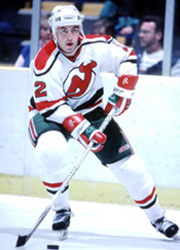 Overall, Cirella had three 30-point seasons in his time in New Jersey and scored at least 20 points each year. He represented New Jersey at the 1984 NHL All-Star Game.
In 1988, he was a solid part of the Devils' first trip to the playoffs, scoring seven points in 19 games as they went to the Eastern Conference Finals.
Post-Devils Career
Cirella moved on to the Quebec Nordiques in 1989, posting 30 points in 95 regular season games. He then moved on to the Devils' biggest rival, the New York Rangers, staying in New York from 1991-93. His last full-time stint in the NHL was from 1993 to 1995 with the Florida Panthers.
Cirella spent most of the 1995-96 season with the Milwaukee Admirals in the IHL and had nine points in 40 games. He spent six games with the Ottawa Senators, but had no points and four penalty minutes to go with a minus-three rating.
He retired after the 1996-97 campaign, which he spent in Germany with the Cologne Sharks. Cirella had nine points and 164 penalty minutes in 49 games.
Where Is He Now?
After his playing career, Cirella spent time as the assistant coach of the Oshawa Generals and was also assistant general manager for one season, 2010-11. The Generals went to the playoff six times when Cirella was in the organization, including a conference finals trip in 1999.
However, Cirella moved on and is currently in his first season as an assistant coach with the Sault Ste. Marie Greyhounds, also of the OHL.