The Kingston Frontenacs are a very young team full of high draft picks.  With high draft picks come high expectations, and so far the promising young players are delivering.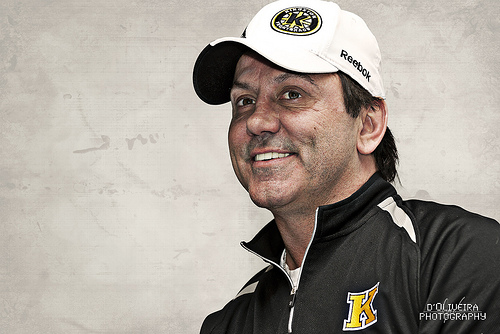 The rebuilding Frontenacs may have turned the corner – or are on the cusp of doing so – as General Manager Doug Gilmour has his blueprint executing in its second year.  With the leadership and guidance of OHL veteran Darren Keily and Head Coach Todd Gill, the Kingston Frontenacs are beginning to climb their way up the standings and back into a playoff position.
After acquiring two key pieces of the future last season via trade in Ryan Kujawinski and Billy Jenkins, Gilmour added to the foundation of the organization through the drafts with the selections of Roland McKeown, Sam Bennett, Spencer Watson, Dylan DiPerna, Mikko Vainonen, and Henri Ikonen. With such a bevy of highly talented players, the hope was that the future would be bright for the Frontenacs. Not very many expected that it would happen so quickly.
The duo of Ryan Kujawinski and Billy Jenkins found immediate chemistry after being paired on the Frontenacs' first line in the second half of last season and enter this year as the team's top pairing. However they have not dominated in the same fashion as they did late last year.
"They seem to be struggling and they haven't found that chemistry at the end of the year last year," said head coach Todd Gill.
Despite their struggles, Kujawinski is leading the team in scoring with four goals and 16 points in 17 games. Kujawinski is in his NHL draft year and was also named the OHL player of the week earlier this season, and, as Gill reminded me, "He is only 17, and a young 17 at that."
I recently asked TSN Scout and former NHL General Manager Craig Button what he thought of Kujawinski and his response was, "He has NHL written all over him."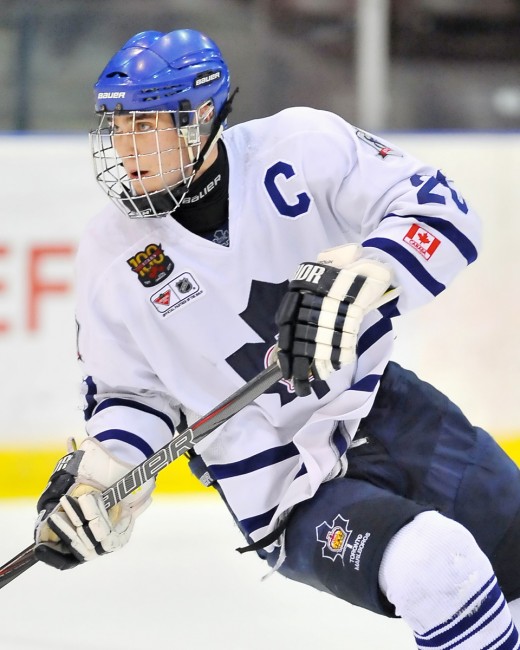 Jenkins however is struggling, with only nine points. In an attempt to get the chemistry back, Gill said, "I have split those guys up quite a bit this year. Jenkins needs to move his feet. When he moves his feet he is very tough to play against. Kujawinski needs to see pucks and go hard to the net. Sometimes you have to split guys up and they realize what they have lost. Then when they get back together, they understand what they have to do to get better."
While the sophomore duo is searching for last season's late magic, it has been a group of strong rookies who have picked up the slack. The rookie defenders have had a season of trial by fire thus far as the trio of McKeown, DiPerna, and Vainonen have all played some big minutes in all situations and played strong.
Sure there have been some growing pains, but the young men are playing with a poise and confidence that is difficult to not notice and is well beyond their years.  McKeown is among the league leaders in rookie scoring and is the top scoring rookie defenseman.
Was impressed when I saw d-man Roland McKeown as captain of minor midget Marlies. Looks good on Kingston (OHL) blueline. Logs big minutes.

— Bob McKenzie (@TSNBobMcKenzie) October 22, 2012
Big 6'3", 205 pound, Mikko Vainonen has also been hard to miss. The big Finnish defender plays a physical game and is a vocal leader on the ice. The fourth round pick this summer of the Nashville Predators may be a rookie in the OHL, but at 18 years old he brings a stabilizing presence to the blue line in Kingston.
#Battalion on the PP to start the 3rd. Vainonen gets hit by a deflected puck under the chin – hardly flinches. Tough kid #Fronts

— John Duncan (@DuncanOHL) November 3, 2012
Gill has been shuffling the forward lines this season looking for some chemistry, and he's found it in the rookie line of Sam Bennett, Spencer Watson, and Henri Ikonen. The line has at times been dominant in their puck possession and down low cycling of the puck. They have made spectacular passes, scored some big goals, and played with some guile.
"I think we are all the same type of player," Ikonen said. "We make plays, we're all around players and can play whatever role – score or penalty kill."  Bennett added,  "We all like to battle hard down low; we have a lot of fire power." Indeed they do have some firepower as Watson has 15 points and is fifth in league rookie scoring, while Bennett is close behind with 10 points. Despite being a diminutive sized line at an average of 5'7" and 169 pounds, they are not shy about playing a physical game.  "I've always liked to throw the body around, and I'm going to continue to do that," said Bennett.
The Frontenacs may merely be battling for a playoff position this year, but it is the young players who are doing much of the heavy lifting. To make the playoffs would be a sufficient victory for this young group this season. Upon realizing high expectations immediately, it logically allows for a higher standard of expectations for the future.  The future of the Kingston Frontenacs is indeed bright, and it is the young stars lighting the way.
Peter Harling of Harling Fantasy Hockey covers the Ottawa Senators for The Hockey Writers. Peter also writes for fantasy hockey coach contributing to the annual draft guide and author of the Fantasy Hockey in Canada column and Hockey Tracker