Another Cup Please: Nows the Time To Jump on the Pens Bandwagon
A Guest Post by Robert Bello
If you've been living under a rock while the NHL's shortened 48 game season has unfolded and missed how the Penguins have literally annihilated the competition all season long, here's a quick synopsis of the year and a preview of what is certain to be a strong playoff run for Pittsburgh. I know, I know….I said the same thing last year when the Malkin/Neal/Kunitz line, dubbed the FIRING LINE for being the most prolific scoring line in the NHL, tore up the league, the Pens went on to be Cup favorites and had the 3rd highest regular season point total in the team's history. Result: First round humiliation and elimination by the lower ranked Flyers. Why, you say, should we believe it will be any different this year? Well, I'm glad you asked.
Was It Make or Break for Bylsma?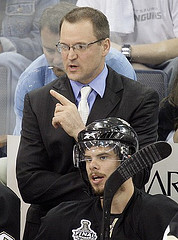 I was highly critical of Coach Dan Bylsma early in the season as the Penguins struggled to beat the Flyers and Devils in early season games, because of the lack of attention to defense and inability to beat the "trap", a defensive system designed to clog the Center Ice and Blue Line area so that the opposing team can never gain the offensive zone. It has simply baffled me that in 4 seasons Bylsma's never figured out a way to beat that system, which is why New Jersey has literally owned the Penguins for years. And after winning the Cup after Bylsma took over as coach at the end of the 2009 season, the Penguins have won exactly 1 playoff series in the last 3 years. As far as I was concerned, this is the make or break year for Bylsma: if the Pens don't go deep into the playoffs this year, he has to go. Why? Because with Hall of Fame Talent in Crosby and Malkin, and Superstar talent in Letang, Fleury and sniper James Neal, there is simply no excuse for the pathetic "Mail it in" playoff performances of the past 3 years.
This season began with challenges: Malkin and Letang were hurt early. Crosby was returning from an extended two year on-again, off-again battle with major concussion symptoms and a real question mark as to whether he could ever return to former glory. And the Penguins seemed "soft", one-dimensional, able to play a high tempo offensive game but unable to match the tough grinding teams because they lacked that gritty personnel. In today's NHL, finesse will only get you so far and the Pens were thus seen by many teams as one-dimensional doormats who could be "had" as one announcer put it. Because the team was not focused on working as a strong defensive minded unit, it put tremendous pressure on Goaltender Marc Andre Fleury. While he tended to flourish as a human shield with his acrobatic butterfly style, the barrage of shots by opponents with little defensive help from his teammates ultimately does not make for playoff success, and Fleury has understandably struggled the last 3 years during the post-season.
Started Winning Low Scoring Games
But then a funny thing happened. Bylsma awoke like Ichabod Crane at Sleepy Hollow after the first 15 games of mediocre play and the Pens became focused on team defense.  Instead of reflexively racing down the ice looking for the long bomb time and time again, forwards were now learning a word that had never been part of Pittsburgh's hockey vocabulary: BACKCHECKING. "Rushing back to the defensive zone in response to an opposing team's attack."  The art of providing crucial support to your defensemen teammates in your own zone to shut down opposing attackers, blanket them with coverage (similar to "guarding" a player in basketball) and in addition to preventing scoring opportunities, regaining control of the puck for a counter-offensive. In making this revolutionary change, the Penguins went from having to score a significant number of goals to win (because they were giving up so many) to winning games 2-1, 3-2.  They were so steady and proficient on defense and in protecting the lead that they finished the season 19-0 when leading after 2 periods of play.  No late game collapses for this club. Conversely, they won a number of games in which they trailed going to or into the 3rd period.
And even though Malkin and Letang were out, back and then out again with injuries for roughly half the season, the best player in the NHL proved not only that he hadn't lost a step, but that he was better than ever. Until a freak accident, a slapshot by his own teammate Brooks Orpik broke his jaw on March 31st, Sidney Crosby literally tore up the league, amassing 15 goals and 41 assists in only 36 games. And his play was of the spectacular variety, making sharp angle goals that didn't appear possible, stickhandling through traffic like a hot knife through butter and brilliantly setting up his two linemates, Chris Kunitz and Pascal Dupuis, both of whom are excellent shooters.  Not surprisingly, Kunitz and Dupuis finished the season leading the team in goals (#1 and #2 respectively, both with over 20 goals).  (Note: Sid had to have surgery to repair his broken jaw with titanium (new nickname: JAWS) and is still recovering as the season ended. It is not known when he will return but he has just started practicing with the team again and the team is hopeful he may be ready late in the first round if necessary or in the second round.)
Interestingly, despite missing the last 12 games of the season, Sid still finished 2nd overall in assists with 41 and 4th in overall scoring with 56 points. He had a huge lead on the others when he was injured and I have no doubt that had he remained healthy, he would have easily won the scoring title. As it was, thanks in large part to him the Pens had 3 players finish in the top 15 in goal scoring: Sid's two linemates (Kunitz finished 8th overall with 22 goals, Dupuis tied for 13th with 2 other players with 20 goals), and James Neal finished 12th with 21 goals.  The Penguins finished the season with a league leading 162 goals, 13 more than any other team.
Disappointments for Malkin & Neal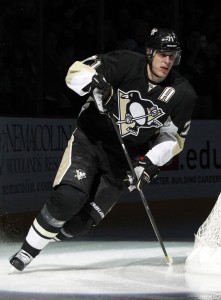 All season long Geno (when healthy) and Neal failed to find a suitable left wing replacement for Kunitz who had worked so well with them last year but was now on Sid's line, and as a result, both Malkin had a disappointing year and Neal went long stretches without scoring. However, with Sid's line firing on all cylinders, and Brandon Sutter (obtained from Carolina for Jordan Staal) leading the team with 5 game winning goals, and with the team's newfound attention to defense, and finally, with Fleury and his stellar back-up Tomas Vokun (signed as  free agent in the off season and clearly retaining his excellent veteran skills, notching the 26th shutout of his career and playing in the 300th game of his career this season) both outstanding, the Penguins went on a tear.  Fleury finished the season 23-8 with a 2.38 Goals Against Average; Vokun finished 13-4 with a 2.45 GAG. And even though he missed 8 of the last 9 games with a concussion, sniper James Neal showed he was back in a big way in the season finale, notching a hat trick in his first game back.
It is important to realize that this year's season was cut in half, from 82 to 48 games because of the extended Management/Player's union bargaining and lockout. In such a severely shortened season,
there is no room for an extended slump, as there would be in a normal season. A 10 game slide of poor play can be recovered from in an 82 game season; in a 48 game season, that streak will essentially take you out of the playoffs. And it essentially did for the Flyers, Devils, Hurricanes and Lightning. All had initial stretches of decent play but when they went into extended tailspins at the middle and end of the season, there simply wasn't time to make it up.  Given the way Philadelphia and New Jersey have tormented the Penguins in the playoffs, no tears were shed when the Flyers and Devils scheduled tee time at Augusta this week instead of gearing up for a playoff run.
15 Game Winning Streak
In complete contrast, the Penguins, with Sid leading the charge, and in full defensive mode, rattled off a 15 game winning streak, tied for the 2nd longest such streak in NHL history. (Mario's Penguins hold the record with 17 straight wins in 1993). Just as a tailspin can finish a team in a short season, the Penguins15 game rumble through the NHL ranks propelled them to a guaranteed playoff spot and in fact pushed Pittsburgh to the top of the Eastern Conference. During the streak,
-They scored 53 goals, averaging 3.53 goals per game.
• They allowed just 26 goals, or 1.73 goals per game.
• Sidney Crosby had a point in all but two games: March 16 vs. the New York Rangers and the final game of the streak, March 30 against the Islanders. He had 25 points in the 14 games, including a 5-assist effort against the Islanders on March 10.
• Chris Kunitz had 11 goals in the 15 games.
• Malkin played in just five of the games, and had five points.
• Marc-Andre Fleury won eight of the 15 games, giving up one goal or less in each of his last five starts. He had a 1.97 GAA overall with a .928 save percentage. Call him Mr. March: Fleury is now 28-10-3 in the month over the last four seasons.  Backup Tomas Vokun was equally stellar in winning 7 of the games.
Again, much of this sounds familiar. The Penguins also decimated opponents last season down the stretch and rose to the top of the Eastern Conference. Again, why should we have any more confidence in this year's team? Here are the main reasons to believe that THIS YEAR will be different.
Defensive Responsibilities
First, one of the catalyst's to making the team's defensemen corps more attentive to their defensive responsibilities was a key player addition just past mid-season. Not a trade, not a rookie. An old familiar veteran. Mark Eaton had been a solid contributor in the Pens 2009 Cup win as a top 4 defenseman. But age and a desire for a better payday force the Penguins to allow him to sign elsewhere. Eaton played with the Islanders for several years before being released. At 38, he was deemed too old and in fact was only weeks away from filing his retirement papers when he got the call from Penguins Manager Ray Shero in February for a try-out with his old club. After a short conditioning stint at the Pens WIlkes Barre farm club, Eaton broke back into the NHL lineup. The team almost instantly benefitted from his solid defensive play, which inspired a number of his younger teammates, including Derek Engelland and rookie Simon Depres. The Penguins finished the season 20-3 when Eaton was in the lineup. Its no coincidence that the team's better defensive play began at the time he rejoined the fold and he just keeps getting it done.
One of last year's scapegoats for the Pens early playoff fold, Paul Martin, who admittedly played very poorly last year, was also responsible for the team's turnaround this year. Martin was paired with Pens veteran Brooks Orpik much of the year, and showed the offensive and solid mobile defensive skills that Shero envisioned when he signed Martin to a long term deal two years ago. Martin has been second only to Kris Letang in steady defense, and offensive skill from the blueline and quarterbacking the power play this year. In early April, Martin broke a bone in his hand and has been out the last month, but returned for the final game of the regular season and looked fine.
However, all of that said, the most important reason to believe this year will be different was the result of the Skill and Gutsiness of Penguins General Manager Ray Shero.  He was aware of the team's weaknesses, the things that were missing and had let the team down in the last 3 playoff years: Lack of a veteran leader, lack of a scorer to play with Malkin, or if Kunitz was moved up to Malkins' line, a scorer to play with Crosby; a bruising big bodied defenseman to clear bodies out of the front of the net and to punish opposing players who got in the "blue paint" crease area; and a utility faceoff man who could add grit and skill to the 4th line. Incredibly, in just one week before the trade deadline, Shero filled EVERY SINGLE ONE of those needs. And didn't decimate the current squad to do it.
Bring It, Mr. Shero
Ray Shero literally took the rest of the NHL brass to school in this year's trade season. He was aided by one key contractual provision in each of his target's contracts: the no-trade clause.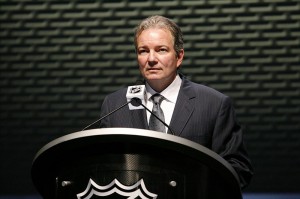 Teams with players who were about to become unrestricted free agents risked losing these players with nothing in return unless they made a deal before the trade deadline. The catch was that the player with the no-trade clause could veto any trade if it was to a team that was weak or had no chance to make the playoffs. The Penguins focused on key veteran players where, coincidentally, none of them had won a Stanley Cup and were hungry to play for a competitor. What better chance to win the Cup in the waning years of one's career than by getting on the bus with Crosby, Malkin, Letang, Fleury and Bylsma (who this season became the fastest to reach 200 regular season wins than any Coach in NHL history)?
Shero first focused on that gritty veteran leader, in the mold of veteran Bill Guerin, whose late season acquisition in 2009 helped propel the Penguins to the Stanley Cup, He obtained 34 year old veteran and the Captain of the Dallas Stars, Brenden Morrow for very highly touted defenseman prospect Joe Morrow and draft picks. Brenden Morrow had fallen out of favor in Dallas, had been dropped to the 4th line and was clearly in a rut there. Yet he had had some great years, was a very solid player and leader and Shero reasoned a change of scenery might be just what the doctor ordered to revive his career. While he will be an unrestricted free agent  after this year (like the other 3 acquisitions discussed below), Shero was smart enough to realizes the Penguins, with Crosby, Malkin, Letang and Fleury in their prime, need to win NOW. Prospects and draft picks are very nice but to the shrewd GM, they are just more assets and resources to build a winning team. So Ray pulled the trigger.
And what a move it was. Morrow started slow but has amassed 7 goals in 12 games with the Penguins, providing that missing gritty style, veteran leadership, bruising front of the net and corner presence, and regularly screening the goalie which has facilitated a number of goals, that has been missing form the Penguins game for YEARS. No longer are the Pens that team without a tough guy in the scrums or in front of the net. Morrow is a skilled puck handler, passer and shooter and as a wily veteran makes plays under pressure and in traffic. He has been an excellent addition and adds a new wrinkle to the Pens game that makes defending against Pittsburgh much more difficult for opponents.
Second, the Pens have lacked that bruising giant defenseman that clears bodies out of the crease and away from the net ever since 6'7″ Hal Gill left after the 2009 Cup Win. No one in the Eastern Conference knew who Doug Murray was when Shero announced he had dealt for him for two draft picks.  That changed immediately when the 6'3″ 245 lb defenseman arrived in Pittsburgh. Murray is Swedish, with a hint of cheap shot, reminding one instantly of another Swedish defenseman savior that anchored Mario's Cup winning teams: Ulf Samuellson. And Murray has earned the title of Ulfie II in the short time since he arrived from the San Jose Sharks. His nickname is appropriate: "Crankshaft." He could easily also be called "The Terminator." Murray takes on every opposing player that gets within 20 feet of the Penguins net and punishes them with brutal body blows, vicious checks and stealthy undetected slashes and quick punches. The number of scoring chances opposing teams have has diminished by a factor of 10 with Murray clearing the front of the net and crushing everything that moves anywhere near Marc Andre Fleury.  Players like "C-Shaft" are essential to any Cup Run.
Iginla Joins the Team
We all thought Shero had done a brilliant job bringing in Morrow and Murray and that with only a couple of days before the trade deadline, he was done. To our delight, we then read the next day he had pulled off another astounding coup. Jerome Iginla has been the Calgary Flames Superstar and best player his entire career. He is a future Hall of Famer with over 500 goals and over 500 assists and has been Calgary's Captain. Like Morrow and Murray, he does not have a Stanley Cup ring, though, like the others, he does have a no-trade clause, and thus a veto as to where he can be traded. A deal with the Boston Bruins was rumored to have been struck. But when he was consulted, he apparently balked. And low and behold, the next day, again for the price of a few draft picks, Iginla was on his way to the Black and Gold. He had played with Sid at the Olympic games several years ago and apparently relished the thought of Stanley Cup glory with Sid the Kid.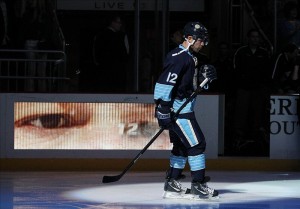 And even though he hasn't gotten that chance since Sid was ironically hurt with the broken jaw just as Iginla arrived, Jerome has not disappointed. He is a tough player, like Morrow willing to mix it up, be physical and fight, but his quick hands are what makes him so special. He has a bullet for a one time slapshot, and 4 of his 5 goals since arriving have been on the power play (the Pens finished 2nd in the league on the Power Play, which bodes well for their playoff run).  When Sid does return, he and Iginla are going to have alot of fun with all that skill on the ice, including Pascal Dupuis on the left side.
Again, we thought Shero was done and had done spectacularly in addressing every need the team needed to get another Cup. Wrong again. With Sid out for at least 6 weeks, another center was needed as a placeholder between Kunitz and Dupuis, the Pens top line. Carolina's Jussi Jokinen was a solid player but the Hurricanes were rebuilding with a lot of young talent and needed the cap space, another unrestricted free agent, so they put Jokinen and his $3 Mill per year salary on waiver. No team wanted that salary and he cleared waivers. Shero then traded a late round conditional draft pick to Carolina for Jokinen's rights in exchange for the Hurricanes eating part of his salary.  Jokinen immediately made a solid impact in his Penguin debut, scoring the game winning goal to keep what would become the 15 game winning streak alive. Jokinen proved to be a very capable center between Kunitz and Dupuis, or anyone else Bylsma shifted him to play with. He is an excellent faceoff man (winning over 60%, putting him in the NHL's upper echelon), a great penalty killer and checker and has turned out to be a deadly scorer, with 6 goals since coming over at the trade deadline. In fact, the 4 players the Pens obtained at the deadline have been involved in almost 50 % of the Pens scoring since that time.
Jokinen, thought to be just a stopgap replacement for Sid until he returns, has instead excelled in his role. It is almost a certainty that when Sid (Titanium Jaws) does return, that Jokinen will remain in the lineup either as a wing on the 3rd or 4th line. Hes simply too skilled and versatile to take out of the lineup. And with the 4 new excellent additions, after the 15 game win streak was stopped, the Pens lost 2 but then rattled off a 7 game winning streak. This team is on Fire, even without Sid.
Step 1 – The NY Islanders
With the playoffs about to begin Wednesday night against the 8th seed NY Islanders, the Penguins finished at the top of the Eastern Conference, the #1 seed with 72 points and record of 36-12-0. Only Chicago finished better as the West's #1 seed with 77 points and a 36-7-5 record (5 overtime losses, which still nets the Blackhawks a point for each OT Loss).   The Penguins and Blackhawks look to be on a collision course for a rematch of the 1992 Finals, Mario's last Cup win. However, with the new look of the Penguins, gritty and physical with multiple weapons beyond Crosby and Malkin's finesse style, teams will have a much more difficult time putting together a defensive gameplan. No longer are the Pens one-dimensional doormats that can be out muscled at both ends of the ice. The Pens are playing a much smarter defensive coverage game, thereby reducing the opponent's scoring chances. In addition, Pittsburgh is now dripping with veteran playoff experience and scoring ability, capable of playing any style necessary to vanquish their opponent and winning many games in close playoff checking style. IT is a great omen that bodes well for the playoff run.
Believe me when I say that if you haven't been following the Penguins this year, this team is the REAL DEAL and it is the perfect time to jump on that bandwagon.  The talent level on offense and defense, in scoring, defending and goaltending, is off the chart. As such, in my humble opinion, this team has an excellent chance to go deep into the playoffs and a very strong chance to win it all. …As legendary announcer Mike Lange might say, 'Get in the fast lane Grandma…the Bingo Game is Ready to Roll!"
ITS A GREAT DAY FOR HOCKEY –  THE BADGER
by Robert Bello