Oilers lose an ugly game to the Toronto Maple Leafs: Blow up the core! Trade Everybody! The rebuild isn't working! Oilers beat the Bruins in the shoot-out: We have a great coach! Our goalie saved the game! Be patient!
What's going to happen after the next game vs. Dallas Stars? I don't even want to guess. Here's the reality. Everyone, fans, management, media and players alike are growing tired of watching the Oilers lose. On the surface, the team seems just as bad regardless of coaching and personnel changes. But, if you look closely, there have been glimpses of better play, albeit few and far between, and the team is dreadfully inconsistent from game to game.
At the moment, the focus is on guys like Ryan Nugent-Hopkins and Jordan Eberle, and their struggles as of late. Why aren't they taking the next step? Is it time to make some core changes? Is the chemistry not right? Obviously, when a team sits in last place in the NHL and there were expectations for an improved season, questions will be asked and fingers will be pointed. But it's been well documented that injuries and organizational changes have caused a bit of a stall, though that isn't good enough for some.
The Oilers may end up trading some of their young talent, because to get you have to give. But are the players in Edmonton being unfairly targeted? Are they really underachieving or are expectations just way too high? Unlike many other teams in the league, the Oilers young stars are the focal point, because there isn't anyone else. They are the team. You won't find veteran stars to take the heat. Is that fair for these kids? Probably not, but it is what it is, and at some point you have to step up and earn your paycheck. But do these Oilers draft picks shoulder a lot more than their peers? Let's investigate and compare.
Nathan MacKinnon, 1st overall pick in 2013
171 regular season games/ 48 goals/ 77 assists/ 125 points.
Nail Yakupov, 1st overall pick in 2012
214 regular season games/ 44 goals/ 26 assists/ 100 points.
Ryan Nugent-Hopkins, 1st overall in 2011
283 regular season games/ 71 goals/ 134 assists/ 205 points.
All first overall picks are not created equal, that much we should know. Just because a guy is considered the best of his draft class in any current year, it doesn't mean he is a better player than say a second or third overall pick in another year, or as good as a first overall pick in a different year. A weaker draft class will produce a weaker top pick, that's just reality. Having the honor of being selected first overall means a lot will be expected of you, that comes with the territory, but perhaps those expectations are often unrealistic? Now how about some players selected second or third in recent years: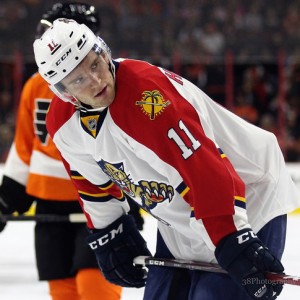 Gabriel Landeskog, 2nd overall in 2011
304 regular season games/ 87 goals/ 126 assists/ 213 points.
Jonathan Huberdeau, 3rd overall in 2011
220 regular season games/ 39 goals/ 87 assists/ 126 points.
Alex Galchenyuk, 3rd overall in 2012
219 regular season games/ 49 goals/ 73 assists/ 122 points.
Aleksander Barkov, 2nd overall in 2013
139 regular season games/ 30 goals/ 41 assists/ 71 points.
Jonathan Drouin, 3rd overall in 2013
85 regular season games/ 6 goals/ 34 assists/ 40 points.
All of the players listed are different, they play for different teams, in different situations. But looking at the numbers, it doesn't appear as though the Oilers top picks are doing so bad. And I don't hear any of these names in trade rumors, at least not to the extent that Oilers players are. So what's the difference? Is Edmonton too impatient? Are a lot of these other guys sheltered and therefore given a bit more of a pass? Why does it seem like so many young players are given time and space to grow, but in Edmonton they're pushed out of town?
As I said earlier, trades may be necessary at some point in order to improve the team, but I don't believe it's time to just give up on these guys. Unfortunately, because the Oilers are so young overall, it's impossible to keep these kids hidden, and all the pressure of winning is on their shoulders. Maybe that's the problem. The team has been built terribly, and it will take longer than 26 games to fix it. It's hard, because the team has been so bad for so long. But let's pump the brakes on trading everybody. In comparison to their peers, they are right where they need to be.
Marcy, a former hockey player, is a hockey correspondent on CTV News and TSN radio. She began her career as a Sports Journalist in 2009 and has been part of The Hockey Writers since 2010, where she is currently a senior writer and editor.