Coming into the 2015-16 season, there were serious doubts about how Dallas Stars forward Valeri Nichushkin would rebound from a hip injury and subsequent surgery that saw him miss all but eight games of the 2014-15 campaign. He had just one point and six shots in those contests and showed little to no signs of the powerful and skilled net-driver he can be (as evidenced by this goal on the Jets' Ondrej Pavelec during his rookie season).
This year, after a lackluster performance out of the gate, Nichushkin was made a healthy scratch in consecutive games before being forced back into the lineup due to injuries to forwards Patrick Eaves, Travis Moen and Curtis McKenzie.
On the Comeback Trail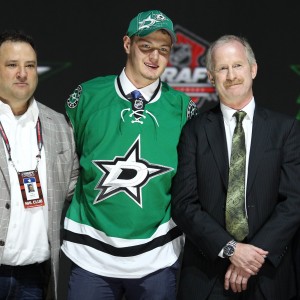 Since his return, Nichushkin has been steadily improving and showing flashes of the forward the Stars believed they would get when they selected him with their first-round pick (10th overall) in 2013.
He looks to have his legs back underneath him, and his powerful stride that helps him to close gaps when defending or pull away when on the attack has returned. He's taking the puck deep into the opponent's zone with more regularity, and it looks as if he's finally starting to feel comfortable with where his body is at physically and with using it to get to those tough areas. Take a look at Nuchushkin's goal from Tuesday night's matchup with the Sabres in Buffalo:
He carries the puck deep into the Buffalo zone, attracts two defenders, follows his own centering feed and finds an open net after Antoine Roussel corrals the puck and returns it to him. Yes, it was a good play by the entire line to work down low into the slot and the tally came off of a good pass from Roussel, but the hard work on the front end was done by Nichushkin.
These are the types of goals that Nichushkin is capable of earning consistently, but he also has the ability to score the pretty ones with his shot, which can be deadly. He has good vision and great hands to go along with his big frame and constantly churning legs, and those should only improve as he continues to gain confidence and get comfortable on the ice again.
Potential to Score in Bunches
He may only have two goals and four points on the season, but all the signs are pointing toward Nichushkin being ready to break out. He's got just a 6.90 shooting percentage thus far but shot nearly 11 percent in 2013-14, which could point to a little bit of bad luck or stick squeezing that should level out if he continues to play at a high level.
Nichushkin is getting looks on the fourth line along with the speedy and gritty Roussel and, most recently, a struggling Cody Eakin, and this should only help him continue to make an impact. He could see ice time against weaker lines as a byproduct of opponents having to deal with the high-powered top line of the Stars, and he'll certainly continue to benefit from Roussel's hard-nosed and fast approach to every shift. The pressure to perform could be lifting slightly, he should continue to feel more comfortable, and he's got the right line to take with him to the tough areas and produce goals.
He's got maturing to do yet, and don't expect Lindy Ruff to immediately begin trusting him to play up with the top six again anytime soon (although, with Ruff's line juggling this season, you can never count anything out). However, he's doing the right things; he's skating hard, gathering points on the road (he's had tallies in two straight road games) and taking the puck to areas where he knows he can have success, all of which point to it being just a matter of time before the young Russian starts to fill the net.