It's safe to say when Montreal Canadiens goalie Carey Price went down with his injury, the organization was turned upside down. All of the sudden, the team's confidence and quality of play slipped without their best player and the goalies behind Price were pushed into bigger roles. Everyone knows how Mike Condon has stepped in from backup to number one but it's easy to forget what happened to Montreal's top goalie prospect Zachary Fucale.
From Backup to Starter
Going into his first AHL season, Fucale wasn't expected to take the starting goalie position right away. Condon would beat out Dustin Tokarski to be Price's backup so Tokarski was sent back to the AHL with the expectation he would start. However, Price's injury brought Tokarski back up to the NHL and Fucale took the starting reins in St. John's. The Habs would later acquire Ben Scrivens but trade Tokarski for a forward. Fucale has had his up and downs so far in his rookie year but are the Habs rushing him?
Fucale's save percentage fluctuates by the month as he looks good one month and then it plummets the next. Rebound control and his glove hand continue to be things he needs to work on as well as getting physically stronger. Montreal's prospect pool is pretty shallow when it comes to goalies as the others include the NCAA's Hayden Hawkey and the OHL's Michael McNiven.
Zach Fucale's AHL SV% by month
October: .920
November: .898
December: .923
January: .882
February: .921#Consistency

— Gregory Balloch (@GregBalloch) March 2, 2016
Too Much for Zachary Fucale?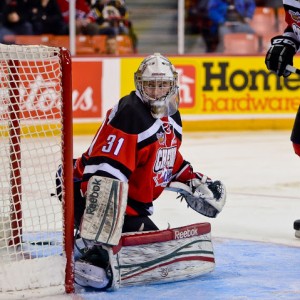 Since he was drafted, Fucale has been regarded by some as the heir to Price. Goalies take a lot longer to develop and Fucale needs at least another year or two in the minors. The argument could be had that Fucale is currently being rushed but it's hard to say if his struggles are purely due to his age and playing pro hockey for the first time or if it's too much too soon. The IceCaps are not a particularly good team which doesn't help the cause either. His sophomore year will be much more telling.
The entire situation should be a message to the entire Montreal management group. This team relies far too much on Price and not having him left the Habs in a crisis. In Montreal, Plan B didn't exist, it was only Plan Carey. His performance would determine how far the team would go. Goalies are a big part of any team's success but no team should crumble like Montreal did. It is imperative that Montreal develops a goalie behind Price and be prepared for scenarios where he isn't available. Fucale could turn out be a very good goalie in the NHL but he needs to time to glue it all together.
***
Can't get enough hockey? Want to talk about it with our writers, and fellow fans? Join The Hockey Writers Group on Facebook today!
I have a Bachelor's Degree in Journalism from Ryerson University. I am a freelance journalist and a Montreal Canadiens writer for The Hockey Writers. I previously wrote for Simcoe.com and Last Word on Sports as well as interned at TSN.