The Coyotes have a new name, but the same old ownership with the same old problems. While things don't look so promising on the arena/team relocation front, the front office has done an admirable job on the draft floor picking up talented prospects to work their way into the lineup. As you'll notice their are many NHL bloodlines coursing through the veins of Arizona's top five prospects.
Criteria:
Skaters can not have played more than 42 games.
Goalies can not have played more than 25 games.
5. Henrik Samuelsson – WHL – Edmonton Oil Kings – C
A chip off the old block, Henrik Samuelsson plays similarly to his father, Ulf. He has the nasty physical edge to his game and creates havoc in front of the net. A big, sturdy forward, Samuelsson has been a key cog in the recent success of the Edmonton Oil Kings. This year he had an impressive 35G-60A-97PIM stat line for Edmonton and helped them win the Memorial Cup.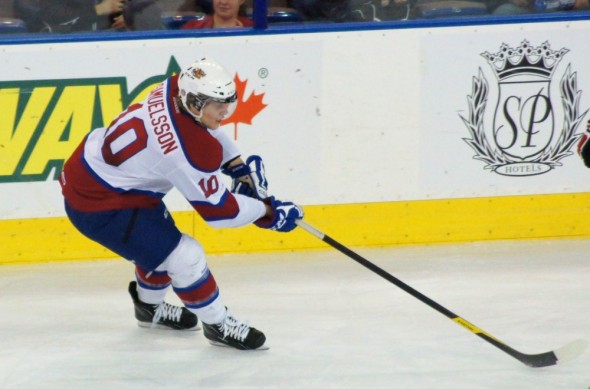 He's proven just about all that he can in the Western Hockey League, so he will likely turn his focus to playing in the AHL at the very least. Given his toughness, competitiveness, and drive, Samuelsson will be doing all he can during Coyotes training camp to crack the roster and follow in the footsteps of his dad.
4. Connor Murphy – NHL – Phoenix Coyotes – D
Connor Murphy has had a few ups, but many downs in his short career. Those downs aren't because he's a bad player, they're because he can never seem to stay healthy. Last season was an anomaly for him as he played 66 games between the AHL and NHL – let's hope he keeps that going into next season.
In the 30 games he's played for the Coyotes, Murphy has shown a great sense of maturity and poise with the puck. He doesn't mind carrying the play and is very mobile for his size. His long reach and lateral movement allow him to close gaps and cause trouble for opponents entering the zone. This season will be very telling for Connor and the Yotes as they try to find a way back into playoff contention.
3. Brandon Gormley – AHL – Portland Pirates – D
The player who's bided his time the most to develop his game is Brandon Gormley. One of the best defensemen drafted in the 2010, Gormley has taken his time to get where he is today. The 6'2″ defenseman has shown great offensive instincts, even leading up to his draft year. He owns a booming shot from the point and great vision down the ice. But you still shouldn't count out his defensive game either.
Last year he was the highest scoring defenseman and 4th on the team in points with 36. He did rack up a -22 in that span, but that was mainly due to how bad the Portland Pirates were as a team this season. If he doesn't make the team out of camp (which he probably will), he'll start the year in Portland and be one of the first call ups.
2. Max Domi – OHL – London Knights – C
The short statured Domi has to find ways to beat opponents other than with a physical game. He's been successful so far with the London Knights scoring 93 points this year and leading the team in scoring. Unlike his father, Max is shifty and dangerous with the puck. His stick skills leave people in awe, but he does have a tendency to hold on to the puck too long. The good news about being a shorter player is having a low center of gravity, which makes it difficult for defenders to knock Domi off the puck.
A year shy of reaching his 20th birthday, Domi will likely head back to the London Knights this season and should put up an equally impressive season as last year – if not more so.
1. Brendan Perlini – OHL – Niagara IceDogs – LW
The 12th overall pick in this year's NHL Draft, Brendan Perlini was shooting up rankings all season long. The big, rangy winger has a pure goal scorer's touch and possesses great stick work in tight and skates very well for a big man.. He built up chemistry with Carter Verhaeghe and was able to score 34 goals this season in the OHL.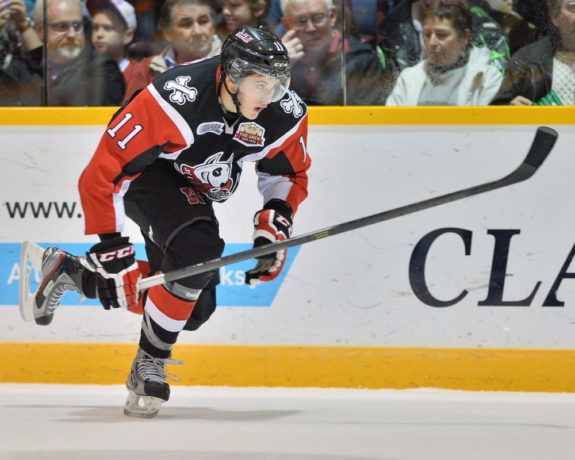 While his size could be an advantage, he doesn't use it very well and shys away from physical contact. He's still quite raw and in the early stages of his development, so it will be a few years before he makes his way into the NHL lineup. For the time being, he will be heading back to Niagara to work on his physical play and getting back to scoring big goals.