Coach Ken Hitchcock finally uttered the words many Blues fans have been expecting to hear for years: Brian Elliott is officially the 1A goaltender, positioned in front of Jake Allen. However, there's a catch — Hitchcock says he's "earned it as the incumbent." Elliott in his time in St. Louis has posted 16 shutouts playing half-time, along with a a .923 save percentage teamed with a 1.93 goals-against average. So the Blues finally have a clear-cut #1 goalie they can rely on, right? Not so fast.
Brian Elliott has shown extreme patience with fans and management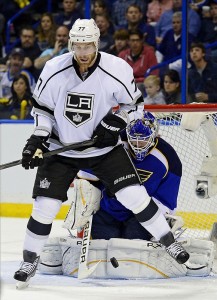 Those that have watched Elliott's strong performances over the past three years in the Note might come away slightly confused by this statement from the franchise that the primary reason why he's been tabbed the starter is because he's the default option. On most teams, especially those perennially frustrated with their goaltending (looking in the general direction of Western Canada), those numbers would probably earn a goaltender the number one slot regardless of whether or not he's the last goalie standing after other failed experiments. It's this type of comment from a head coach that, if read wrong by a player with lesser constitution, smacks as a backhanded compliment. A player can use this as motivation to play well for his current team, or as fuel to earn a trade to one that appreciates the effort in a genuine fashion. Elliott is appearing to choose the former, taking the high road yet again while cementing his position as a leader on and off the ice.
Elliott has had a hard time exorcising old demons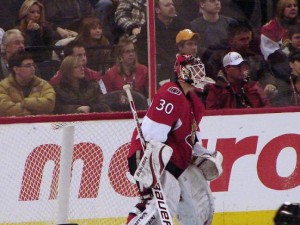 There's no question Elliott's best days weren't found in his two previous NHL stops. However, the eternal struggles of the Ottawa Senators in goal (minus one solid Craig Anderson campaign) and babysitting a young and rebuilding Avalanche team shouldn't condemn Elliott's abilities. It was only when playing behind a defensively-competent Blues team that Elliott was allowed to shine. Although clearly Elliott wasn't forced to make numerous saves fed off of glorious scoring opportunities in prime scoring areas, he also — minus one small stretch in 2012-2013 after the lockout — was never a liability that stole defeat from the jaws of victory. On a strong team like the Blues, that should be sufficient to earn the majority of the starts. However, his numbers are far above what would be expected of any goalie, even playing on a perennial Cup contender. Elliott has done his job under the rope, with his numbers indicating he's rightfully earned the starting role based on performance, not solely time served in a Blues jersey.
Elliott was a trooper during the Ryan Miller fiasco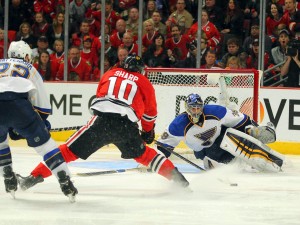 Brian Elliott had the opportunity after the season ended to pull a James Reimer, but he didn't. Instead, his positive, team-first attitude helped earn him a new three-year, $7.5m deal. Elliott played second fiddle when he should have played more, buried under the other goalies' (Jaroslav Halak and Miller) contracts and expectations. Each time, when the higher-paid keepers and their hype failed to live up to expectations, Elliott was there to offer up solid play and team leadership. Blues fans and pundits today still believe that Elliott could have saved the team's postseason from Miller's uncharacteristic softness, but at no time did Elliott's team-first demeanor publicly betray selfish motives. Even as Elliott was annointed the starter, he vows to continue to approach the game as if he will have to fight for every start. Given that the trust placed in him by this franchise is at arm's length only, this is doubtlessly a wise approach.
Jake Allen's arrival already signals reduced playing time for Elliott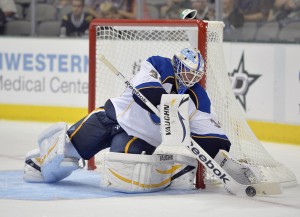 The arrival of Jake Allen has sparked curious comments from Blues' coaching and management that underlies a general lack of total confidence in Elliott. This despite the fact that Allen's tenure in the NHL is all of less than 10 games, posting relatively average numbers after a hot start. Coach Hitchcock was recently quoted as saying "I look at Brian as No. 1. Whether Jake is a 1A or a 2, we're going to find that out, but right now Brian is No. 1 and our hope is Jake is 1A." Although that sounds on the surface as a hope that Allen plays like a co-starter rather than a decided backup, anyone following Elliott's tenure in St. Louis sees it through a different lens — a lack of confidence that Elliott can put up starter-grade numbers over the long-haul. The sentiment permeating these seemingly-innocuous statements is clear: Brian Elliott needs someone to push him to the point that half of his potential starts will probably be handed to someone else. Although Elliott has said time and again the relationship between he and Allen is fantastic, the latter still represents the very thing the former has had to deal with for so long here — another goalie already projected to take playing time away, presumably because Elliott can't handle the role of a true starter. Elliott will have to play out-of-this-world just to earn the starts he already has based on his resume. Fans in St. Louis should not be shocked to see — despite preseason sentiments offered by the team — the Blues trading for who they deem a bonafide starter or "1A" should Allen struggle rather than increasing Elliott's workload. However, Brian Elliott has the ability for the first time in his career to prove the doubters wrong. Blues fans will soon find out if solid goaltending is enough to overcome the perception that he can't provide that very thing.