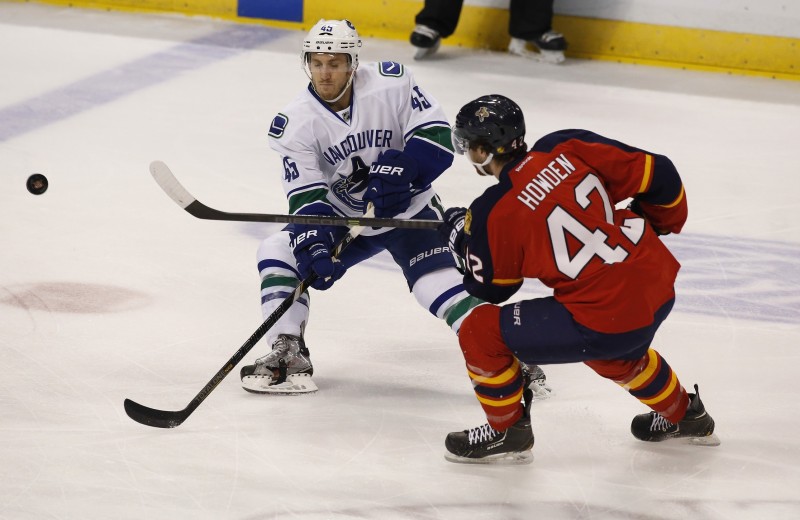 As we move through the barren hockey wasteland of late summer, I take a look at new Minnesota Wild acquisitions and their potential impact on the team. The first installments featured Thomas Vanek and Michael Keränen.
Most off-season moves involving a player likely to spend the majority of his time in the AHL doesn't generate much interest. There are exceptions, but the majority of fans want to see where the Thomas Vaneks and Paul Statsnys are headed and then their interest turns back to baseball or Perez Hilton or whatever it is people do when they aren't mainlining hockey. Jordan Schroeder is a special case though. Minnesota Wild fans have shown a special interest in his signing for a number of reasons.
Many fans have shown excitement because of Schroeder's history with the Gophers, some fondly reminisced about playing high school hockey with Schroeder in Minnesota, others indulged in an "I told you so" reverie as many Minnesota fans had wanted the Wild to draft Schroeder in 2009 instead of defenseman Nick Leddy (who is also a Minnesota native and was traded to Chicago for a box of pens caps and tooth decay).
So there's a fair amount of excitement due to Schroeder being a Minnesota native, a Gopher alum, and a draft pick many fans wish had happened. The excitement isn't unjustified. Schroeder has always appeared to have high upside with solid speed and nice hands. But can he really improve the team?
It's always a little concerning when a team doesn't issue a qualifying offer to a restricted free agent. (It was concerning to many Canucks fans as well.) But that could be explained away, since the Canucks are under new management and incoming coaches and GMs tend to like to make their mark on a team and bring in "their" guys. Schroeder could be a symbol of Mike Gillis' dodgy history in the draft and development. Schroeder was another first round draft pick that the team failed to develop into a top player, so you don't issue a qualifying offer.
But does that explanation really give the full story or did incoming Canucks GM Jim Benning give Schroeder a fair shot and decide that Schroeder didn't have the potential they once saw in him?
The Eye Test
From a quick look, Schroeder's numbers don't impress. The raw totals definitely indicate the Wild made the right move in 2009 drafting Leddy instead of Schroeder. (Though it remains unquestionably true that they dropped an entire bowl of cheese at a nacho party when they traded him and Kim Johnsson for Cam Barker.)
Since the 2009 draft, Schroeder has appeared in parts of two seasons, the last two, totaling 56 games with six goals, nine assists, a minus-7 rating, and 53 shots. It doesn't look great. He hasn't earned regular playing time and he's averaging less than a shot per game.
That's a bad sign for a forward whose best asset has been touted as his nose for the net. At 5-foot-8 and 175-pounds, he needs to have a scoring mentality because grinding it out isn't going to be where his money is made. The size problem for Schroeder could be overcome—comparisons to Steve Yzerman and Desharnais have been made—but he's a player who appears to best fit into a top six role, since his size doesn't make him an ideal checking line center. (Or winger, he does have the ability to shift over to wing, which helps his odds of getting playing time in St. Paul. His size, faceoff percentage of 45.9% last season, and the team's depth down the middle may make him a better fit at wing.)
It's hard to imagine how Schroeder cracks the top six in Minnesota to get himself into a position where he'd be able to play his game. With Mikko Koivu, Jason Pominville, Mikael Granlund, Zach Parise, and Thomas Vanek guaranteed to start in the top six, that doesn't leave much room for Schroeder with Charlie Coyle, Nino Niederreiter, Erik Haula, and Justin Fontaine all battling for top minutes as well. And that list leaves out other players who are hoping to make the same leap as Schroeder, like Jason Zucker, Michael Keränen, Cody Almond, and a host of other players in Iowa.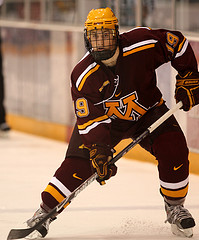 Eyeing the Eye Test
Last season he scored three goals and three assists through 25 games. Like I said, it doesn't look great. However, maybe there's more to it. His shooting percentage was a respectable 12%.
Harrison Mooney at Pass It To Bulis highlights all three goals Schroeder scored last year, so maybe that's a good spot to start.
The first one is particularly telling. He skates behind the net and attempts to knock Jesse Joensuu off the puck, but just bounces off of him instead. Lucky for Schroeder, David Booth comes in and gets a good body on Joensuu. The puck pops over to Schroeder who, it would appear, attempts a pass from behind the net, which deflects off Corey Potter's skate, off Ilya Bryzgalov's stick (hey buddy), and into the net. Not how you want one third of your goals to go in.
The second goal of the season came in the same game and was a shot from the point that also banked off of Potter's skate and features a classic Bryzgalov stand-up-and-shrug.
The third goal is actually a great shot and maybe a little emblematic of what scouts and fans hope Schroeder will be. He goes shelf on Jaroslav Halak. However, and it's not really a knock on Schroeder, but that play was created by a great (and kind of crazy) pinch by Dan Hamius where he checks two Capitals players at once. That is immediately followed by Zack Kassian using his big body to get in the way of a defender. Schroeder finds some open ice and takes a great shot.
So looking at Schroeder's three goals last season doesn't manage to change the narrative. In fact, it doesn't really explain his high shooting percentage either, except that he scored a couple of odd goals and just didn't take that many shots. There's no glimpse of promise that's going unfulfilled there.
Though I should mention, as we dig a little deeper in the next section, that Schroeder has dealt with injuries and that certainly effected the number of NHL games he's played thus far and could have impacted the advanced stats if he wasn't coming back at 100%.
Advancing the Argument
But if the eye test and Schroeder's raw totals don't tell you what you're looking for, there's no reason not to start digging into his possession numbers and see if we can find that glimmer of hope we're looking for.
As I mentioned, Schroeder played 25 games last year. He played in 31 the season before that. The sample size isn't huge, but that's enough games that the stats should give a good sense of what he's up to.
In the 2012-13 season Schroeder's Corsi for was 51.8% (according to Extra Skater). In 2013-14 it was 52.4%. He's getting solid possession, which is good to see since the earlier goal totals and his size might have you worried that part of the problem was an inability to keep the puck in the zone and be productive.
However, two numbers jump out at me as I look for the stats. His Goals for total was 50% in 2012-13 and dropped to 37.5% in 2013-14. So while there's positive possession taking place, there isn't an equal amount of goal production happening.
The other note there is that both his Corsi Relative and Goals for Relative are in the negative. Corsi Relative is -1.1% in 2012-13 and -0.7% in 2013-14. Goals For Relative is -6.8% in 2012-13 and -5.1% in 2013-14.
Are there other factors? He's getting favorable zone starts and he's not seeing hardly any penalty kill time, so there don't appear to be factors involved that would seriously sway those numbers unfavorably.
As Andrew Wilson pointed out at The Hockey Writers, corsi can be overrated, there are a lot of factors involved. But it appears that the opportunities are there for Schroeder and he's not been able to capitalize on them at the NHL level.
Square Peg In A Triangle Hole
So where does Schroeder fit in for the Wild? I certainly wouldn't write him off. His talent is undeniable, but he hasn't made it work at a pro level. It looks like it's still there in flashes, but hasn't been the show-stopping, Yzerman-like talent that he was touted as being in 2009.
I'd also by wary of putting too much stock in the stats. Schroeder has dealt with a shoulder injury and a foot injury through parts of the last two seasons and was rumored to have not been back to 100% health during this past season. If that's the case, then it'd be easy to see how some of these numbers shift a little bit in his favor. Add a couple more goals and maybe that shift erases the Corsi Relative being in the negative and shifts his Goals for Percentage back toward the middle.
His pro career has not turned out how anyone had hoped so far, but he will only be 24 when the season starts in October. If he can find a little grit and scoring touch in Iowa it could provide the confidence boost he needs to make the leap. But he'll need to find that scoring touch in Iowa as well, as his .6 points per game average in the AHL doesn't have coach Mike Yeo clearing out space in the opening night roster.