Another long summer is finally over, and hockey season is once again upon us!
After having Wednesday off, the Arizona Coyotes got their season started on Thursday night in Anaheim against Corey Perry and the Ducks. Things looked good early for Arizona – Anthony Duclair, Clayton Keller, Max Domi, and Christian Fischer all scored for the Coyotes, but the Ducks would take advantage of a struggling Louis Domingue as they beat him five times on 41 shots and picked up a 5-4 season-opening victory in comeback fashion at the Honda Center.
FINAL: #NHLDucks storm back to take down the Yotes, 5-4! #LightThatLamp pic.twitter.com/gLcZ8OOOf2

— Anaheim Ducks (@AnaheimDucks) October 6, 2017
Following their disappointing defeat in Orange County, the Coyotes returned home to the Valley of the Sun for their home opener against the Vegas Golden Knights. The very first edition of the new desert rivalry came right down to the wire – the Coyotes, on the strength of a Tobias Rieder goal, held the lead for the majority of the night before Knights defenseman Nate Schmidt broke through and tied the game with 1:12 remaining in the third period.  The game would head to the extra frame, where James Neal would score the game-winner to give Vegas the 2-1 victory in their first-ever overtime game in franchise history.
Opening Up T-Mobile Arena
After their loss to the Golden Knights on Saturday, the Coyotes will travel to Vegas to take part in the inaugural regular season home game at T-Mobile Arena. They'll undoubtedly be looking to exact a bit of revenge upon their desert rivals after Saturday's overtime loss at Gila River Arena. Puck drop is scheduled for 7:00 P.M. on the Las Vegas Strip, and the game will be televised nationally on NBCSN.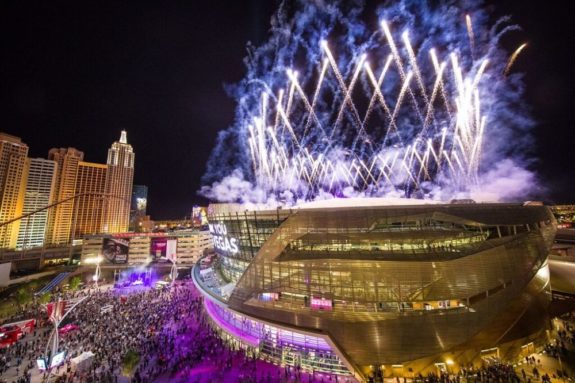 After a night out in Vegas, the Coyotes will return home to the Valley and will host the Detroit Red Wings on Thursday night at Gila River Arena. After missing the playoffs last season for the first time in 25 years, the Red Wings appear to be back on track as they've started their season with wins over the Minnesota Wild and Ottawa Senators. Puck drop is scheduled for 7:00 P.M. in Glendale.
The Coyotes will finish the week with a Saturday night matchup against the Boston Bruins. The Bruins have always been a tough matchup for Arizona – the Coyotes are 0-9-1 in their last 10 against Boston and have won just nine times in 28 tries against the B's since moving to the desert back in 1996-97. The puck will drop at 6:00 P.M. at Gila River Arena.
Domingue Struggles, Raanta Shines
When Antti Raanta was acquired from the New York Rangers over the offseason, it was expected that he'd immediately take over the starting role in Arizona. Sure, Louis Domingue finished the 2016-17 season on a bit of a hot streak, but Raanta possesses a better overall career body of work.
However, after Raanta suffered an injury during the preseason, Domingue received an early chance to earn more work in net. He was unable to take advantage of this opportunity, though – he allowed five goals in the season opener in Anaheim as the Coyotes blew a big lead in a 5-4 loss.
On the other hand, Raanta was outstanding in Saturday's home opener against Vegas – he stopped 40 of the 42 shots he saw and kept the Coyotes in a game they arguably should have lost in regulation. Both goalies have already started a game for the Coyotes this season, and it's clear that Raanta will be Arizona's clear-cut #1 netminder in 2017-18. Look for him to start at least 60 contests for Rick Tocchet this season.
Pacific Division Roundup
Just as everyone expected, the Vegas Golden Knights are in first place in the Pacific Division after Week One of the 2017-18 NHL season. Here's how Arizona's other division rivals fared last week:
Last week: 1-0-1 (5-4 W vs AZ, 3-2 OTL vs PHI)
Analysis: Anaheim got off to a solid start to the 2017-18 season – they came back from a 4-1 deficit on Thursday night to defeat the Arizona Coyotes in their season opener, and earned a point in an overtime loss to the Philadelphia Flyers on Saturday after tying the game in the third period with a shorthanded goal.
Player of the week: Corey Perry –  2 goals, assist, +3
This week: Mon vs CGY, Wed vs NYI, Fri at COL, Sun vs BUF
Last week: 1-1-0 (3-0 L at EDM, 6-3 W vs WPG)
Analysis: Connor McDavid ran wild on the Flames on Wednesday night in Edmonton, but Calgary and new goaltender Mike Smith bounced back with a 6-3 victory over the Winnipeg Jets on Saturday at the Saddledome.
Player of the week: T.J. Brodie – 2 goals, 2 assists
This week: Mon at ANA, Wed at LA, Fri vs OTT, Sat at VAN
Last week: 1-1-0 (3-0 W vs CGY, 3-2 L at VAN)
Analysis: An opening night hat trick from Connor McDavid electrified the crowd at Rogers Place on Wednesday, but a 3-2 loss to the rebuilding Canucks on Saturday in Vancouver put a halt to Edmonton's Stanley Cup parade plans.
Player of the week: Connor McDavid – 3 goals
This week: Mon vs WPG, Sat vs OTT
Last week: 2-0-0 (2-0 W vs PHI, 4-1 W at SJ)
Analysis: Are the Kings back? Two convincing wins over the Flyers and Sharks seem to indicate that the answer is a resounding 'yes'. Anze Kopitar is once again scoring at a prolific rate, Jonathan Quick is once again standing on his head, and the Kings once again appear to be a threat in the Pacific Division.
Player of the week: Jonathan Quick – 59 saves on 60 shots (.983 SV%), 1 shutout
This week: Wed vs CGY, Sat vs BUF, Sun vs NYI
Melker Karlsson must've heard the LA Kings were looking for more offense this season. pic.twitter.com/8VjUtdY9K3

— LA Kings (@LAKings) October 8, 2017
Last week: 0-2-0 (5-3 L vs PHI, 4-1 L vs LA)
Analysis: The post-Patrick Marleau era in San Jose is off to a less-than-ideal start – a hat trick from Wayne Simmonds ruined the Sharks' opening night on Wednesday, and the hated Los Angeles Kings chased Martin Jones with four goals in 34:05 on Saturday at the SAP Center. Peter DeBoer has three more home games to get things sorted out before his team embarks on a five-game Eastern Conference road trip.
Player of the week: Kevin Labanc – 2 goals
This week: Thu vs BUF, Sat vs NYI
Last week: 1-0-0 (3-2 W vs EDM)
Analysis: Canucks fans had to wait until Saturday for their team's first game, but Bo Horvat made sure the team's home opener was worth the wait as he scored twice and chased Oilers netminder Cam Talbot less than a minute into the second period at Rogers Arena.
Players of the week: Bo Horvat – 2 goals
This week: Tue vs OTT, Thu vs WPG, Sat vs CGY
Last week: 2-0-0 (2-1 W at DAL, 2-1 W at AZ)
Analysis: The expansion Vegas Golden Knights were not expected to be competitive in the Pacific Division this season, but three-time Stanley Cup Champion goaltender Marc-Andre Fleury clearly has other ideas for how the inaugural season should go in Sin City. He's stopped all but two of the 74 shots he's seen this season and has emerged as an early Vezina Trophy contender. Could he do the unthinkable and backstop an expansion team to the playoffs in their first season?
Players of the week: Marc-Andre Fleury – 72 saves on 74 shots (.973 SV%)
This week: Tue vs AZ, Fri vs DET, Sun vs BOS
2-0 to start the year! @GoldenKnights fans are pumped! #NHLFaceOff pic.twitter.com/CQpsZvqWDc

— NHL (@NHL) October 8, 2017
After two tough losses to start the Rick Tocchet era in Arizona, the Coyotes will need to work on playing with the lead.
A lifelong Phoenix resident, Louis has been following hockey since 2010, has covered the Arizona Coyotes since 2015, and has been playing hockey since 2020. So far, Louis has visited eight NHL cities, and one of his personal goals is to eventually make it to all 31 NHL arenas. For any questions or concerns, contact the writer via Twitter @LouisPannone.